Best Chili Mac Worldwide – This Has Got to Be It!
This is it. The best chili mac worldwide. Right here.
As one of those cooks who doesn't like to make the same thing over and over again, I've made a lot of recipes over the years. And it has to be said, Chili Mac is one of those soul-warming meals that you'll want to make more than just once.
We all need comfort food. Like Spicy Sausage Pasta–hello! Or, if you're looking for a variation of Chili Mac itself, why not try Southwest Chili Mac.
Bad day? Rainy, dreary day? PMSing like nobody's business?
Some days just call for a helping hand of joyful cooking, and Chili Mac is one of those tasty meals that delivers each and every time.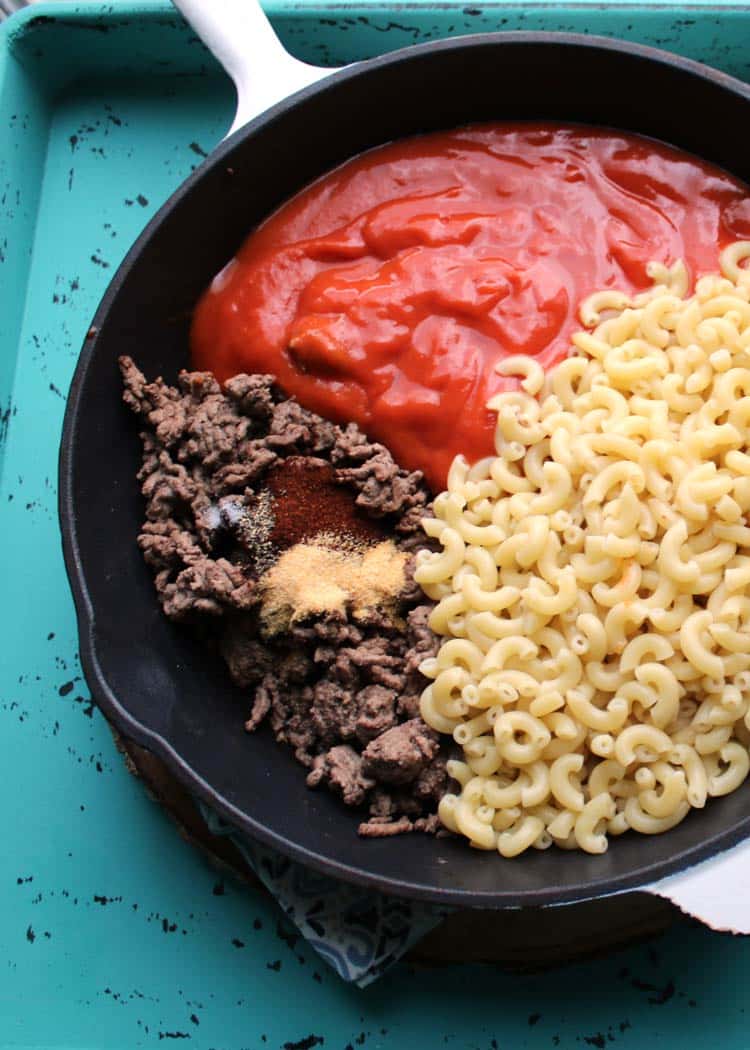 Beef & Macaroni Chili
Chili Mac would be great served with a tasty side salad of fresh greens from your home garden, or maybe some steamed broccoli.
Try These Delicious Side Dishes
Try one of these fab salads and breads to pair up with our delicious Chili Mac:
We particularly love this Italian Chopped Salad.  It is absolutely amazing paired with anything at all or all by itself. There is just something about this classic salad that makes it a winner every time we serve it up.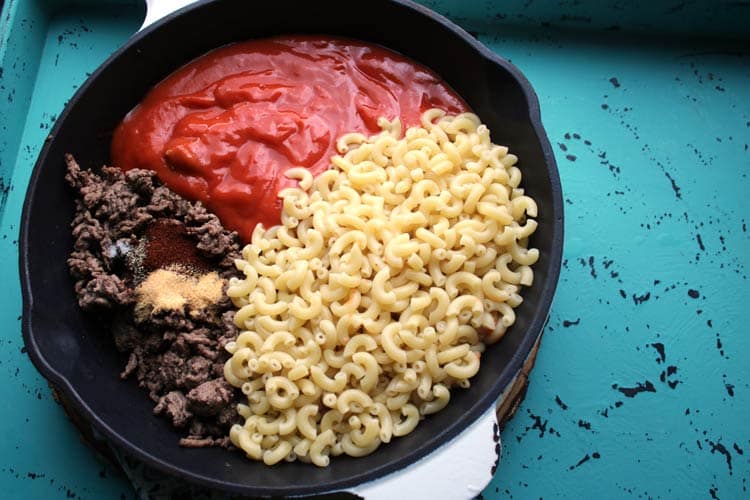 For a twist on classic salad greens, try our Blueberry and Kale Salad, it's a delicious and healthy salad that will balance out your meal perfectly.
When you're mixing up one of your comfort food favorites… in this case our favorite recipe for chili mac…you need to have a delicious side dish on hand.
Adding a bowl of our Kale and Blueberry Salad lets you fill up on good for you ingredients before diving into that bowl full of comfort. Which is otherwise know as our main course in this instance.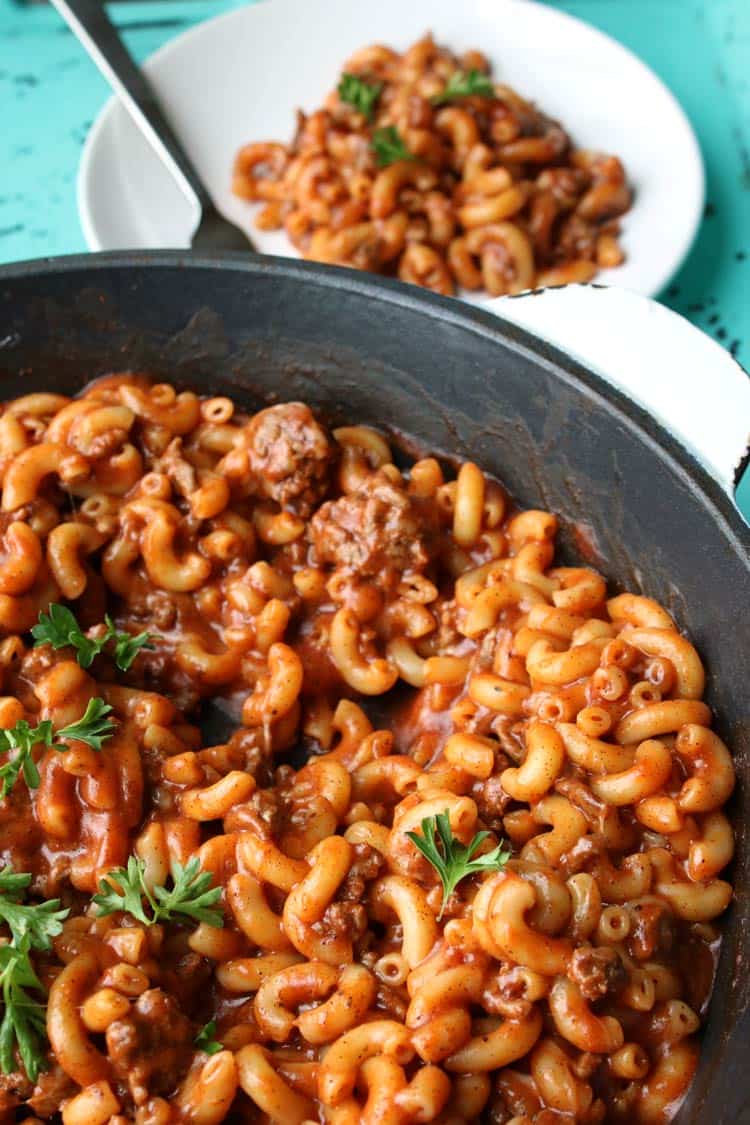 Or you can just call it Chili Mac. Really, it will answer to anything.
As far as breads go, you can't beat this copycat Rosemary Bread or fresh baked copycat Olive Garden Bread Sticks.
Our readers rave and rave about both of these recipes, and for good reason. Whichever bread you choose, you'll find the perfect compliment to go alongside Chili Mac.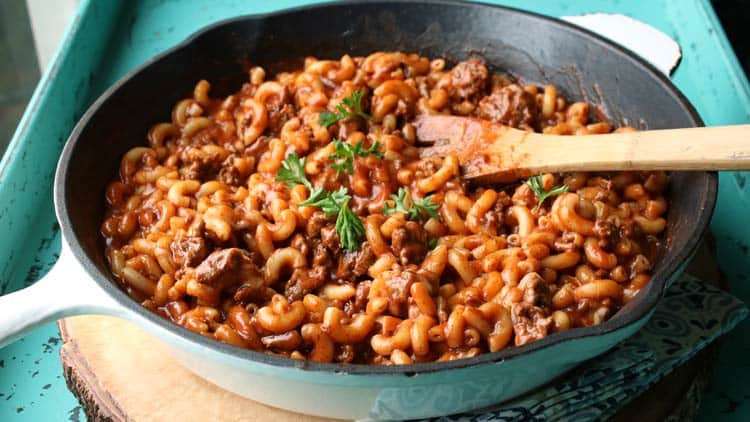 One of the great things about either of those bread choices is that they are great for saving for leftovers!
We love indulging in a slice of Rosemary Bread lightly toasted with butter or cream cheese for a snack. It's really quite delicious.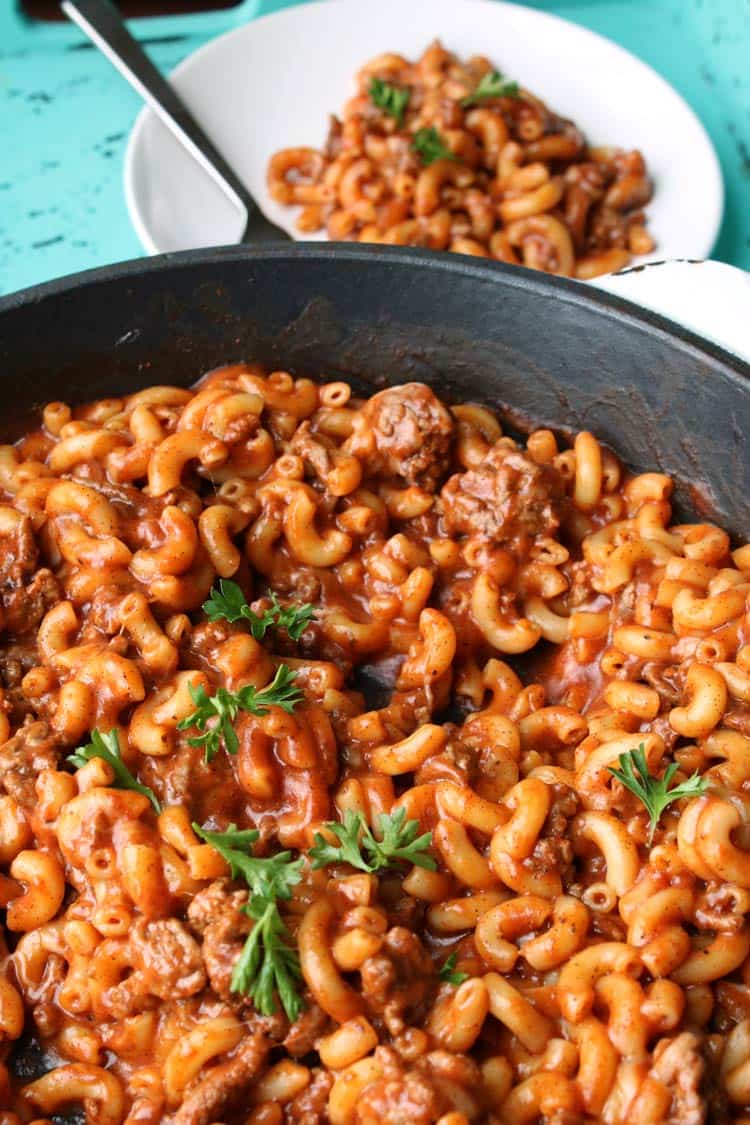 Best Chili Mac Worldwide
Excited to know you've zeroed in on the recipe for the Best Chili Mac Worldwide?
When you see this beautiful meal gracing your dinner table, you'll be ready to dish up a big plate and dive right into it.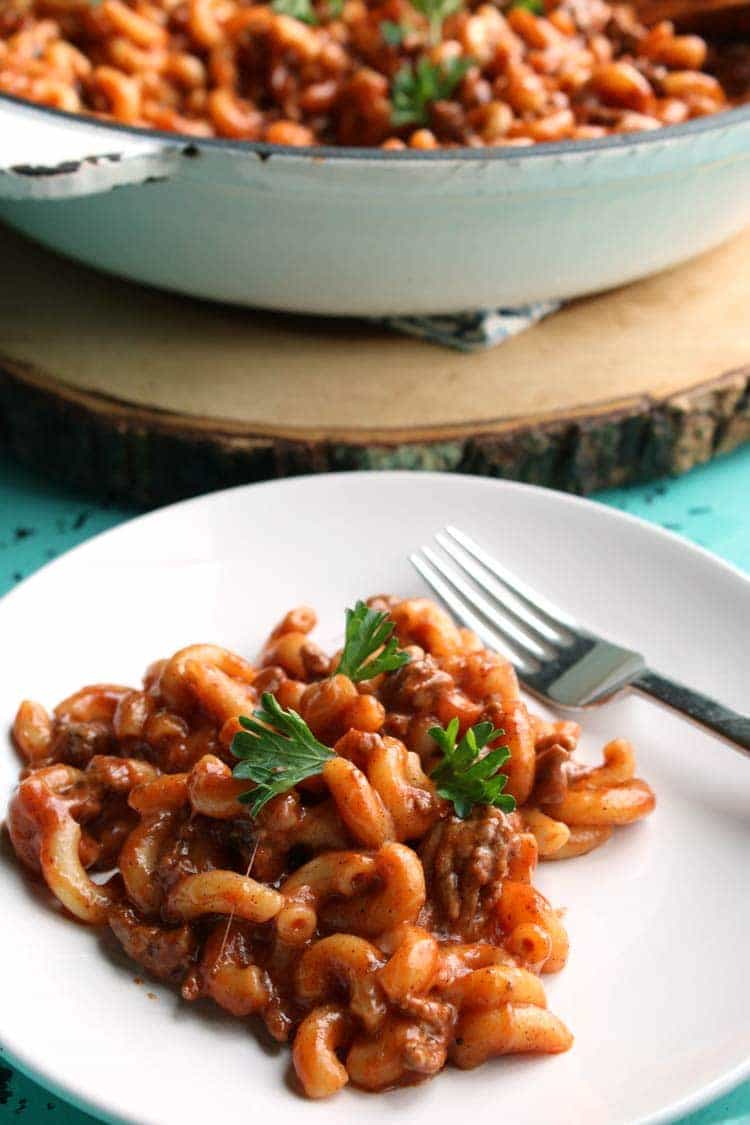 Just make sure you dish up an equal portion of a salad too. Personally, I like to make sure I have enough Chili Mac leftover so I have a small bowl set aside for my lunch the next day.
I'll sometimes fill up a Pyrex bowl with the amount I'm going to want for lunch BEFORE I tell everyone that it is time for dinner. This serves double-duty…it makes sure that I have my lunch taken care of AND it ensures that our family doesn't overeat.
WIN!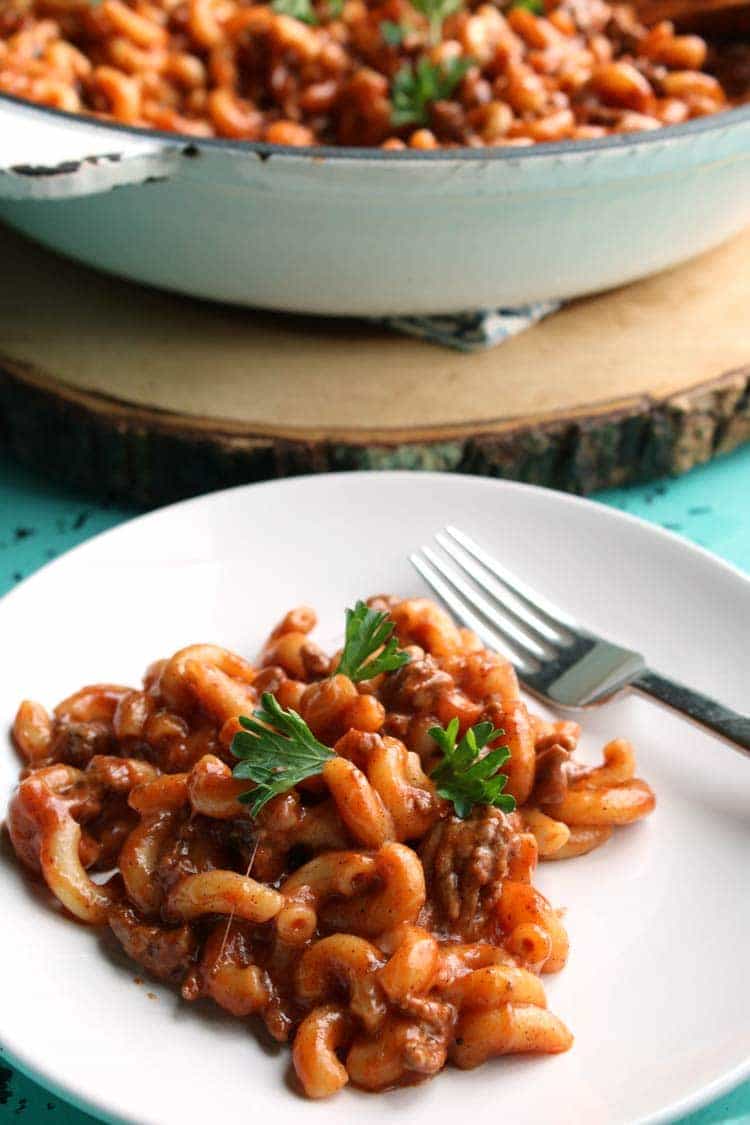 Recipe for Chili Mac
Bite by bite, our Chili Mac recipe will remind you of all that's right in the world.
There is something to be said about comfort food that can't be argued with. At it's core, comfort food is supposed to make everything feel alright. It's supposed to (and indeed does) give you the ability to sink about into a cushy chair, kick your feet up and just relax.
Good comfort food, when served up right, can calm you.
This one pot meal of Chili Mac? It delivers.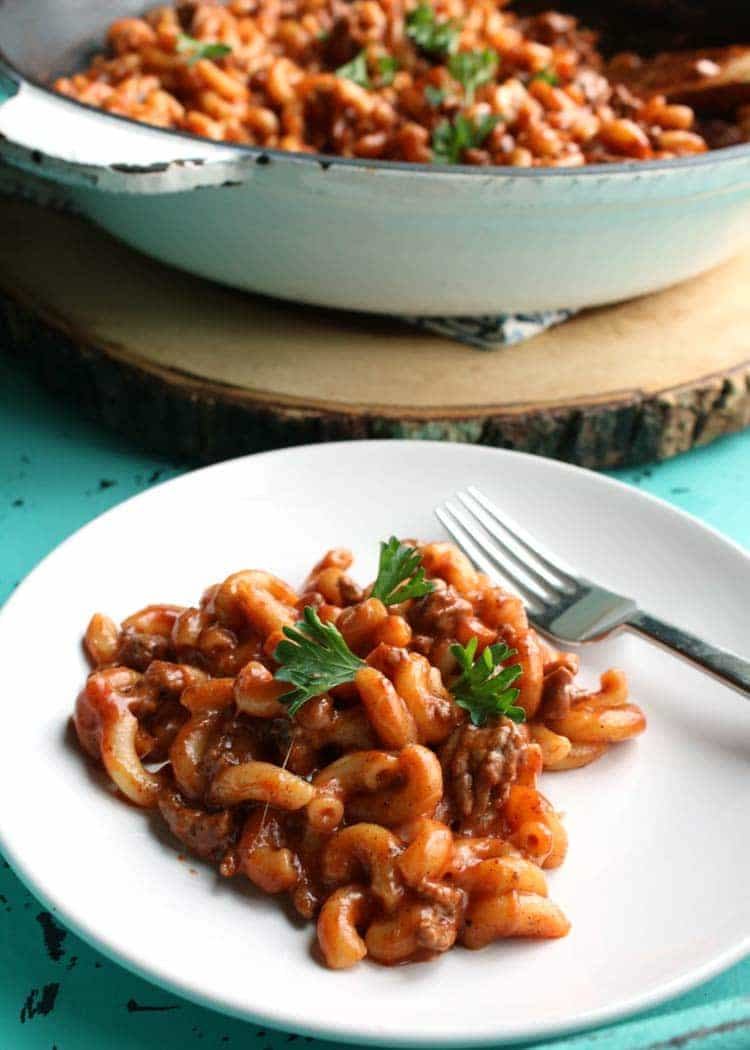 Because when food makes you feel good, as good as mashed potatoes–well, you know you've found a winner.
A great dish of  Chili Mac does the trick each and every time! We promise.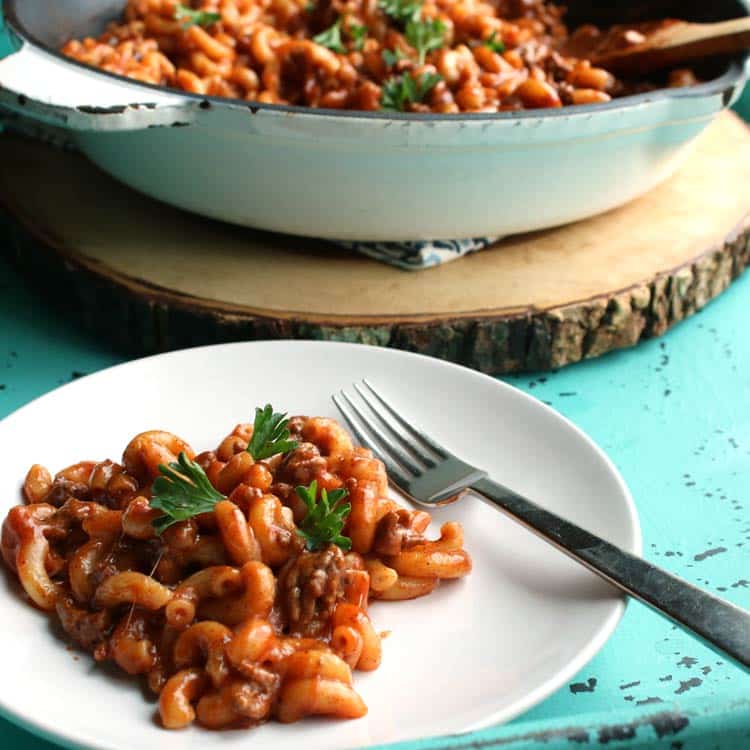 Don't forget to top dinner off with dessert. And since we absolutely love dessert around here, you know you can find about a gazillion dessert recipes on All She Cooks.
Like our Whipped Berry Tart, Banana Cream Dessert and M&M's Icebox Cake.
Yes…we love ourselves some sweets around here.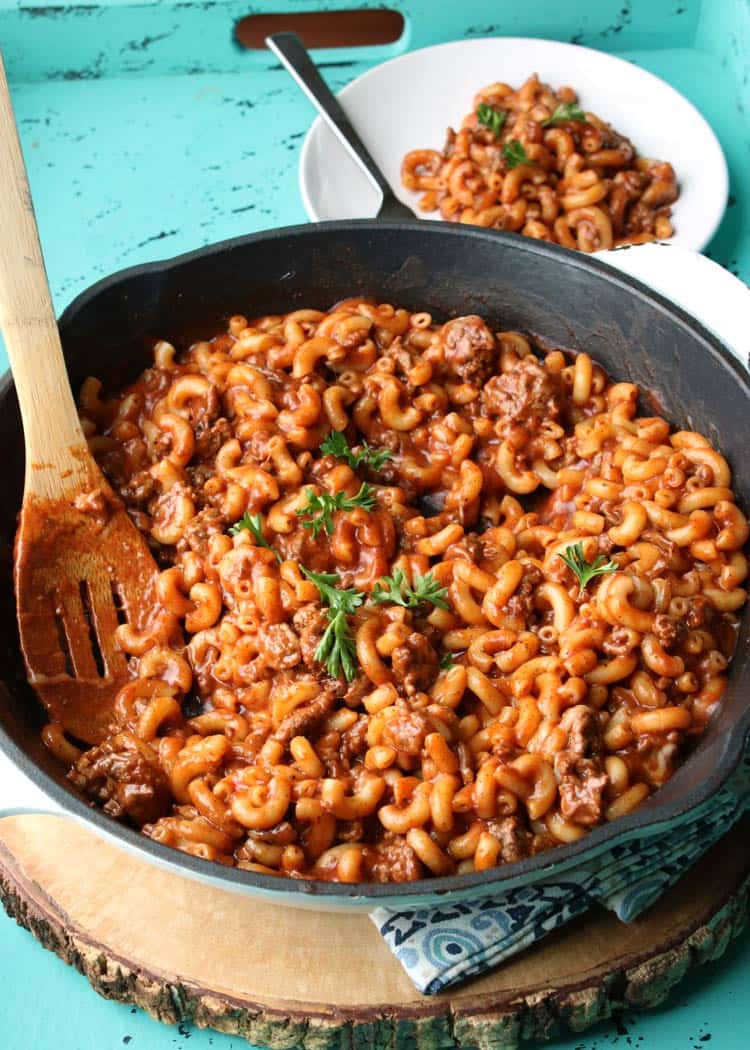 When looking for delicious meals that are easy to make at home, look no further than our phenomenally simple recipe for Chili Mac. It's comprised of just a few simple ingredients combined with spices that you likely already have in your spice cabinet.
Making dinner at home should always be easy–whether you're planning for an easy weeknight dinner or a quick weekend meal after you've been running around like mad on your couple days off.
One of the reasons we simply can't get enough of this delicious Chili Mac recipe–besides the incredible taste–is the ease it which it comes together. This is seriously one of the best one-pot meals that we have ever made.

This Chili Mac recipe is one that you will want to make again and again. Be sure to save the recipe on Pinterest so you can find it later!
While you're at it, follow us on Pinterest and Facebook and don't forget to join our Facebook group.
Save
Print
Beef & Macaroni Chili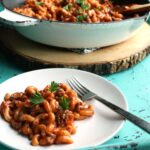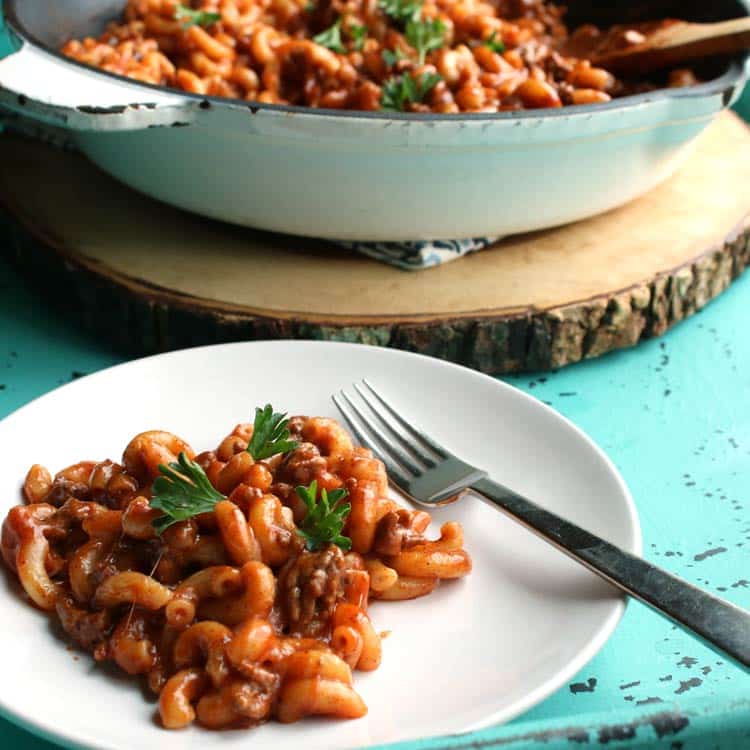 Ingredients
1 cup macaroni, uncooked
1/2 pound ground beef
1/2 teaspoon garlic powder
1 teaspoon chili powder
1 pinch salt
1 pinch pepper
1 can tomato soup
1 ounce Mozzarella cheese
Instructions
Cook macaroni about 7 minutes. Brown meat in largest saucepan and drain off all fat. Add garlic, chili powder, salt and pepper. Mix well and cook on low about 5 minutes. Add cooked macaroni and tomato soup. Heat thoroughly. Just before serving add grated cheese. Cover and heat until cheese melts.
The following two tabs change content below.
Latest posts by Jessica McCoy (see all)