This layered chocolate cake with a pumpkin cream cheese filling is going to easily become your must-have fall dessert. This layered cake offers moist and chocolate cake that is sandwiched between layers of a homemade pumpkin cream cheese filling.
Don't let the layers fool you into thinking this is a hard dessert. This chocolate cake recipe has layers upon layers so every bite gives you incredible flavor. You have that velvety smooth pumpkin cream cheese filling paired to a moist chocolate cake.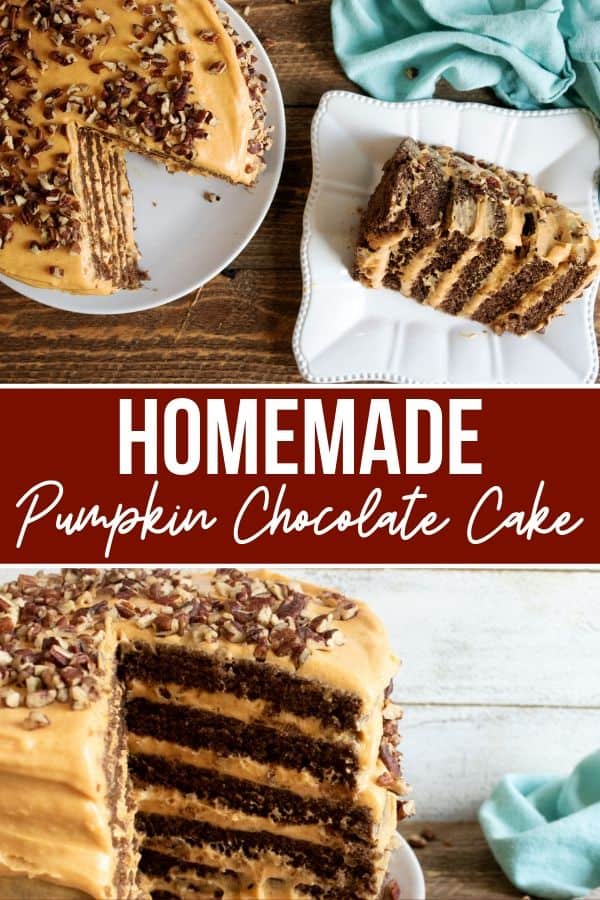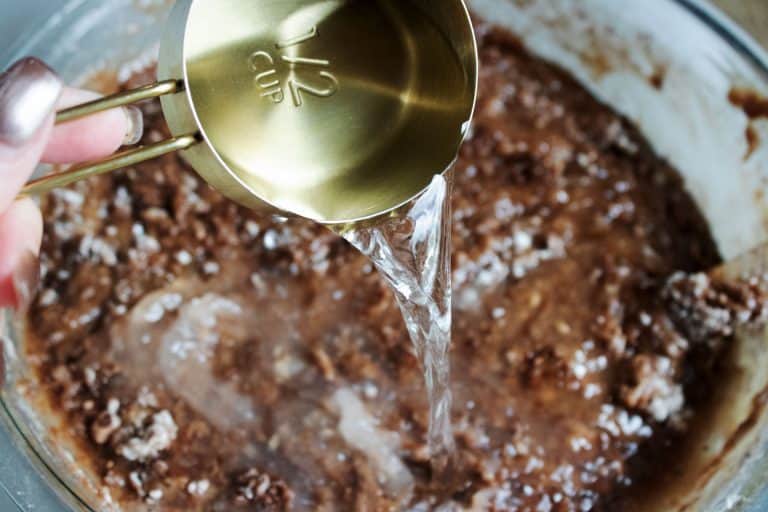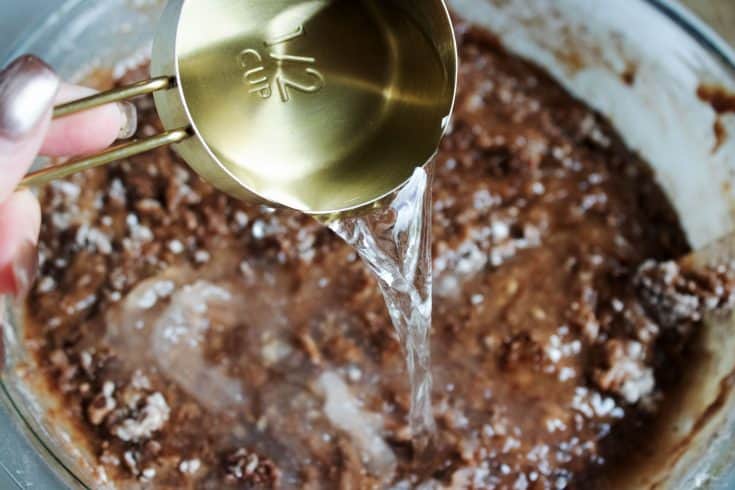 Layered Chocolate Cake Recipe
I added nuts to the outside of my cake. It offers a gorgeous presentation, and pairs nicely with the pumpkin and chocolate flavors. If you are not a nut fan, simply leave them off. It will still taste just as good.
Is There Pumpkin Used In Frosting
Yes. I used canned pumpkin puree. Don't get that mixed up with pumpkin pie filling in the can. Pumpkin puree is just the meat of the pumpkin mushed up and preserved in the can. I paired that with a handful of other ingredients for that silky smooth texture and rich pumpkin flavor.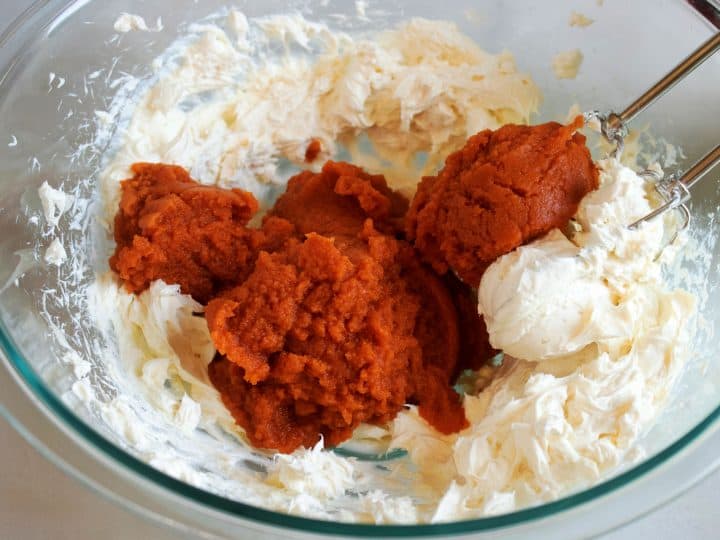 The key to a good frosting is to use a stand mixer or hand mixer. Whipping it super fast is going to help incorporate the ingredients so much better than by hand. You also get that whipped texture that is difficult to achieve with a wire whisks.
If you absolutely can't use a stand mixer or hand mixer, a whisk can work. It will just take a good amount of arm power to keep whisking for that texture you want.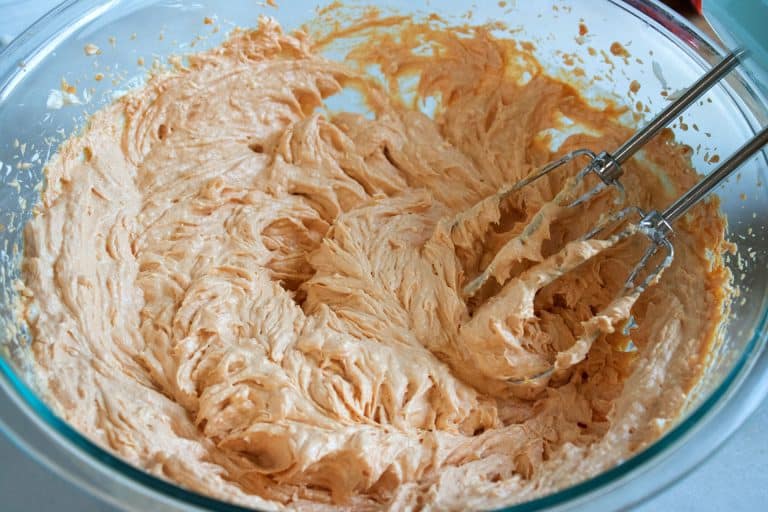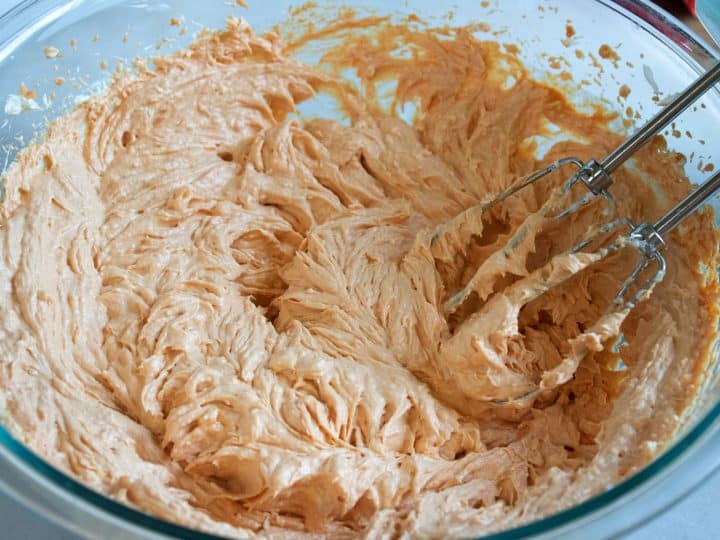 How Much Frosting Do You Place Between Each Layer of Chocolate Cake
Personally I just eyeball. You want enough frosting to offer a thin and even layer of frosting. Don't need to worry about the edges as you are stacking and frosting the cake. You will frost the outside of the cake separately. So if a little frosting runs out of the side, it is okay.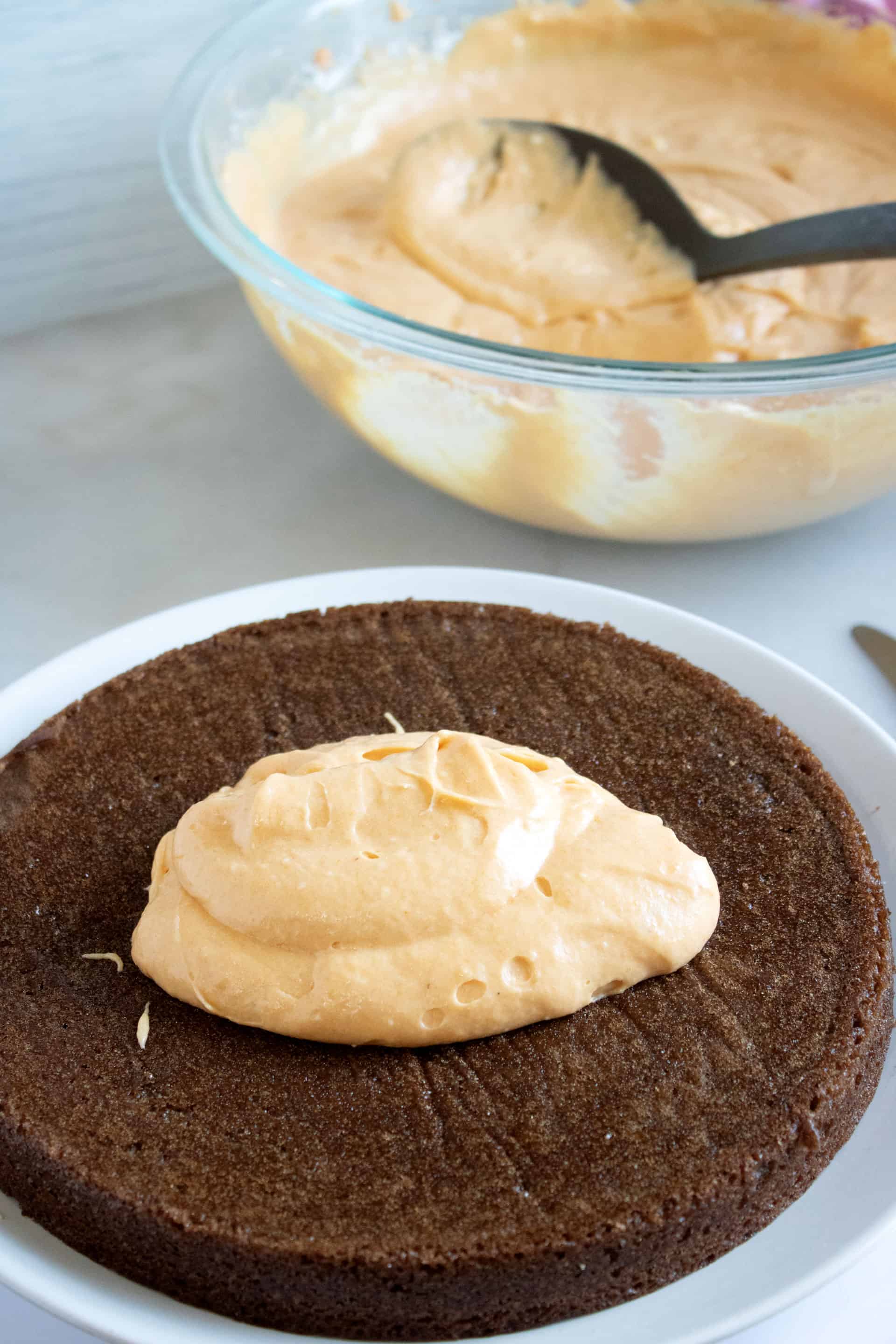 Why is my chocolate cake so dry?
Having a dry cake can be a handful of things. If you did not measure properly it could be there is too much flour in your mix, making it extra dry. Another reason for a dry cake is over-baking. Always make sure to watch your cake closely as it bakes.
Pro Tip for Measuring
When you are measuring any dry ingredients you want to spoon the ingredient into the measuring cup. That way if you go and scoop it in, it can become packed, and lead to too much flour. Then once you have your ingredient in the measuring cup take a knife and level it off with a flat spatula.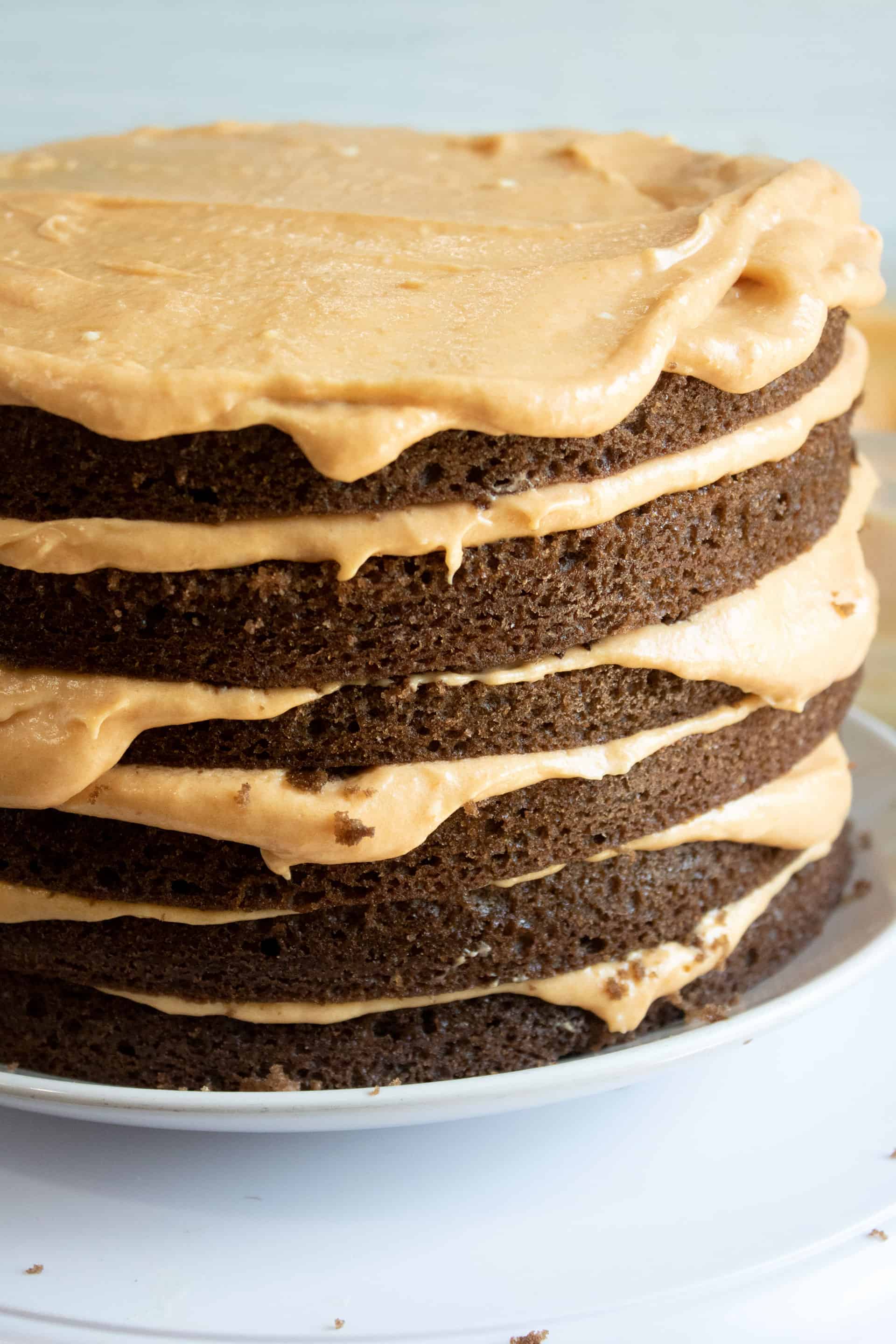 Can I Make This Cake In Advance
You can make this cake in advance. I recommend making the cakes and then wrapping them in plastic wrap and storing on the counter or in the fridge. Then the day you plan to serve, mix up the frosting, decorate and serve.
If you make the whole cake process with pumpkin filling a couple days in advance of serving, it would be good, but could be not as fresh tasting. However, if needed you can prepare the cake up to two days in advance. Keep in mind that you will need to have room to store the cake.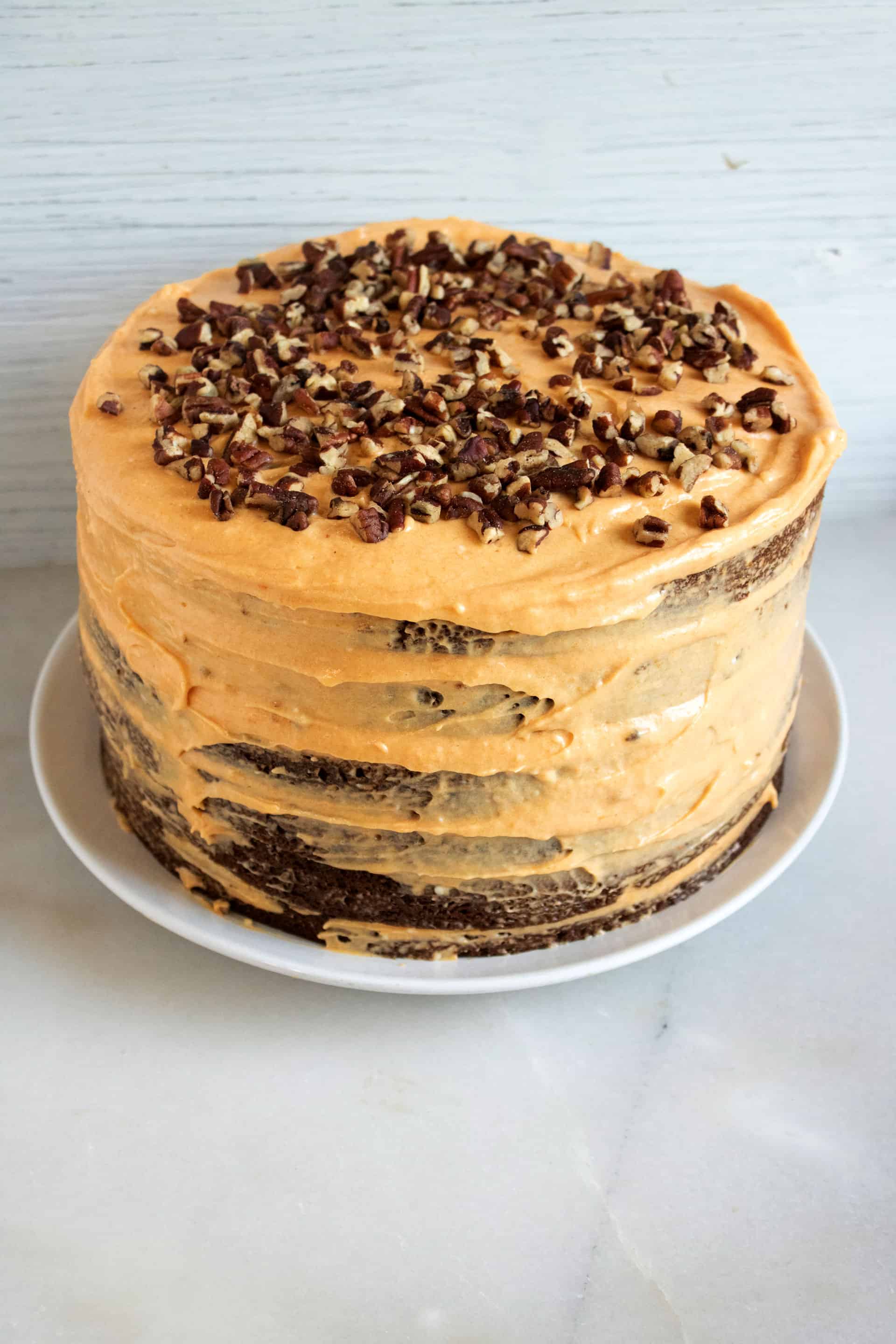 How To Store This Pumpkin Chocolate Cake
Because of the cream cheese in the frosting, you will want to store any leftover cake in the fridge. If you prefer it served at room temperature, just slice and serve and allow it to warm up. The cream cheese will go bad if you leave it out on the counter for days.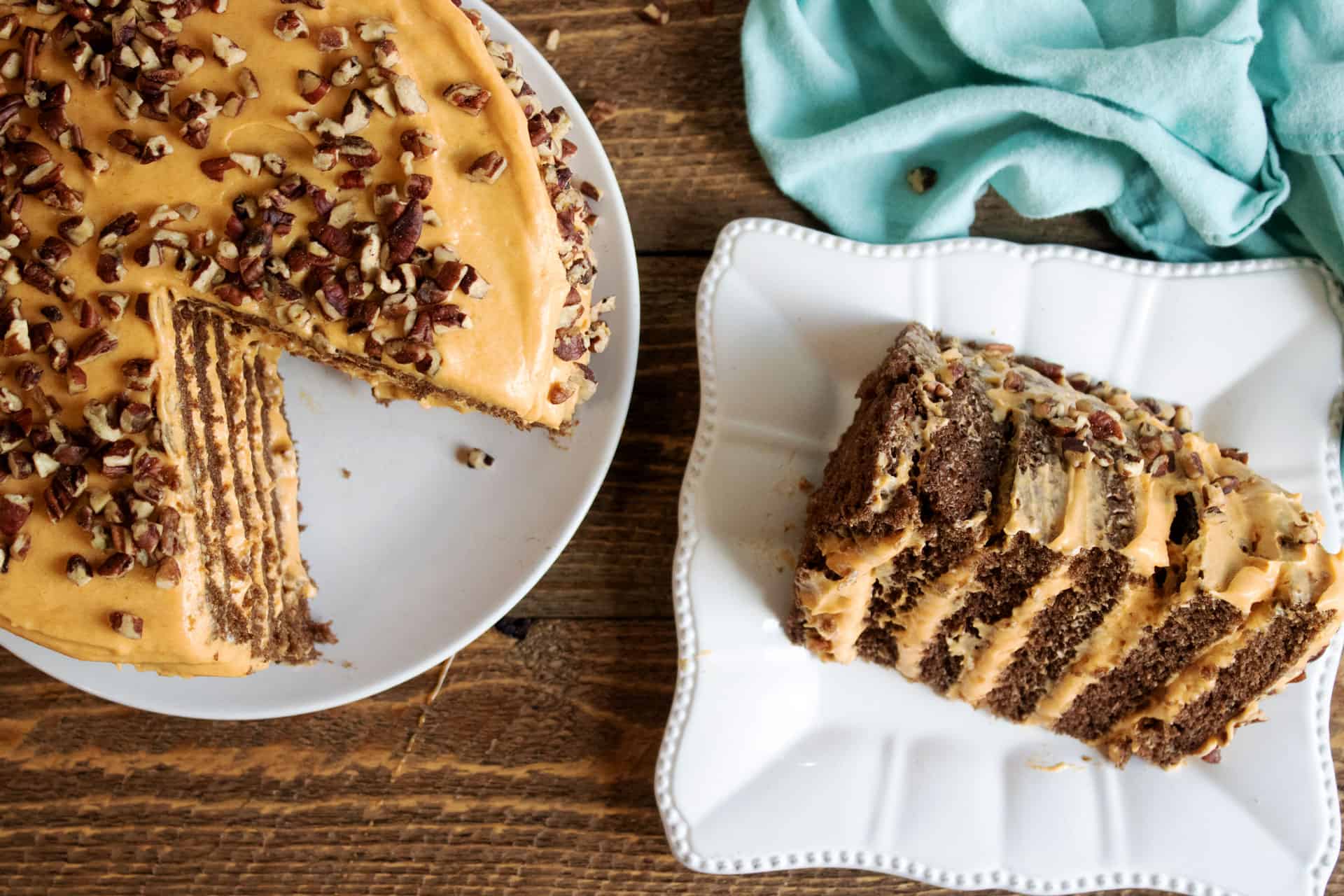 Craving More Pumpkin Recipes
Pumpkin Cream Filled Whoopie Pies | We make these every year, and boy are they a treat. Light and soft whoopie pies with an incredible creamy filling.
Roasted Pumpkin Seeds 3 Ways| If you are working with pumpkins this year, learn how to roast the seeds. This is easy to do, and I offer a variety of ways so you can pick what fits you best.
Easy Pumpkin Chocolate Chip Cookies | Love cookies? Me too! Try my pumpkin chocolate chip cookies for something a bit different!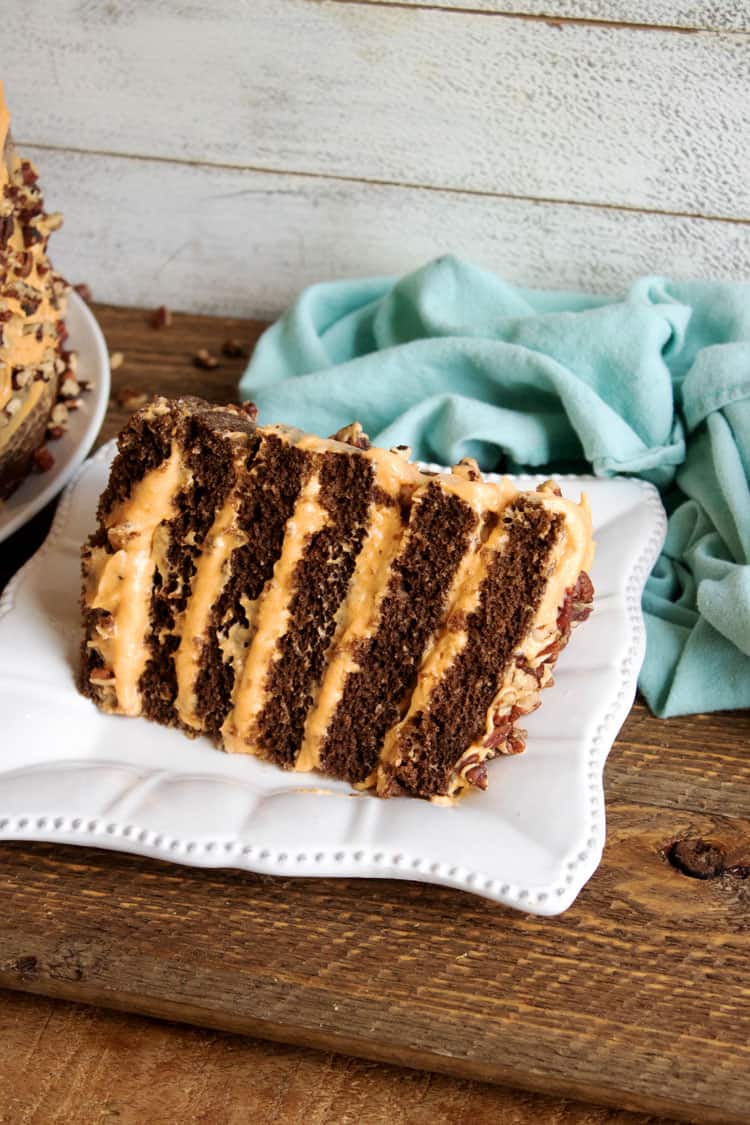 Recipe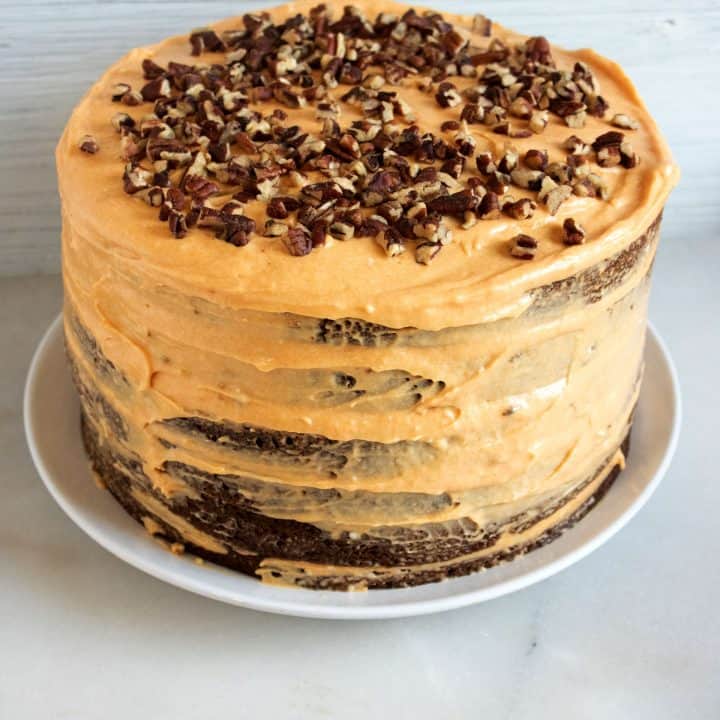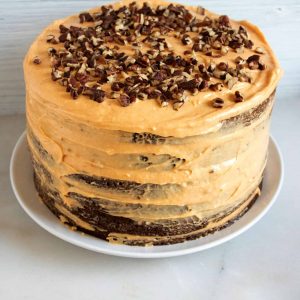 Chocolate Cake Torte with Pumpkin Cream Cheese Filling
This six layer cake is a decadent dessert with thin layers of chocolate cake alternated with a pumpkin cream cheese filling. Serve up thin slices and indulge in this delicious dessert.
Instructions
Preheat oven to 350 degrees. Spray 6 8-inch round cake pans with non-stick cooking spray and line the bottom of each pan with a circle of parchment paper.

Mix wet ingredients and then add all the dry ingredients and stir to combine until just mixed but smooth. Do not over-mix.

Divide batter evenly between the six cake pans and bake for 25-30 minutes, or until a toothpick inserted into the middle of the cake comes out clean.

Set cake aside to let it cool in the pans for 30 minutes to an hour, and then drag a knife along the outside of the cake to make sure it isn't sticking to the pan at all before removing the cake from the pan.

Level the cakes using a leveler to remove the curved top. Toss top, or use in another recipe like cake pops or cake truffles.

Using a hand-held mixer, whip the cream cheese until smooth. Slowly add in the powdered sugar and blend until all the sugar is incorporated.

Add in the pumpkin and heavy cream and blend with a mixer. Reserve a small amount of icing/filling if you want to decorate the top of the cake with an icing bag.

To assemble the cake, start with one of the layers top side down on a cake plate. Add ⅙ of the filling to the top, and spread it evenly over the cake. Repeat this process with the remaining cake layers and the filling. Scrape the filling along the outside of the cake to lightly frost it. Decorate the top of the cake if desired.
Nutrition
Serving:
1
g
Calories:
604
kcal
Carbohydrates:
85
g
Protein:
7
g
Fat:
27
g
Saturated Fat:
6
g
Polyunsaturated Fat:
19
g
Cholesterol:
82
mg
Sodium:
273
mg
Fiber:
2
g
Sugar:
57
g
If you are looking for a crowd-worthy chocolate cake recipe, this one is a winner. Add in the delicate and light frosting and you have a cake no one will be able to resist.
Have you ever tried a pumpkin chocolate cake before?