Red wine steak sauce is the perfect pairing for your juicy steak! This homemade steak sauce will give your steak that restaurant-quality flavor in seconds. Simple, easy, and a perfect red wine steak sauce recipe to complete your dinner.
We love steak (learn how to make the perfect steak) in our home, it is one of our favorite things to whip up on the weekend. I like mine medium rare, and if grilling season is over, I'll cook it up in a cast iron pan with black pepper.
I recently began making a red wine sauce, and let me just say, I fell head over heels. This sauce is simple but packs tons of flavor.
Add the sauce to a filet mignon with salt and pepper and wow! The taste is amazing.
Red Wine Steak Sauce
Green onions, garlic, rosemary, and more add so much depth to this sauce. You could also add shallots, which would add another layer of flavor to this tasty pan sauce. I used to think I preferred a steak plain, but now after having a sauce to drizzle over the top, changed me. Try this red wine sauce next to my grilled carrots, it is a match made in heaven.
Making your steak indoors in a cast iron pan? To make the sauce after you cook steak indoors, simply transfer the steaks and cook the sauce in the pan. Scrape up the browned bits in the pan, and then continue with making the sauce in the same pan. It will add another layer of flavor to the steak sauce.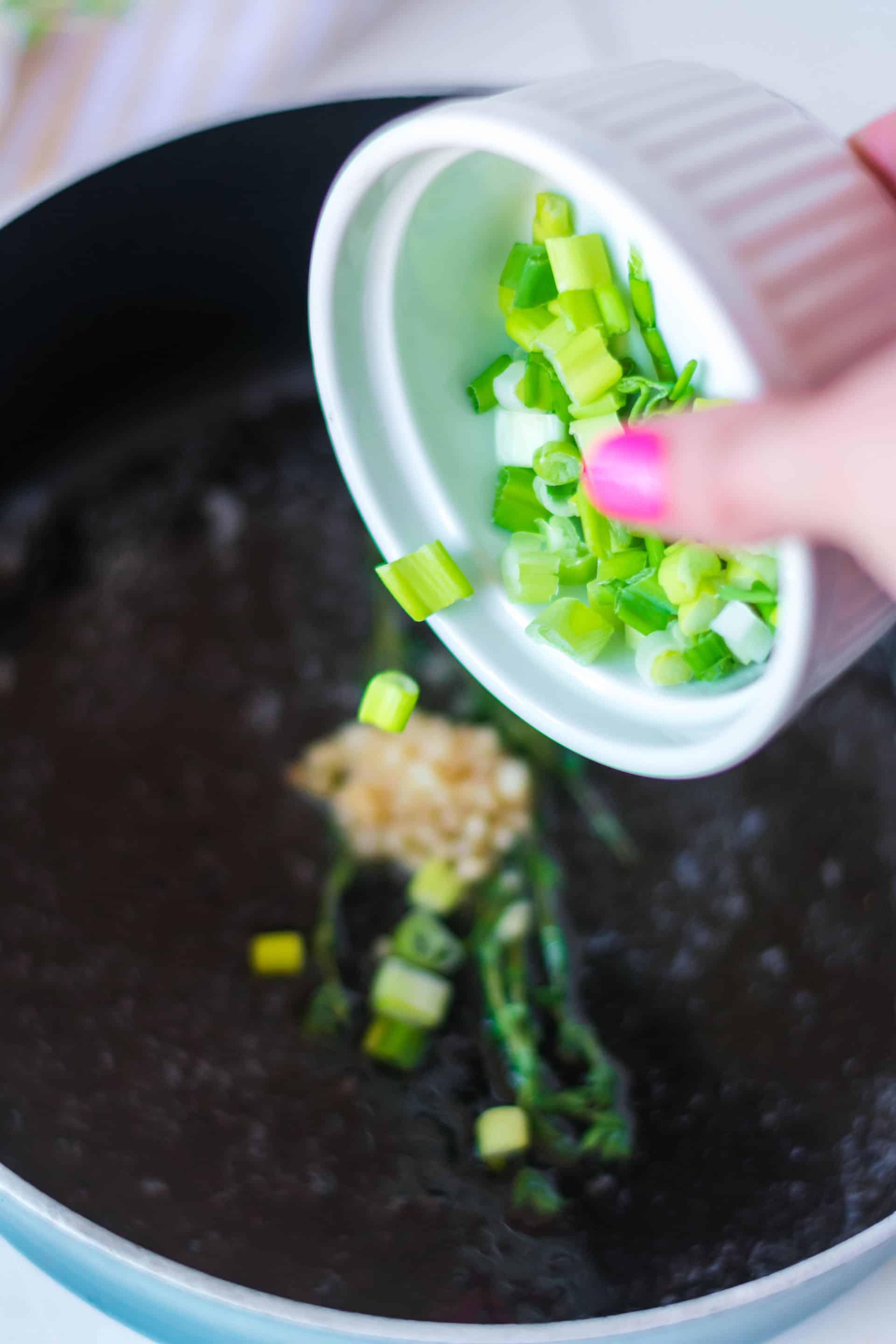 How Do You Thicken Red Wine Sauce
You have two options if you want a thicker style red wine sauce. It will give it more of a gravy texture. You can dice up butter and whisk in butter slowly, to help thicken the texture.
Or mix cornstarch and water together and little bits at a time whisk it in. This will really thicken the sauce so do small amounts at a time, stirring often.
This would also be a good time to use an immersion blender
to bring the steak sauce to a smooth consistency, if desired.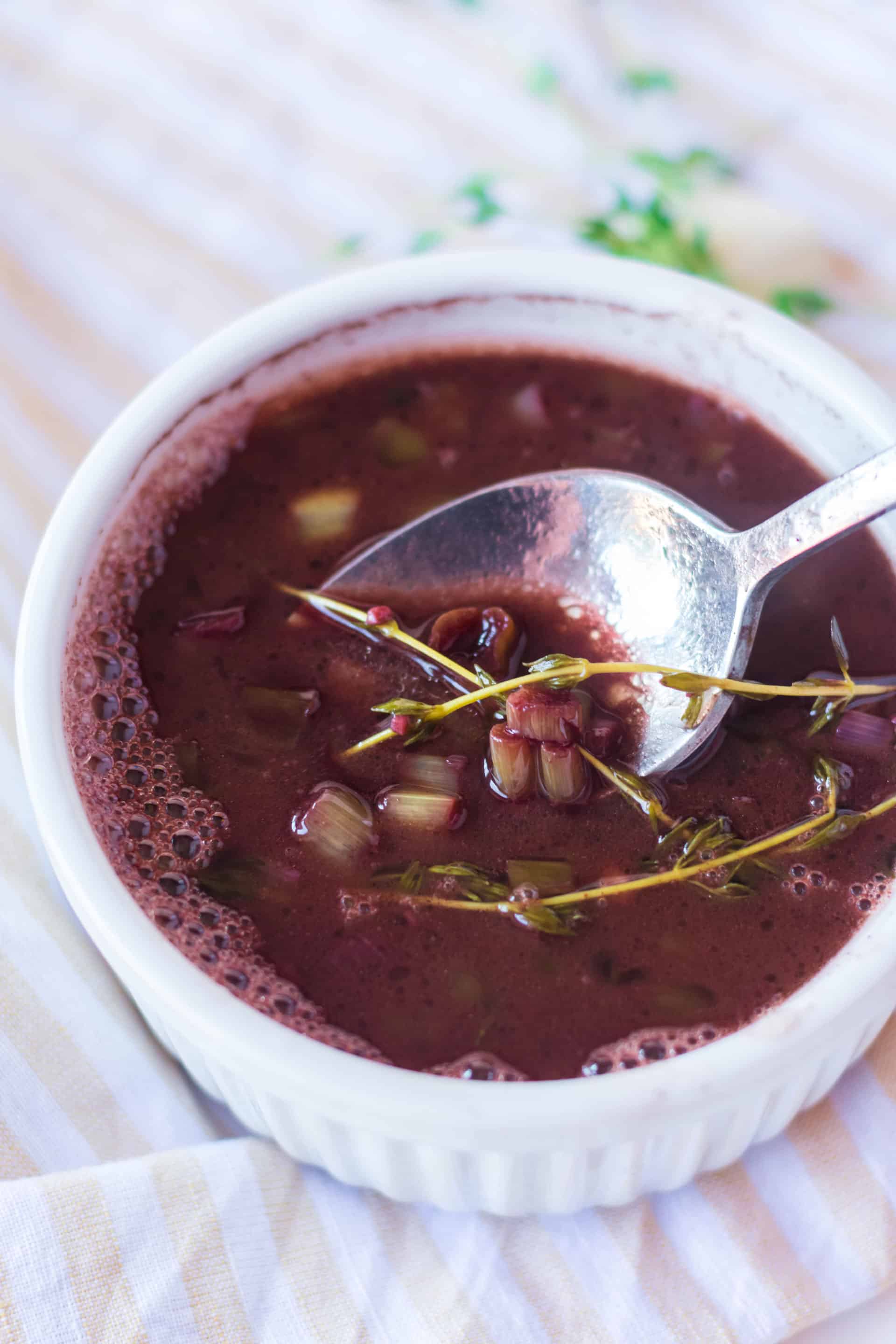 What Type of Red Wine Do You Use For A Homemade Steak Sauce
Reach for red wine of course, and any will really work. The one thing I found is quality is key. If you want a really good tasting sauce, reach for higher quality wine.
If you buy cheap wine, your sauce will taste similar to the wine you buy. So if you have a favorite type of wine go for that. When you add wine to the sauce you want it to be a wine you can appreciate. I like using wines that I get from my wine club membership because I get to try wines that aren't available in my area. I'm always finding new varieties that I love.
The biggest rule of thumb when it comes to wine is to buy a wine that you enjoy drinking. If you don't like the taste poured in a glass, you will hate the way it tastes in your food. Wine sauce for steak is a great thing, and buying a wine you enjoy is setting you up for success.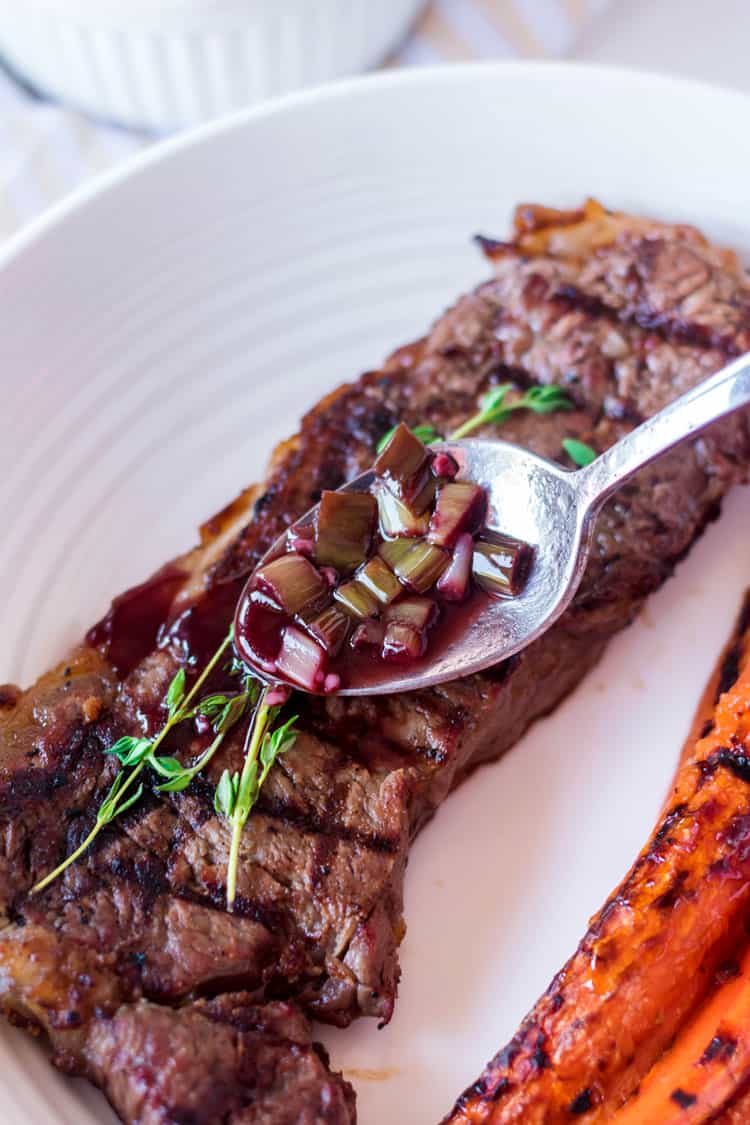 Can I Use Vegetable Broth In Replace of Beef Broth
If you don't have beef broth on hand, feel free to reach for a vegetable broth. It should be mild enough in flavor it blends well without notice.
I wouldn't recommend using chicken stock since it is being served over steak. It might offer too strong of a flavor difference.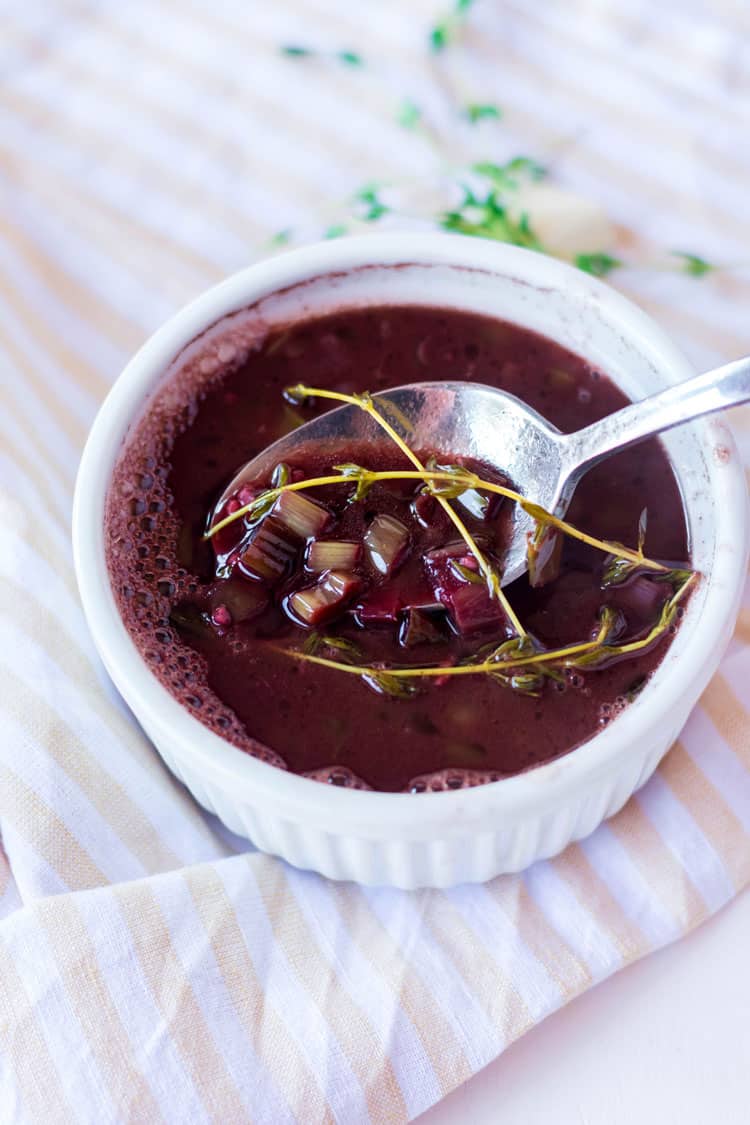 Can I Double This Red Wine Steak Sauce Recipe
You can. Just make as much or as little as you plan to eat. I know when I have had a crowd over I tripled the recipe and it worked great.
Just make sure your pan is large enough and you will be set. Then just keep it warm on the stove until you are ready to serve. Then have it out for guest to pour over their steak.
They will never look at a Heinz 57 steak sauce again after they try your homemade steak sauce recipe!
How to Store Leftover Steak Sauce
This sauce is best when served fresh, but you can save back what you don't use for another meal. Just pour into an airtight container and place in the fridge, for 1-2 days. Then when you are ready to eat again, serve chilled or heat and whisk it up in a skillet over medium high heat.
You can also heat it up low and slow if you are doing other things in the kitchen at the same time. Stir and let it come back up to the heat you want. You don't want to overcook the sauce or it could burn.
Remove pan from heat and serve.
What to Pair with Steak and Wine Sauce
Easy Yeast Rolls | These are a favorite of mine. Rolls are great for soaking up all the extra juices on the plate, and adding a nice element of texture difference to your dinner. Our yeast rolls recipe is simple to make and is an amazing comfort food.
Garlic Mashed Potatoes | My favorite type of potato is mashed. This is a Weight Watchers recipe that is bursting with a creamy texture and garlic flavor. If you like garlic, you will love this easy recipe.
Twice Baked Sweet Potatoes | I never can say no to a good sweet potato. Try a twice-baked sweet potato, it is unlike other recipes out there. This sweet potato recipe is SO delicious.
Grilled Vegetables | Sometimes just grilled vegetables is a nice and simple side. This is the way I make my veggies each time when I am grilling steak, chicken or brats. And I have to say, there are times when I make grilled vegetables without meat. I used to be a vegetarian, so I love my vegetables.
Essential Tools for Making Steak with Wine Sauce
Digital Meat Thermometer | How many times have you bought a cheap meat thermometer that ended up in the trash? I've been guilty of that. I finally 'splurged' and bought this digital meat thermometer
and I've been so happy with it. Trust me, having a meat thermometer that I can trust has been SO useful.
Red Wine | I'm a big fan of California Wine Club and order regularly because I can get quality wines at lower prices than if I were to buy wine at the store. Plus, I get to try new wines that aren't available in my area.
Immersion Blender | If you want the steak sauce to be a smooth texture, you can use an immersion blender to blend the ingredients. I like my steak sauce chunkier, but I use my immersion blender
all the time. It is great for making creamy soups, applesauce, and so many other recipes.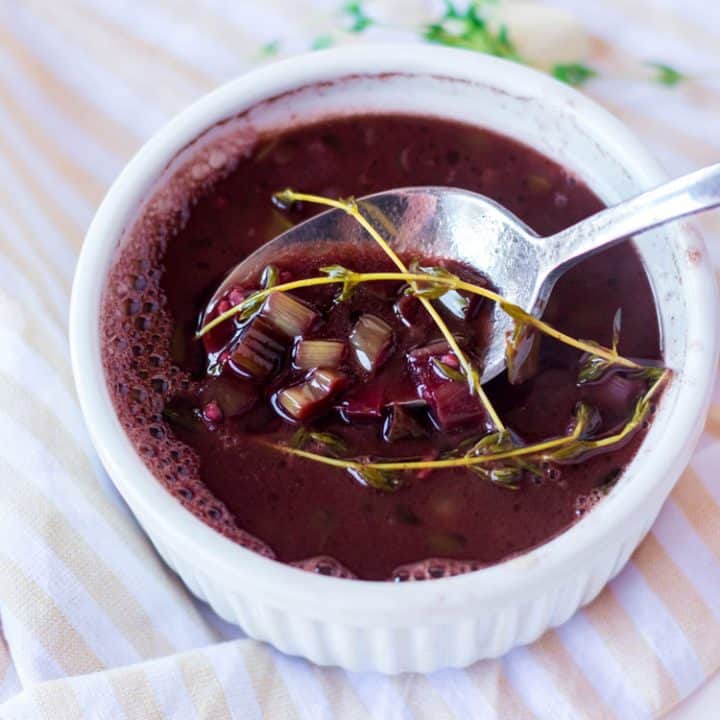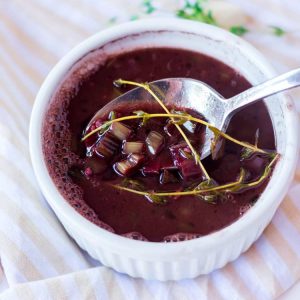 Red Wine Steak Sauce - A Homemade Steak Sauce You'll Love
This Red Wine Steak Sauce is a rich yet delicate homemade steak sauce that is perfect to add on to your next grilled steak.
Ingredients
2

tbsp

butter

1

tbsp

minced garlic

Rosemary

¼

cup

chopped green onion

1

cup

red wine

2

tbsp

balsamic vinegar

1

cup

beef stock
Instructions
Heat butter over medium heat in a small saucepan.

Add minced garlic and green onions. Saute for 1 minute, until fragrant.

Add remaining ingredients. Simmer for 5-7 minutes, until slightly thickened. Serve!
Nutrition
Serving:
1
g
Calories:
75
kcal
Carbohydrates:
5
g
Protein:
2
g
Fat:
1
g
Saturated Fat:
1
g
Cholesterol:
1
mg
Sodium:
132
mg
Potassium:
224
mg
Fiber:
1
g
Sugar:
2
g
Vitamin A:
62
IU
Vitamin C:
2
mg
Calcium:
26
mg
Iron:
1
mg