Are you searching for answers on how to make the best-grilled steak? This is a simple grilled steak recipe that is going to give you that restaurant-quality flavor in every single bite. Learn how to grill steak the right way, and set yourself up for quality steak every time. 
When the steak is cooked right, it is delicious. No one enjoys a tough and dry steak, or an under-seasoned steak as well. My recipe is very simple, but offers grand results.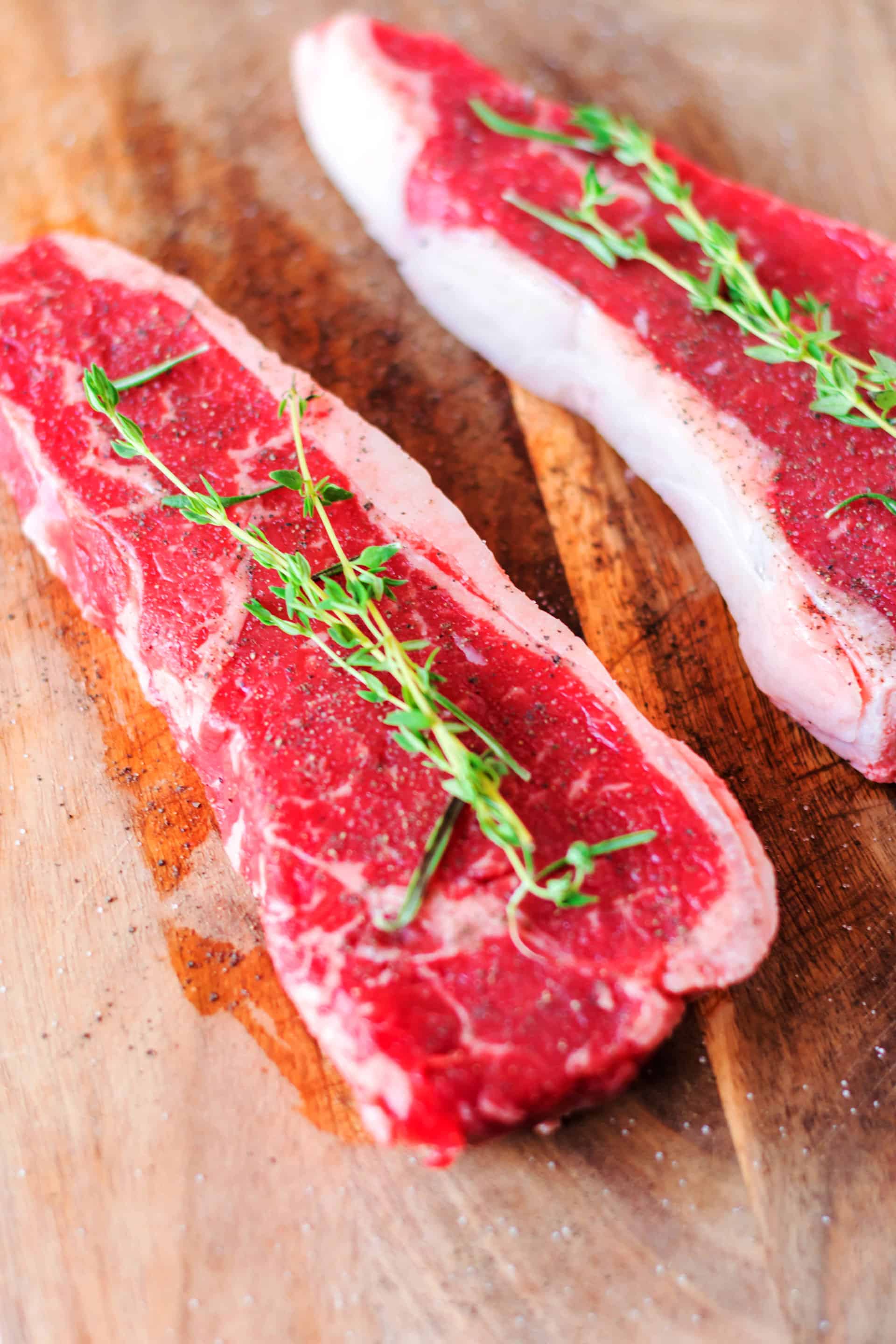 How to Cook Grilled Steak
Steak is a healthy and delicious protein to cook up on the grill outside during the warm weather months, or even on an indoor grill year-round. Before you toss that steak on the grill, be sure you know how to properly grill steak.
To serve up a good steak there are a few simple steps that are required. Let me share tips and tricks for cooking steak on the grill. This will help you to cook your steak properly.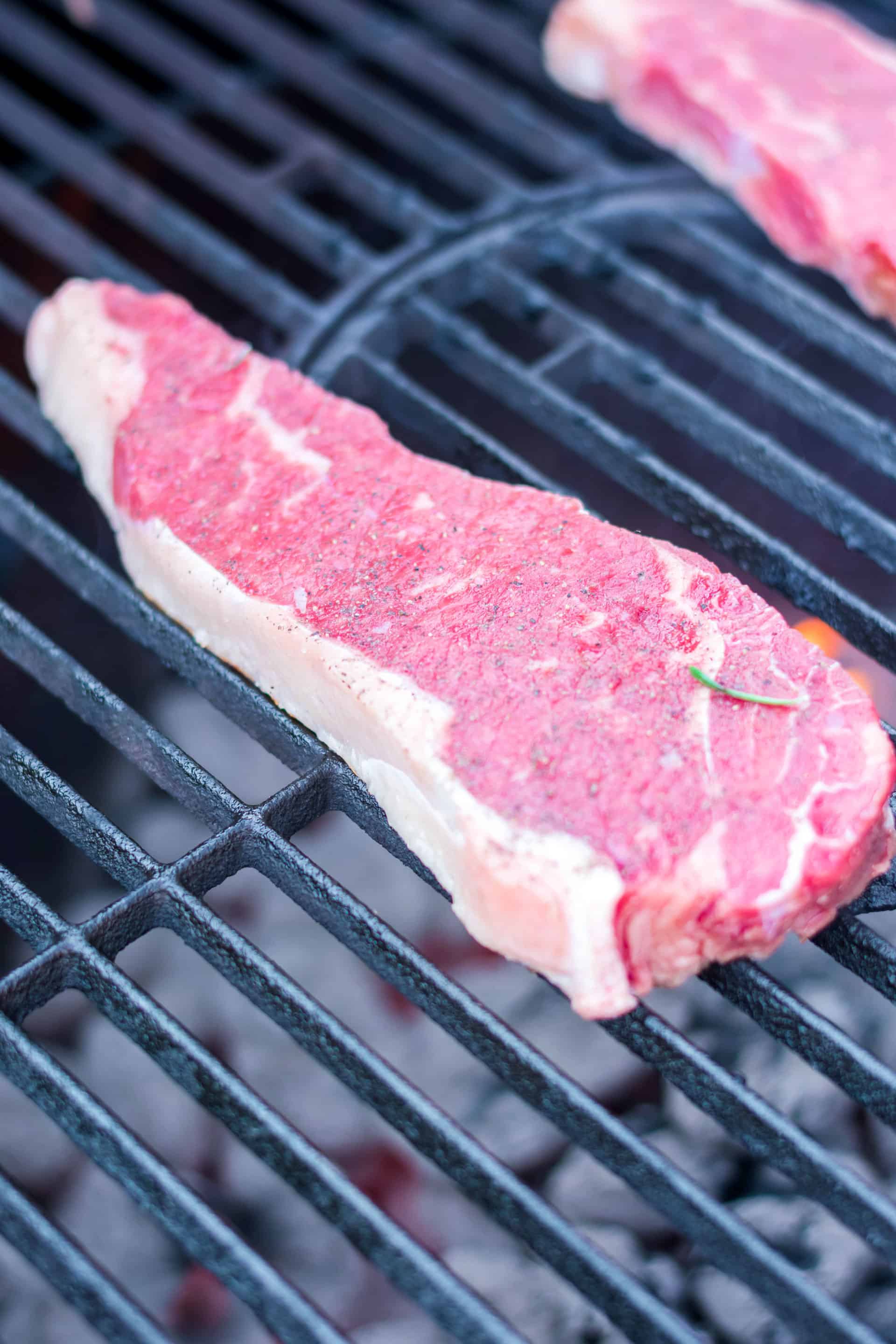 Do You Close The Lid When Grilling Steak?
If your grill has a lid, yes close the lid. This will help lock in that high heat that you want for cooking your steak. It will protect the juices in the steak from not drying out as fast.
How Long Do I Cook a Steak On Each Side?
This all depends on the thickness of the steak. So these times below are a gauge, but not set in stone. If you have a rather thick steak, you, of course, need to add more time to the cooking time, or it will be under-cooked.
2-3 minutes on each side for a rare style steak.
4-5 minutes for a medium steak on both sides.
6-10 minutes each side for a well-done steak.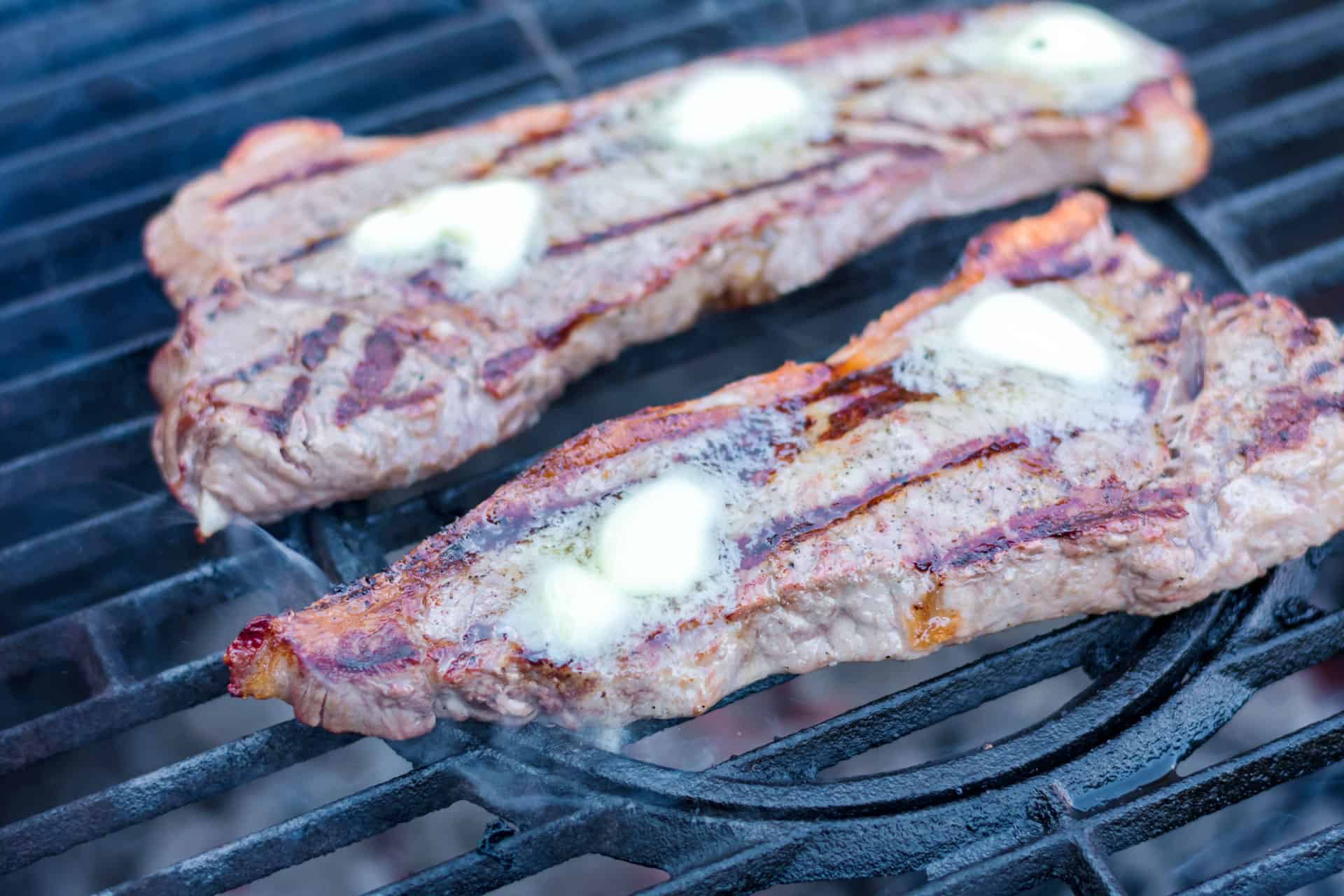 Set Steak-Out Before Tossing In The Grill
One key thing I learned watching the Food Network, is letting your steak sit on the counter for around 20 minutes before placing it on the grill. You will get a more even cook over your steak, added flavor, and a nice tender steak.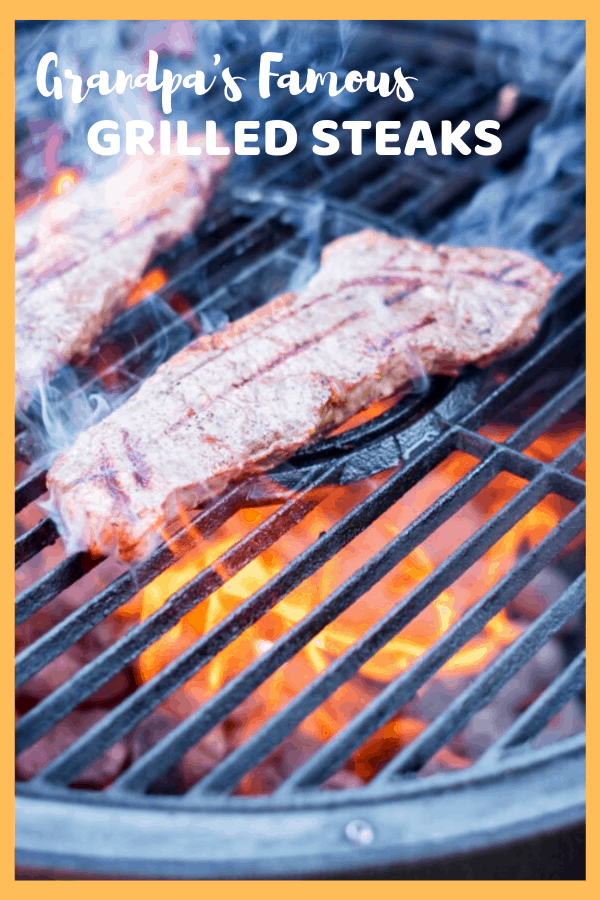 Why Do You Put Butter On Steaks?
Adding butter on top of a steak paired with herbs is an easy way to infuse flavor into your steak. One thing to be aware of is cooking over a grill that has a fire, the butter can flare up flames. So be cautious when you do this.
You will see a lot of indoor grill recipes and steaks being cooked in cast iron pans follow this system. Butter and herbs always add tons of flavor to your delicate meat.

What Should I Serve With Grilled Steak
Glazed Carrots | This is always my go-to side. I toss them on the grill right next to the steak for an incredible all in one dinner.
Cauliflower Mash | A nice alternative to mashed potatoes that offers a lower-carb threshold. Easy to make, satisfying and savory.
Salads | Serve up your favorite pasta salad, veggie salads and more:
Orzo Pasta Salad- Orzo salad is an amazing alternative to your standard pasta salad. If you're not familiar with it, orzo is a small short-cut pasta, similar in shape and size to a grain of rice.
Broccoli Pasta Salad- Any meal is better with broccoli, and this broccoli pasta salad is a tasty side dish to serve with any grilled meat.
Heirloom Potato Salad- This potato salad mixes things up a bit and uses baby heirloom potatoes to add color and flavor to the salad.
Another delicious and healthy option is to serve your steak atop a fresh salad, like this Steak Salad with Avocado Dressing.
What Is The Best Steak For Grilling
You can buy tons of styles of steak that are great for grilling. If you want to select the best cut of meat for your grilling needs, head to a grocery store with a butcher in store. Otherwise, if you have a local butcher shop, that is always a good place to go for your meat buying needs.
I reached for a New York Strip for this recipe. You can use Ribeye, KC strips, Charcoal Steaks (tend to be tougher) or even flat iron steak.
Talk to the butcher when picking out a steak for the guidance of what works best on the grill.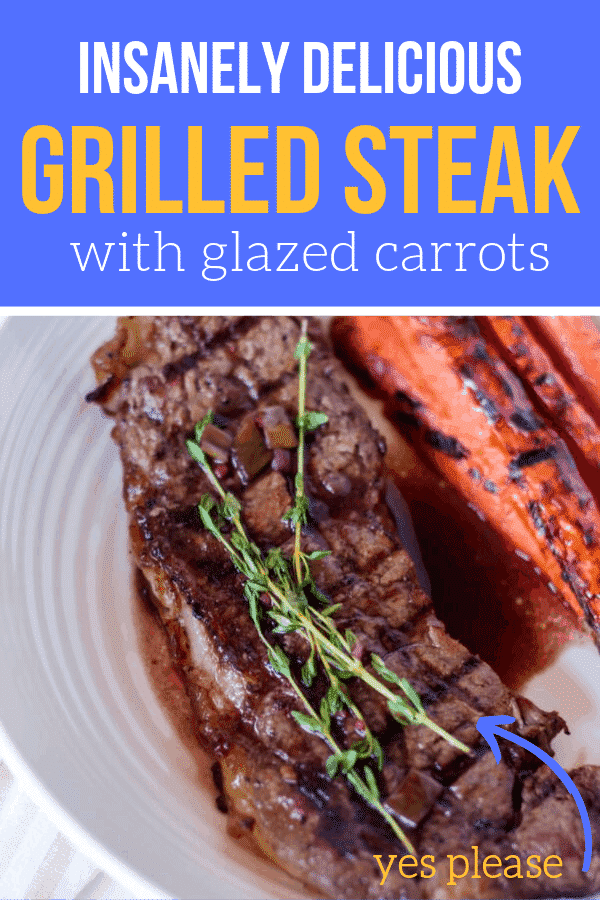 How Do You Pick A Good Steak For Grilling
Marbling is a big factor. You want to see a nice marble through the steak. This shows that you will have some tenderness and flavor in the steak. Also, note when you buy steak to look at the thickness. Try to buy similar in size steaks so they all can cook up evenly.
Quality is another big key component. If you want that tender and juicy steak, you need to pay. Buying quality cuts of meat will give you a more tender and flavorful dish.
Reach for a fresh steak. Skip frozen steak, it will not offer the same quality. Fresh cuts of beef are the way to go, and once you buy fresh you will always be reaching for it.
If you love steak, don't box it into restaurants.
My recipe is so easy and gives you that juicy and incredible steak recipe that you can cook on your grill. Whether you have a pellet grill, gas grill, or even indoor grill this recipe can work for any style of grill.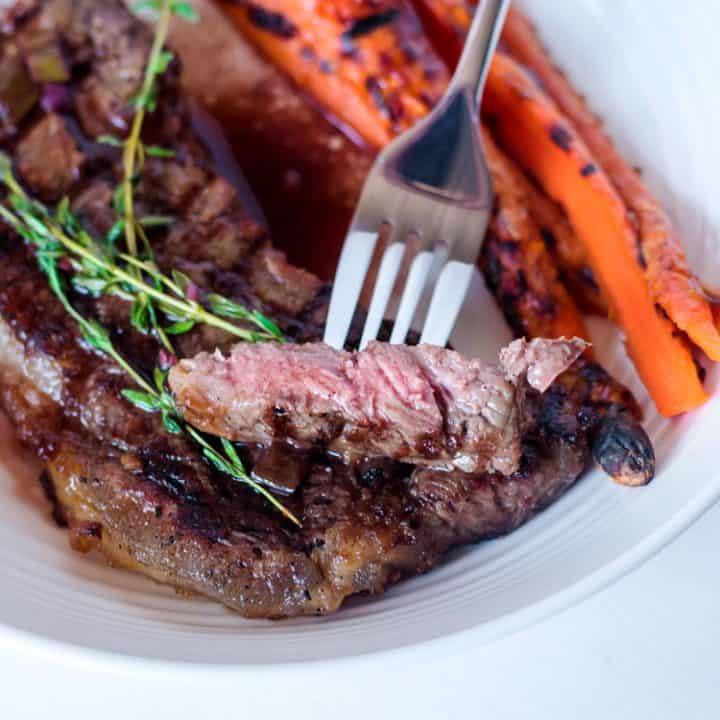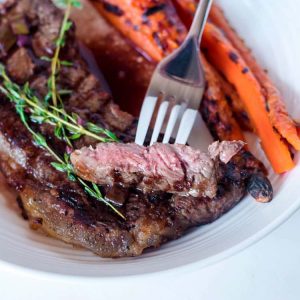 Grilled Steak
Tender and tasty New York Strip Steak grilled to perfection with butter, salt and pepper, and rosemary.
Ingredients
2 6-

ounce

New York Strip Steaks

1

tsp

each salt and pepper

or to taste

2

tbsp

butter

Rosemary sprigs
Instructions
Start by preheating your grill. Prep your steaks by adding seasonings to a small bowl and sprinkling the seasonings well on each side of the steak.

Add steak to the grill. The steak will take about 7-10 minutes per side. This depends on how you like your steak cooked. (A medium steak will be around 160 degrees on the inside).
Nutrition
Serving:
1
g
Calories:
632
kcal
Carbohydrates:
1
g
Protein:
44
g
Fat:
49
g
Saturated Fat:
22
g
Polyunsaturated Fat:
21
g
Cholesterol:
165
mg
Sodium:
791
mg