Grilling steak is both an art and a science. See how to grill steak perfectly every time with this simple recipe. Tender and tasty steaks grilled to simple perfection with butter, salt and pepper, and fresh rosemary. Yum!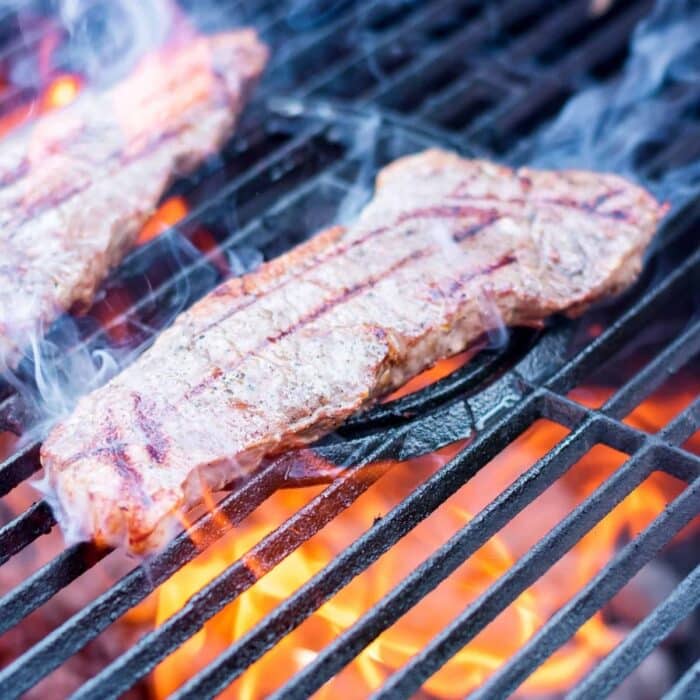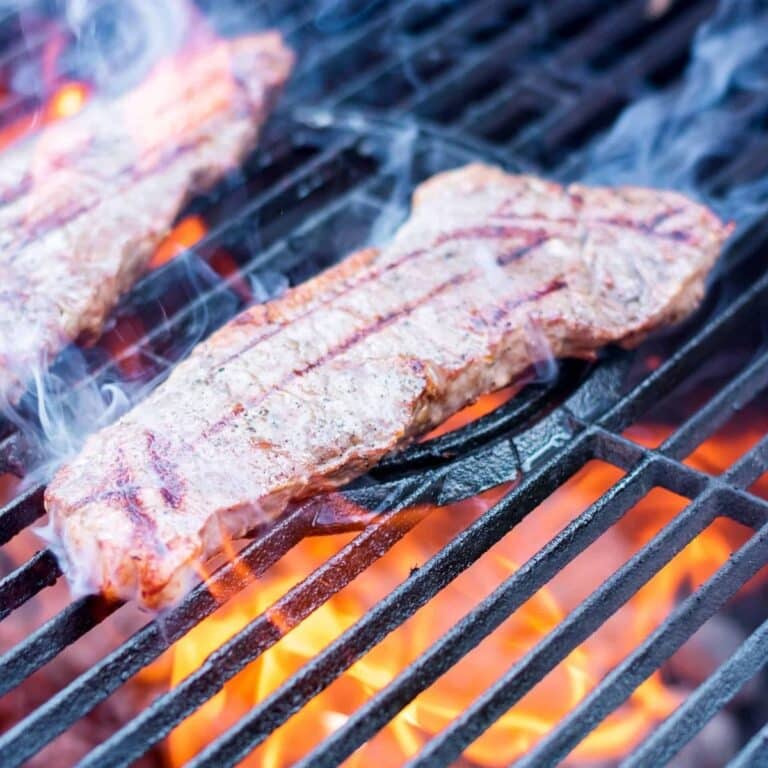 In this Article:
Are you looking to learn how to make the best-grilled steak? Whether you're the best grill master in the neighborhood, or a total newbie, I've got the perfect simple recipe for you.
At our house, my husband is the resident grillmaster. And while he happily cooks up my vegetarian grilling creations, he's much happier to grill himself some meat. 😀
This is a simple grilled steak recipe that is going to give you that restaurant-quality flavor in every single bite. It's an easy recipe - with grand results!
Top it with homemade red wine steak sauce for an extra fancy treat.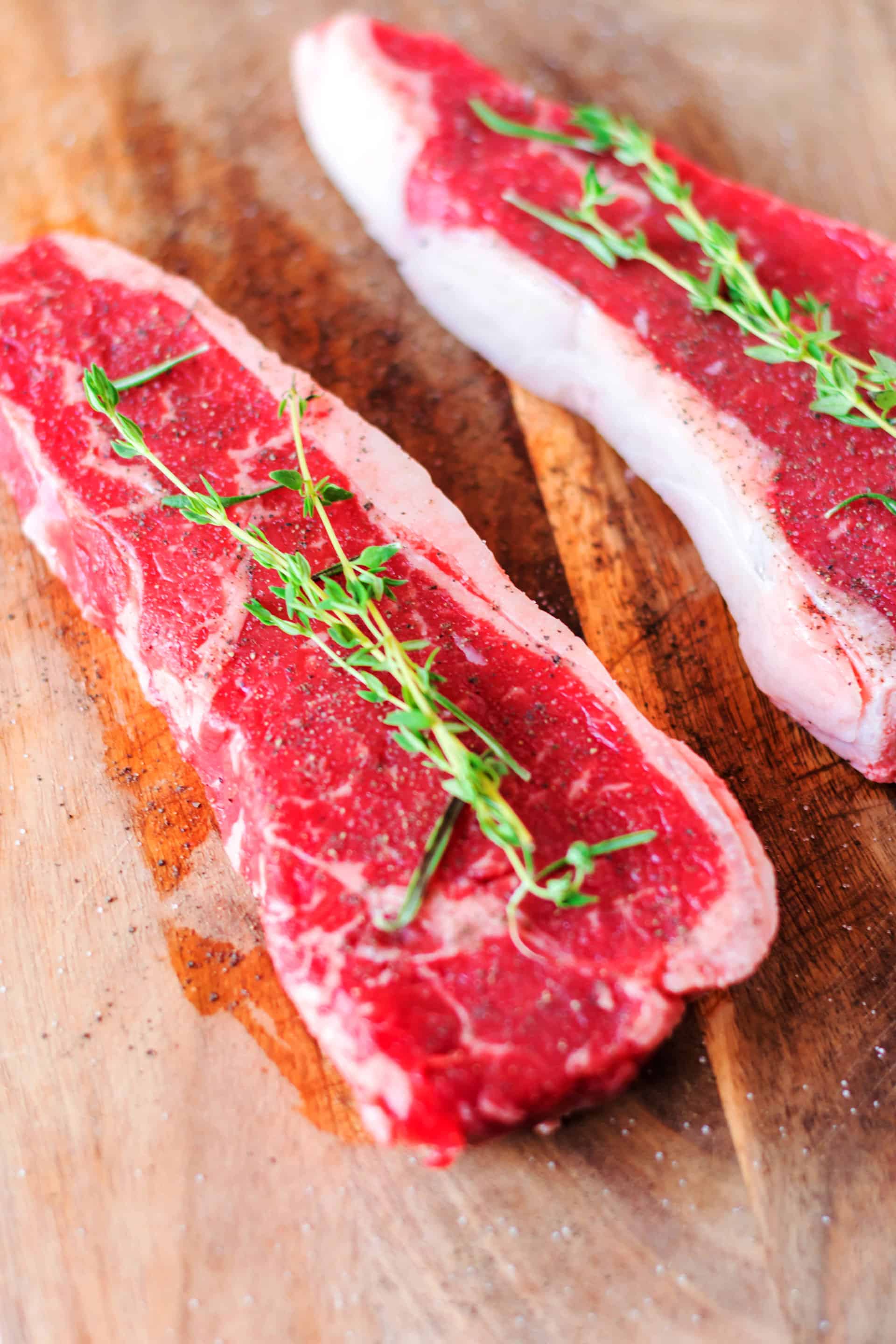 How to Grill Steak
To serve up a good steak there are just a few simple steps that are required. Let me share tips and tricks for cooking steak on the grill. This will help you to cook your steak properly.
Preheat the grill.
Season the steak on both sides with salt, pepper, and your favorite seasonings.
Place steaks on the grill. Brush with butter, and cook for 7-10 minutes.
Flip steaks and cook another 7-10 minutes, until done to desired temperature.
Let rest five minutes, and serve.
Scroll down for detailed instructions with measurements, in the printable recipe card.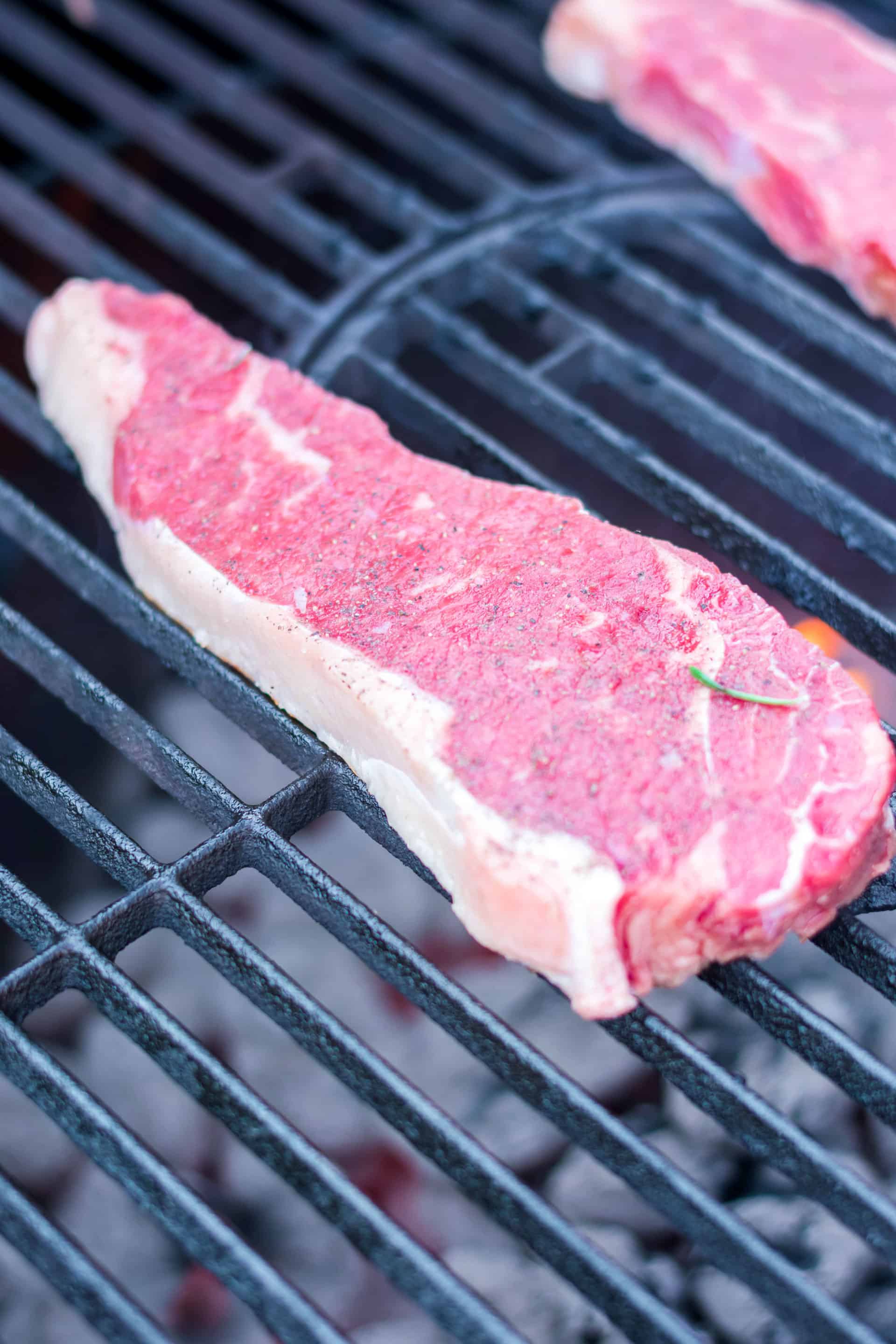 FAQs
What Is The Best Steak For Grilling
There are many types of steak that are great for grilling.New York Strip steaks are, Ribeye, KC strips, Charcoal Steaks (which tend to be tougher) or even flat iron steaks, are all great choices.
If you really want to select the best cut of meat, head to a grocery store with an actual butcher and ask them to recommend the freshest option.
How Do You Pick A Good Steak For Grilling?
Marbling is a big factor. You want to see a nice marble through the steak. This means that you will have some tenderness and flavor in the steak.
Quality is another big key component. If you want that tender and juicy steak, you need to pay a bit. Buying quality cuts of meat will give you a more tender and flavorful dish.
Reach for a fresh steak. Skip frozen steak, it will not offer the same quality. Fresh cuts of beef are the way to go, and once you buy fresh you will never go back to frozen.
How Long Do I Cook a Steak On Each Side?
This all depends on the thickness of the steak. So these times below are a gauge, but not set in stone. If you have a rather thick steak, you, of course, need to add more time to the cooking time, or it will be under-cooked.
2-3 minutes on each side for a rare steak.
4-5 minutes on each side for a medium steak.
6-10 minutes on each side for a well-done steak.
Do You Close The Lid When Grilling Steak?
If your grill has a lid, yes close the lid. This will help lock in that high heat that you want for cooking your steak to perfection. It will also help keep the juices in the steak, not allowing it to dry out as fast.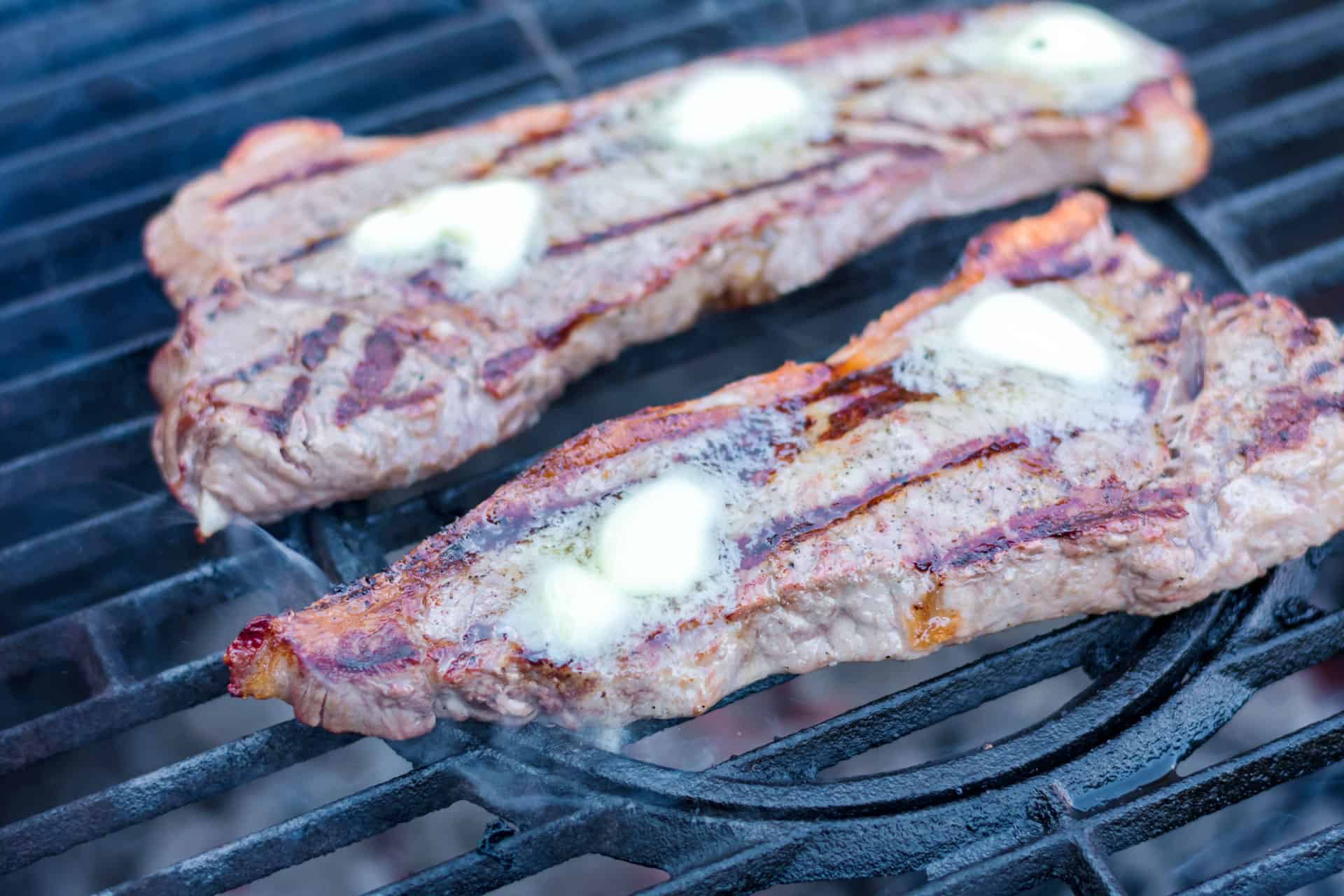 Why Do You Put Butter On Steaks?
Adding butter and fresh herbs to your steak is an incredibly easy way to infuse lots of flavor. If the butter drips down into the grill, it can cause flames, so be cautious.
You will see that a lot of indoor grill recipes and steaks being cooked in cast iron pans follow this same method. Butter and herbs always add tons of flavor to delicate meats.
Should I let the steak set before grilling?
One key thing I learned from years of practice, is to let your steak sit on the counter for around 20 minutes before placing it on the grill. This lets it come up a bit closer to room temperature, which allows it to brown more easily.
Should I let the steak rest before serving?
Yes, let the steak rest for 5-10 minutes before slicing it. This gives all the juices a few minutes to soak back into the meat, adding flavor and moisture.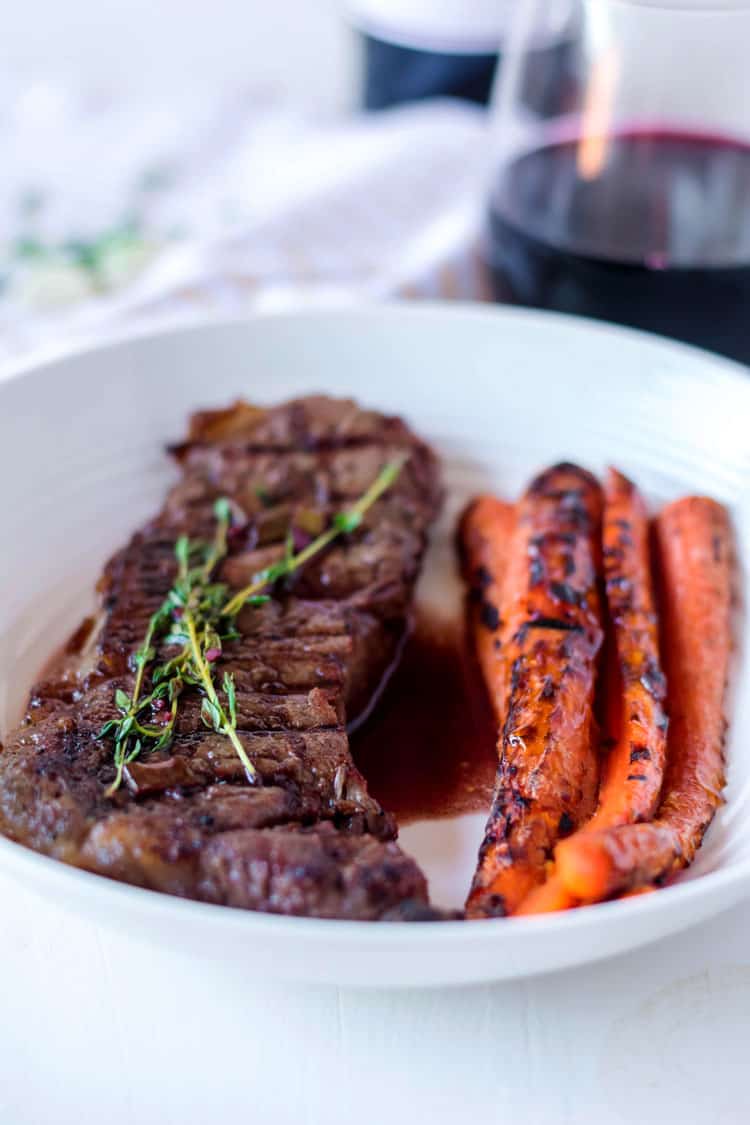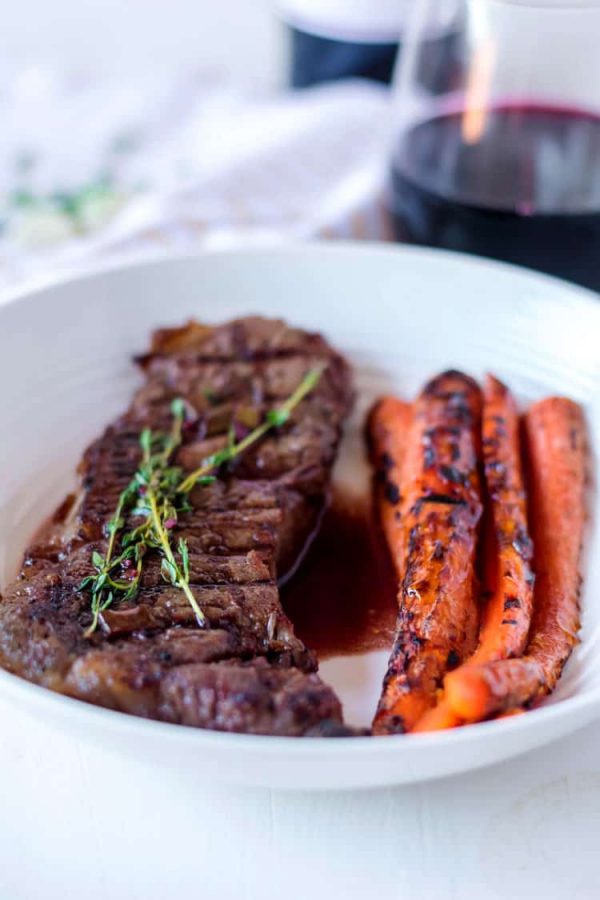 What to Serve with Steak
If you're looking for a few serving suggestions, there are my favorite sides to served up alongside these steaks.
Glazed Carrots | This is always my go-to side. I toss them on the grill right next to the steak for an incredible all in one dinner.
Mashed Cauliflower | A nice alternative to mashed potatoes that offers a lower-carb threshold. Easy to make, satisfying and savory.
Orzo Pasta Salad- Orzo salad is an amazing alternative to your standard pasta salad. If you're not familiar with it, orzo is a small short-cut pasta, similar in shape and size to a grain of rice.
Broccoli Pasta Salad- Any meal is better with broccoli, and this broccoli pasta salad is a tasty side dish to serve with any grilled meat.
Loaded Baked Potato Salad - This potato salad is loaded with cheese, bacon, and chives. What's not to love?
Another delicious and healthy option is to serve your steak atop a fresh salad, like this Steak Salad with Avocado Dressing.
More Recipes
If you love this recipe, be sure to check out these other delicious ideas.
Recipe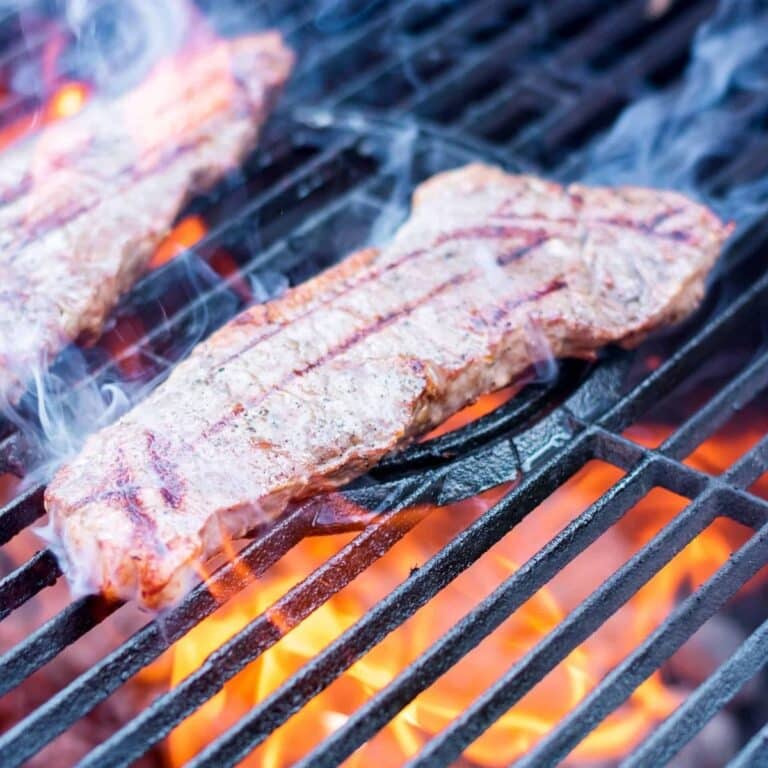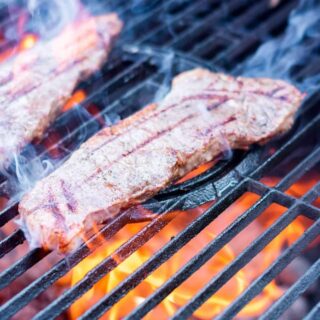 How to Grill Steak - Perfect Every Time!
Grilling steak is both an art and a science. See how to grill a steak perfectly every time with these simple recipe. Tender and tasty steaks grilled to simple perfection with butter, salt and pepper, and fresh rosemary. Yum!
Ingredients
12

ounces

New York Strip Steaks

2 6-oz steaks

1

tsp

salt

or to taste

1

tsp

black pepper

or to taste

2

tbsp

butter

Rosemary sprigs

fresh
Instructions
Start by preheating your grill.

Prep your steaks by sprinkling the seasonings well over each side of the steak.

Add steak to the grill. Grill the steak for about 7-10 minutes per side. This depends on how well you like your steak cooked. A "medium" steak will be around 160 degrees on the inside.
Nutrition
Serving:
1
g
Calories:
632
kcal
Carbohydrates:
1
g
Protein:
44
g
Fat:
49
g
Saturated Fat:
22
g
Polyunsaturated Fat:
21
g
Cholesterol:
165
mg
Sodium:
791
mg