Coney Island Beef Chili Dogs - Otherwise Known as A&W Chili Dogs
Simplicity.
One of those types of meals that has comfort written all over it.
Loaded. Beefy. Classic carnival food kind of good. Beef Chili Dogs, a food truck concession that brings droves of customers to stand in line, pay up a few bucks and walk away feeling satisfied.
Kind of like Walking Tacos or a Freshly Squeezed Lemonade... unbeatable flavor!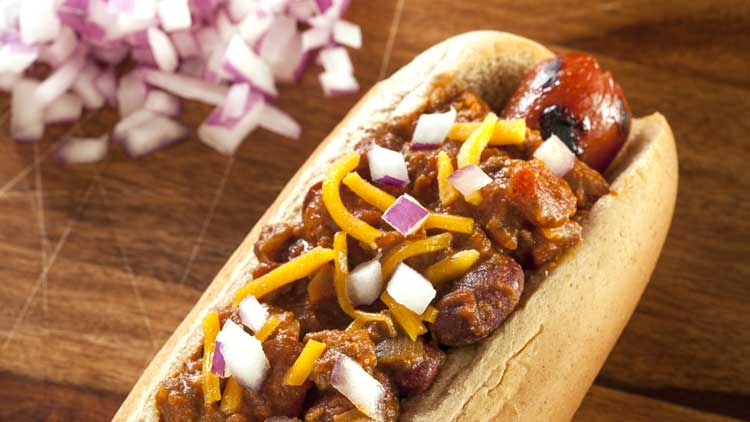 Hot Dog Sauce is Where It's At
A&W's Coney Sauce is famous for a good reason - it's irresistible!
You'll want to make a big batch of this coney dog sauce, because its so much better than to hold back and keep it for the hot dogs alone
Pour it over fries, a chili baked potato, or chow down on the chili all on its own. This is a meal in itself.
However - it's also perfect to make a Chili Dog with so we totally get that you might reserve this hot dog sauce specifically for Chili Dog day. We get it.
Easy Chili is Always a Winner
We love a good chili recipe, and we've made more than our fair share over the years. If you're looking for a new chili recipe, here are a few we absolutely love:
No matter what type of chili you're after, you'll love all of these tasty recipes. So good!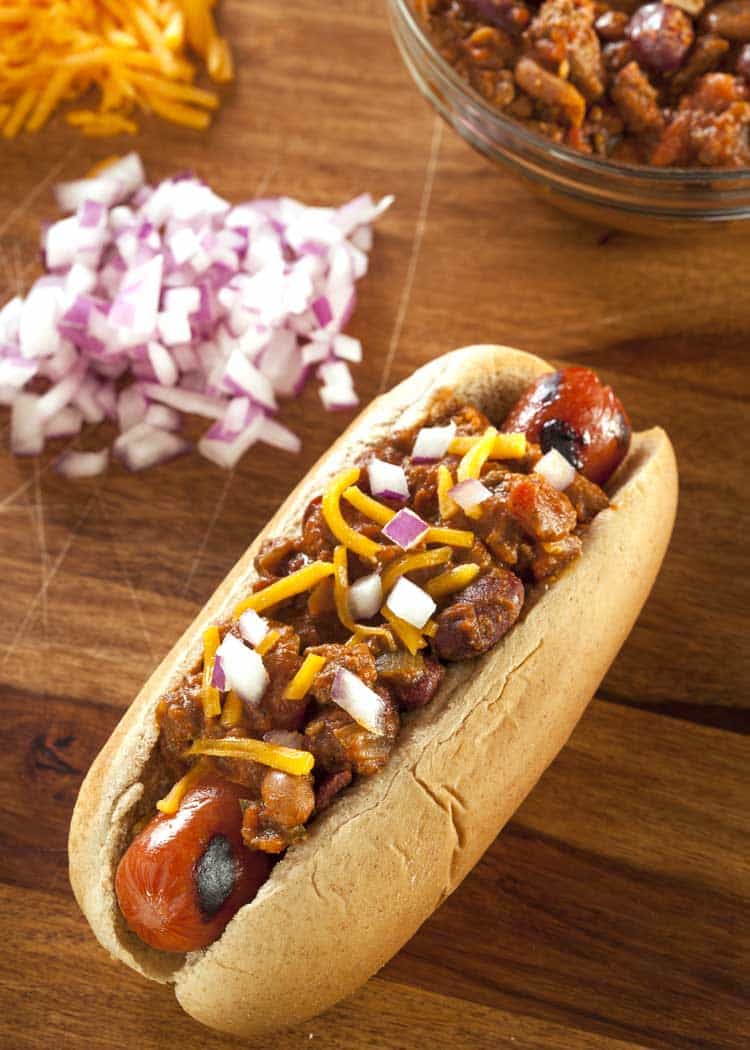 So if you've been craving a hot dog and chili, combine the two for the perfect chili dog loaded with sauce, cheese and onions.
Really, you can mix things up and put whatever your own favorite toppings are on top of that delicious hot dog.
We like to load ours up with cheese and onions, but have a selection of toppings on hand if you're feeding a crowd so everyone can pick their own favorites. Peppers make a great addition, as do crunchy crushed tortilla chips!
Enjoy!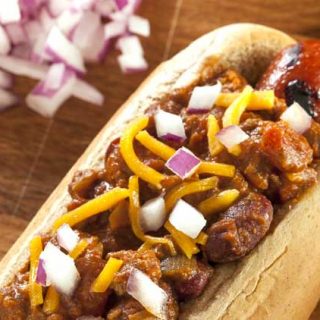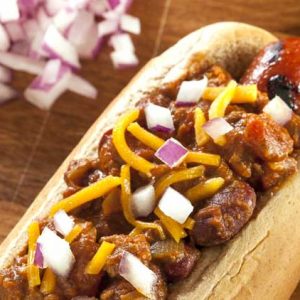 Copycat A&W Chili Dogs
These Copycat A&W Beef Chili Dogs are amazing! This classic recipe is a keeper and one you'll love to have on hand for quick dinner ideas.
Instructions
Making the Coney Island Chili Dog Sauce:
Brown the ground chuck in a 2 quart saucepan, breaking meat into very small pieces.

While cooking, lightly season meat with salt and pepper.

Do not drain the fat.

Add the tomato paste, water, sugar, yellow mustard, onion, chili powder, and Worcestershire sauce.

Simmer for 30-45 minutes, uncovered, until it thickens. Stir occasionally. Keep warm until ready to serve.

In a 2 quart saucepan, bring water to a rolling boil.

Removing the saucepan from the heat, add frankfurter to the water. Cover and let sit about 10 minutes.

Microwave hot dog roll for 10 seconds to warm.

Serve each hot dog on a bun, topped with the chili sauce.
Nutrition
Calories:
622
kcal
Carbohydrates:
45
g
Protein:
33
g
Fat:
35
g
Saturated Fat:
13
g
Cholesterol:
111
mg
Sodium:
1306
mg
Potassium:
945
mg
Fiber:
4
g
Sugar:
13
g
Vitamin A:
1268
IU
Vitamin C:
12
mg
Calcium:
199
mg
Iron:
6
mg