Hi! It's Jilly. Who loves restaurant copycat recipes?! *Me, me!* Well, Valentine's Day is coming up, and as nice as it is to go out for a romantic dinner to celebrate, sometimes that's not always possible due to work schedules, babysitter woes, etc. Plus, who wants to fight the crowds?! So, I've pulled together a HUGE list of restaurant copycat recipes to bring your favorite take-out meals home!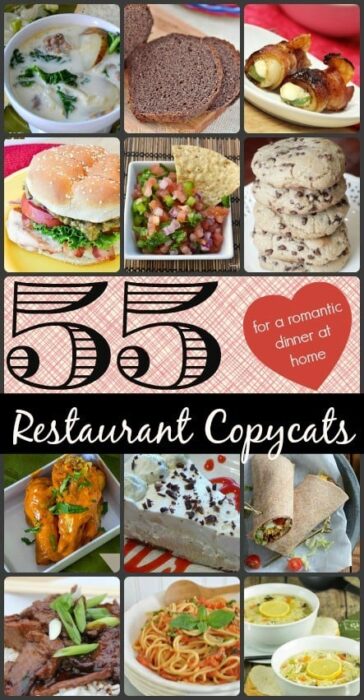 Impostor Red Lobster Cheddar Bay Biscuits
Happy Joe's Special (Canadian Bacon and Sauerkraut Pizza)
Homemade Mighty Taco Beef Copycat
Caramel Apple Spice in the Slow Cooker (Starbucks Copycat)
Creamy Jalapeño Ranch Dip from Chuy's
Weight Watchers Version of Red Lobster Biscuits
Olive Garden's Chicken and Gnocchi Soup
Copycat McAllister's Chicken Tortilla Soup
Olive Garden Pasta E Fagioli Soup (Slow Cooker)
Panera Broccoli and Cheese Soup
Chipotle Inspired Pico de Gallo
Copycat Chipotle Mexican Grill Cilantro- Lime Rice
Copycat Noodles & Co. Homemade Mac and Cheese
Spaghetti with Tomato and Basil from Scarpetta's in NYC
Garlic Cheddar Drop Biscuits, similar to Red Lobster
Whole Wheat Cranberry Walnut Pumpkin Scones (Starbucks Copycat)
Red Velvet Waffle Recipe from Yolk in Chicago
Stuffed BBQ Shrimp (Claim Jumper Copycat)
Starbucks Copycat Mocha Frappaccino
Vanilla Bean Cheesecake (TGI Friday's Copycat)
Corner Bakery Cinnamon Crème Coffee Cake
Red Robin Copycat California Chicken Sandwich
Café Rio Copycat Sweet Pulled Pork
Cilantro Lime Ranch Salad Dressing (Café Rio Copycat)
Bang Bang Shrimp Taco Boats (Bonefish Grill Copycat)
Café Zupas Wisconsin Cauliflower Soup
Copycat Sonic Ultimate Meat and Cheese Burrito
Knock Off Jamba Juice Caribbean Passion Smoothie
Copycat Culver's Colby Jack Pub Burger
Faux Red Lobster Cheddar Bay Biscuits Recipe
Red Apple Sangria (Applebee's Copycat)
IHOP Bacon Temptation Omelette
Spicy Garlic Chicken Wing Sauce from Buffalo Wild Wings
Lemon Chicken Orzo Soup from Panera
Panera Bread French Onion Soup
The Best Copycat Cinnabon Cinnamon Roll Recipe
Cracker Barrel Hash Brown Casserole
Copycat Ghirardelli Dark Chocolate Peppermint Bark
Copycat Panera Creamy Tomato Basil Soup
Double Chocolate Chip Muffins (Otis Spunkmeyer Copycat)
Panera Chewy Chocolate Chip Cookies
Copycat Willow Tree Chicken Salad
Honey Mustard Dressing (Chili's Copycat)
Better Than Starbucks Salted Caramel Hot Chocolate
What are your plans this Valentine's Day? Staying in, or going out?
 Do you have a favorite restaurant copycat recipe that I've missed? Leave your link in the comments!
The following two tabs change content below.
Latest posts by Jessica McCoy (see all)