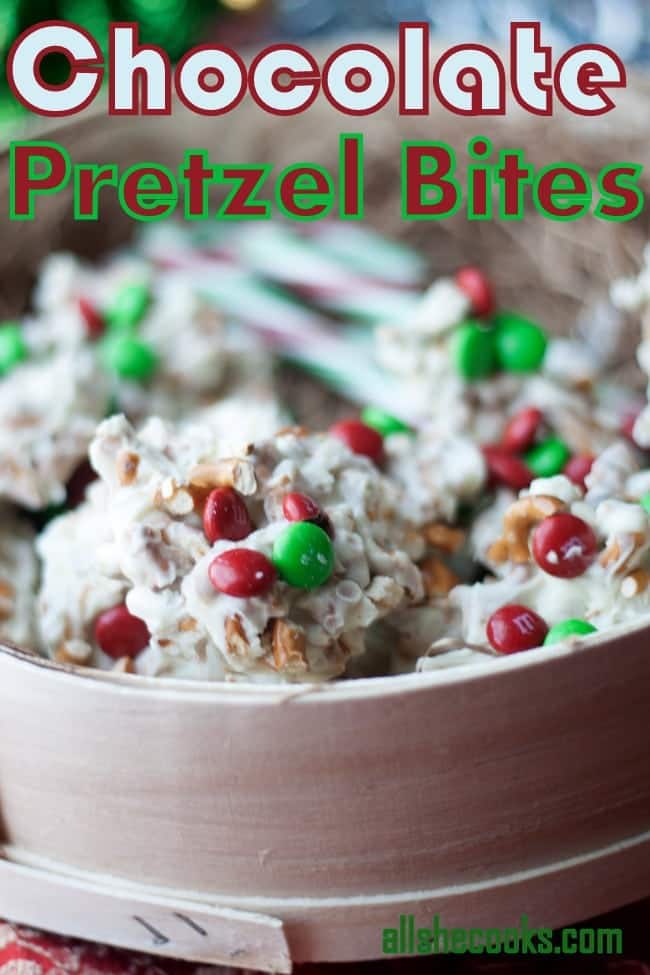 I will go with fun and easy holiday treats any day of the week.  And... a treat that takes me all of 5 minutes to melt down, smash up, and mold together is just plain perfect in my book.  I mean, that means getting out any frustration I might have by smashing half a bag full of pretzels into smithereens, right?
One of my all time favorite holiday snacks has always been the chocolate covered pretzel. And, I've always enjoyed making them. But, making chocolate covered pretzels can be a bit time consuming. Fun, but it takes a lot of time. And sometimes, I just don't have all that extra time.
Hello! Why I hadn't thought of this idea before, I honestly don't know... and I'm sure that someone somewhere had it all figured out long before my revelation. But, alas... I'm here to share my story with you about an easier way to get the same chocolate covered pretzel taste without taking all the time!
Making treats with pretzels is a great way to make a healthy snack a little sweeter. We've fancied it up making all kinds of snacks with pretzels, pretzels, and more pretzels. And then there is always 85 Christmas Cookie recipes and 70+Tasty Neighbor Gifts... if you're looking for more yummy treats to make.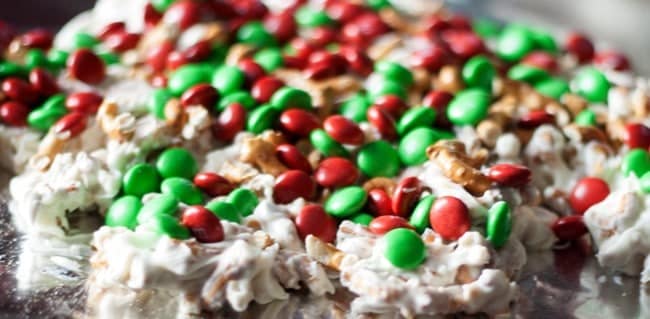 First- melt up your chocolate.
Second- smash up half a bag of pretzels. They don't have to be finely crushed... coarse and unruly are just fine. That'll give your pretzel bites character.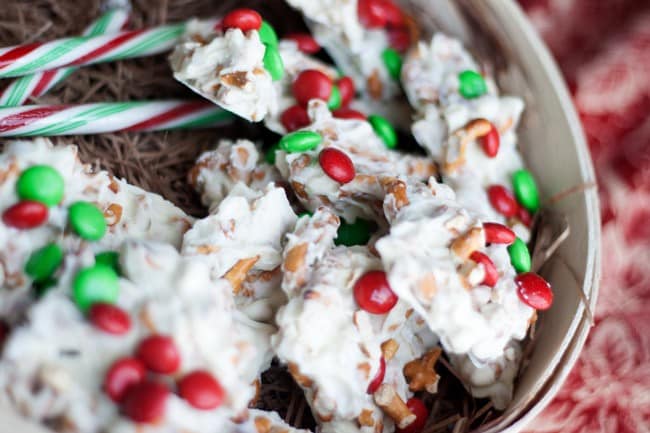 And then they can pose for photos... because when you have a holiday treat that is as easy to make as these are, you'll have plenty of time left over to capture them in all their glory. That is, if you don't eat them first. Luckily for me, the kiddos were at school so I was able to snap a few shots of these gorgeous White Chocolate Pretzel Bites with M&M's.
Did I mention that I love M&M's? And pretzels. And white chocolate. YUM!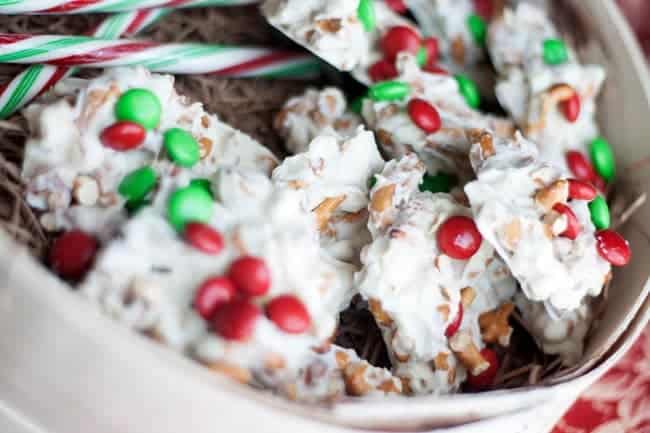 Here's all you need: white chocolate chips, about 2 ½ cups of pretzels (give or take- depends on how crunchy you want to make this chocolate holiday candy treat), and M&M's. I used red and green holiday M&M's for Christmas, but I'll be making these at Valentine's Day with red and pink... ah, versatility!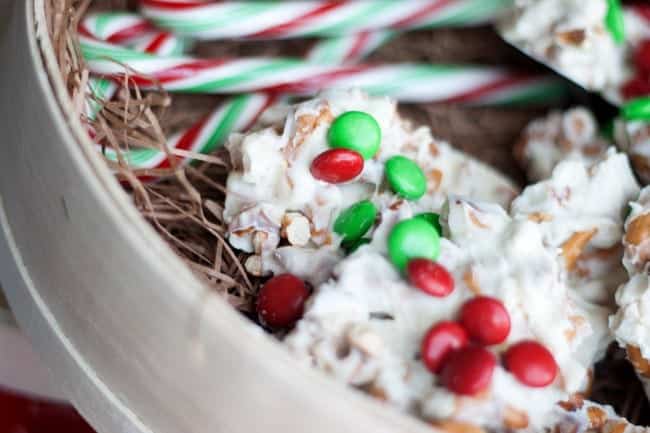 More Holiday Recipes
If you love these white chocolate M&M clusters be sure to check out these other tasty ideas: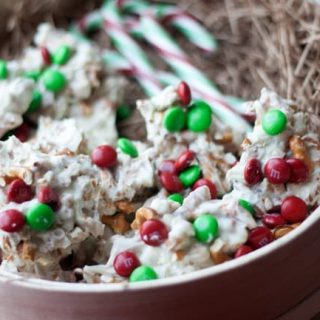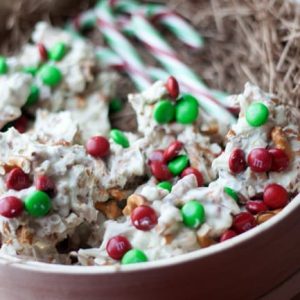 White Chocolate Pretzel Bites with M&M's- An Easy Holiday Treat
This tasty holiday treat is loaded with white chocolate, pretzels, and M&M's - and it's ready in just 5 minutes. What's not to love?
Ingredients
16

ounces

white chocolate chips

2 ½

cups

pretzels

broken in pieces (I used a rolling pin and hit it over the bag several times to break them up a bit)

¾

cup

holiday M&M's
Instructions
Melt white chocolate chips by microwaving in a glass container for 30 seconds at a time, stirring and microwaving again until melted.

Stir in broken pretzels. Add additional pretzels if you'd like a crunchier candy.

Pour onto parchment paper or aluminum foil and spread out to the thinness you desire your candies to be.

Sprinkle holiday M&M's over the white chocolate immediately before the chocolate starts to harden. Press M&M's down lightly to make sure they connect with the chocolate, otherwise some of them will not attach to the chocolate and will come loose when you break the candy into pieces.

Let harden on the counter, or place in refrigerator for about an hour. Once hardened, either cut or break into pieces.
Nutrition
Calories:
997
kcal
Carbohydrates:
134
g
Protein:
14
g
Fat:
47
g
Saturated Fat:
28
g
Cholesterol:
30
mg
Sodium:
762
mg
Potassium:
392
mg
Fiber:
3
g
Sugar:
93
g
Vitamin A:
121
IU
Vitamin C:
1
mg
Calcium:
280
mg
Iron:
3
mg