My Cheesecake Factory Menu Favorite – Pumpkin Cheesecake
Pretty much everyone who has been to to the well-know restaurant has a Cheesecake Factory menu favorite. I know I do.  Well, of course pumpkin cheesecake is my favorite because–I absolutely LOVE pumpkin.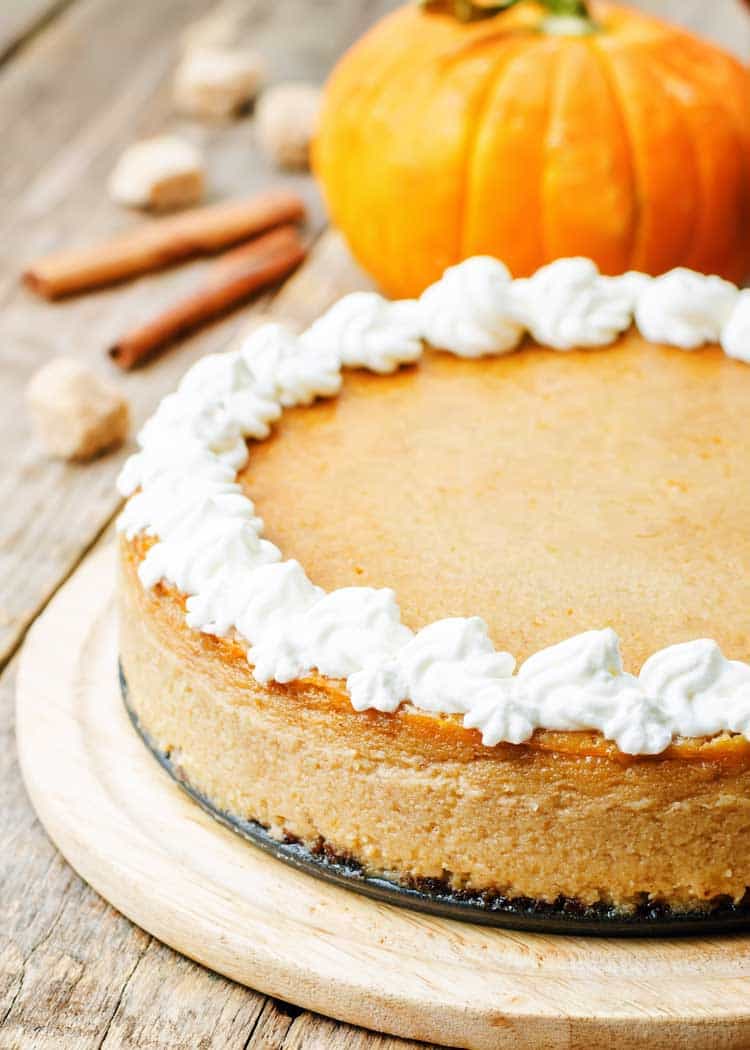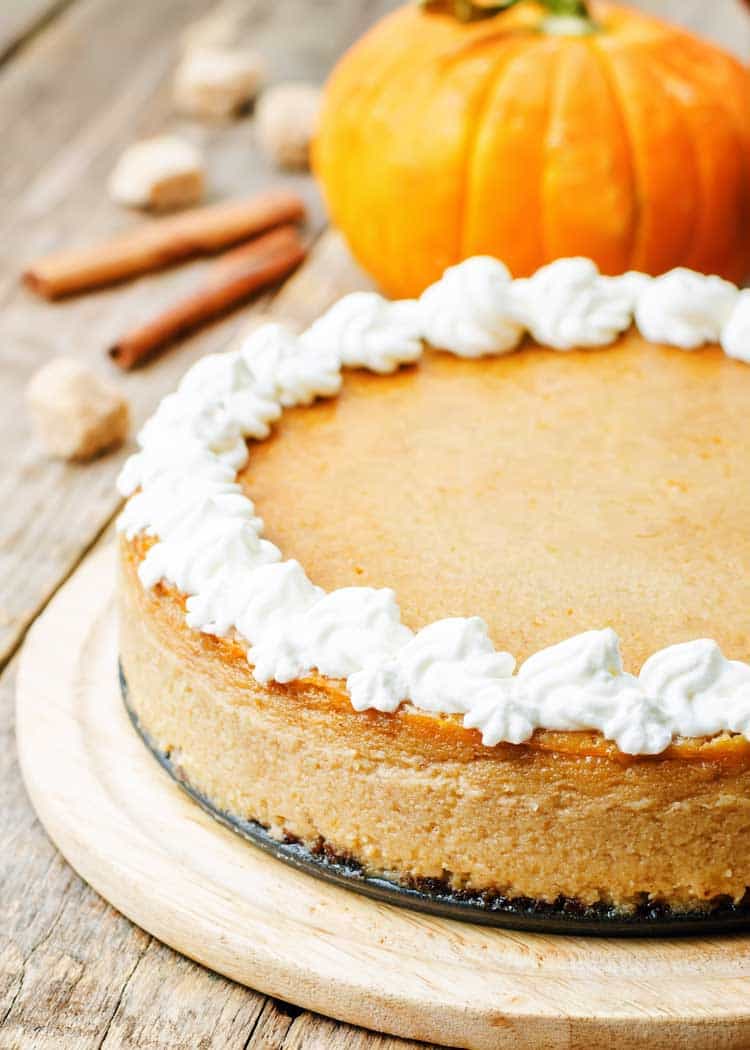 For instance, I have about a gazillion recipes that call for pumpkin. Okay, so I exaggerate a tad bit. But in all seriousness, pumpkin recipes are abundant around the blogoshere.
Every year in the fall, without fail, Pinterest becomes overloaded with images of every type of pumpkin recipe imaginable. And it's ALL good.
We like to keep up with the trend and share as many pumpkin recipes on All She Cooks as we can. Like our delicious Pumpkin Milkshakes.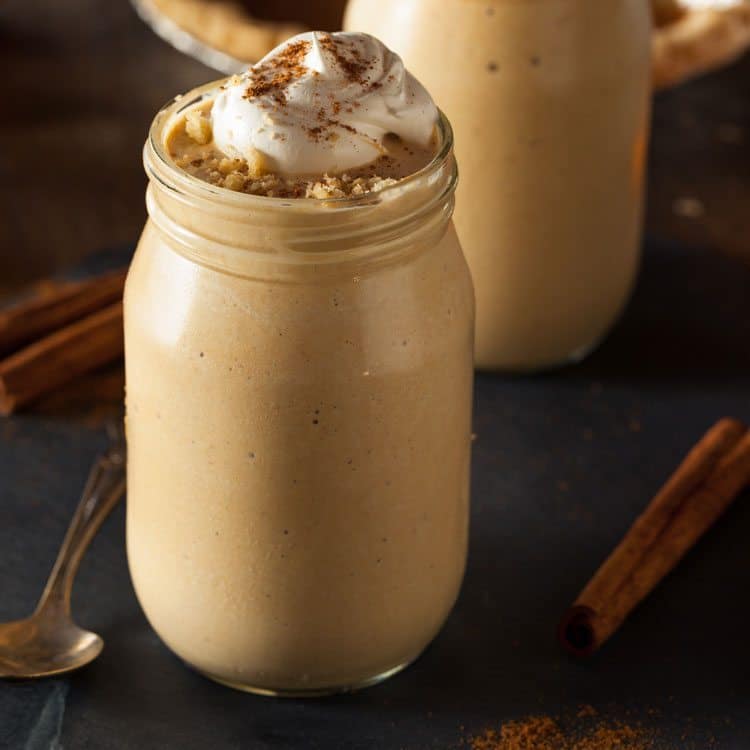 Or a few of our other favorites like Pumpkin Pie Crepes. We're huge fans of crepes in general, so when it comes to making sweet crepes of any kind (think Cherry Crepes and Strawberry Crepes) well, we just can't find a reason to not indulge.
Another one of our favorite pumpkin recipes that is savory instead of sweet is Pumpkin Soup.
Seriously, once you try a bite of this smooth and delicious soup, you'll wonder why you've never had it before. It is so good!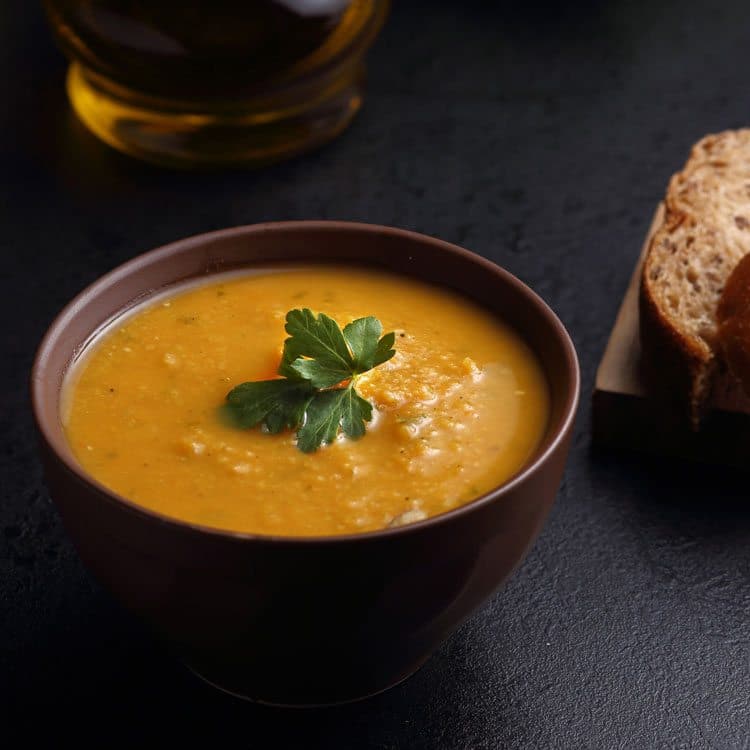 Thanksgiving Recipes You'll Want to Try
So many people start searching for pumpkin desserts because they are looking for recipes for Thanksgiving menus. And we totally get that. Seriously, we do.
We spend time on and off throughout the year playing around with recipes to add to our compilation of Thanksgiving and holiday recipes for All She Cooks. We try to give our audience what they are looking for.
If you're looking for more ideas to round out your Thanksgiving Day menu, we've got a homemade cranberry sauce that is beyond yum. You might also want to take a look at our gorgeous Cranberry Stuffing that we formed in a bundt pan...making it the perfect addition to any holiday foodscape.
Pumpkin Sweet Recipes Deliver
Like pumpkin cream cheese.
Well…that is a sweet ingredient that goes in and on some of my favorite things.
Pumpkin Cream Cheese that I use for all kinds of good stuff including Pumpkin Pie Bagels.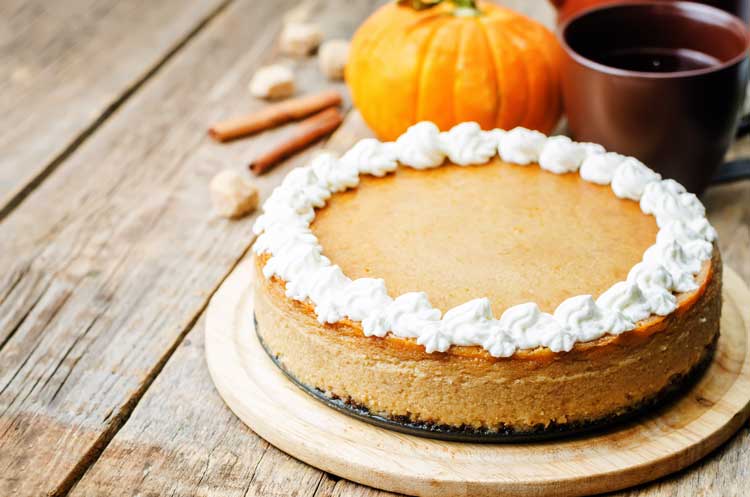 Click Here to get more top-rated restaurant copy cat recipes.
Simple Pumpkin Cheesecake Recipe Easy Does It.
Pumpkin everything, right? Now, we can count among those recipes something that I would consider one of the best easy cheesecake recipes.
If you have a spring form pan at home and a few essential ingredients, you'll be ready to serve this up in no time!
Just remember to allow time for your scrumptious cheesecake to chill out in the fridge for at least 8 hours.  I mean, you want the cake to perform it's best, don't you?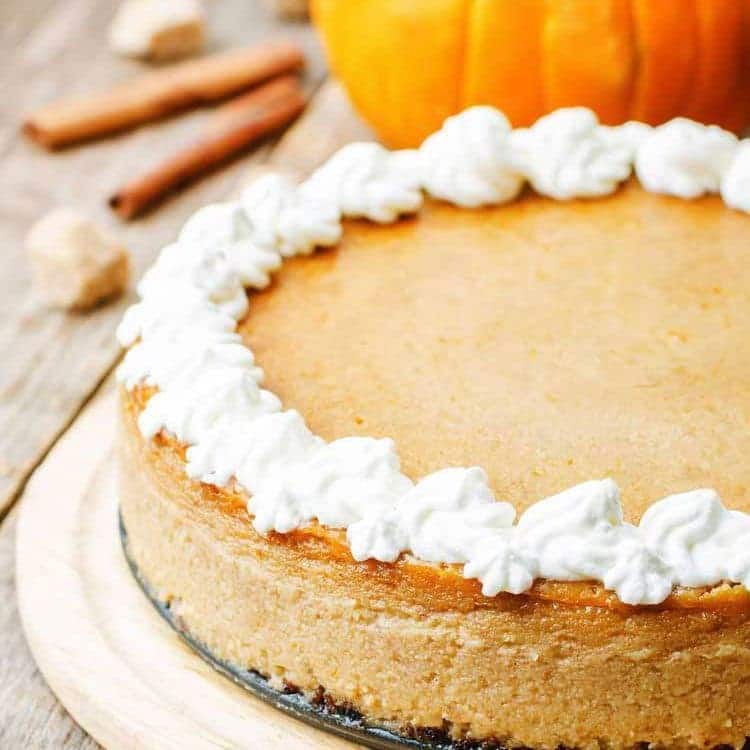 Pumpkin Cream Cheese Dessert Recipes
If you like pumpkin as much as I do, you'll really enjoy this pumpkin cheesecake recipe.  It is absolutely amazing.
You can dress it up or dress it down, but no matter which way you serve it up, Pumpkin Cheesecake is the bomb. It's really the best homemade pumpkin pie recipe I've ever had.
Pumpkin Pie Can Be Enjoyed All Year Long
And please–do NOT make the mistake that pumpkin cheesecake is only for the fall season!
Trust me, there was a time and place when I associated pumpkin strictly with Thanksgiving dessert recipes, and for good reason. The only time we had pumpkin was in pumpkin pie at Thanksgiving.
Of course, that makes the memories of youthful Thanksgivings so much sweeter–watching the Macy's Day Parade on the television while eating a huge slice of pumpkin pie made from scratch, heavily loaded down with just as much whipped cream mind you.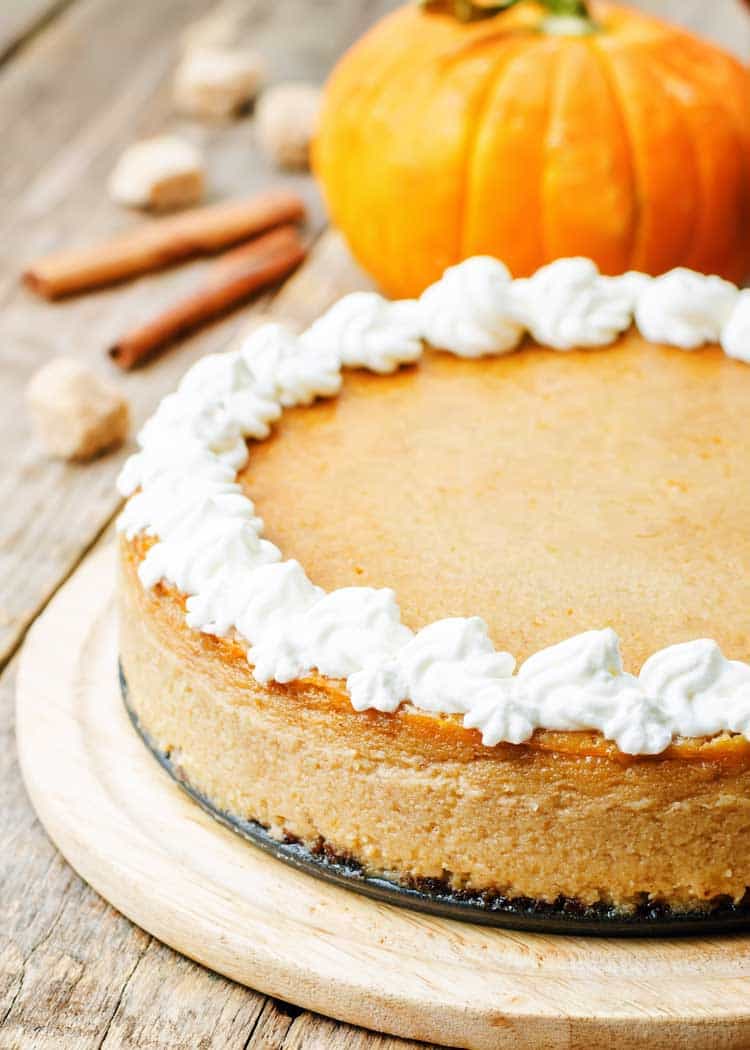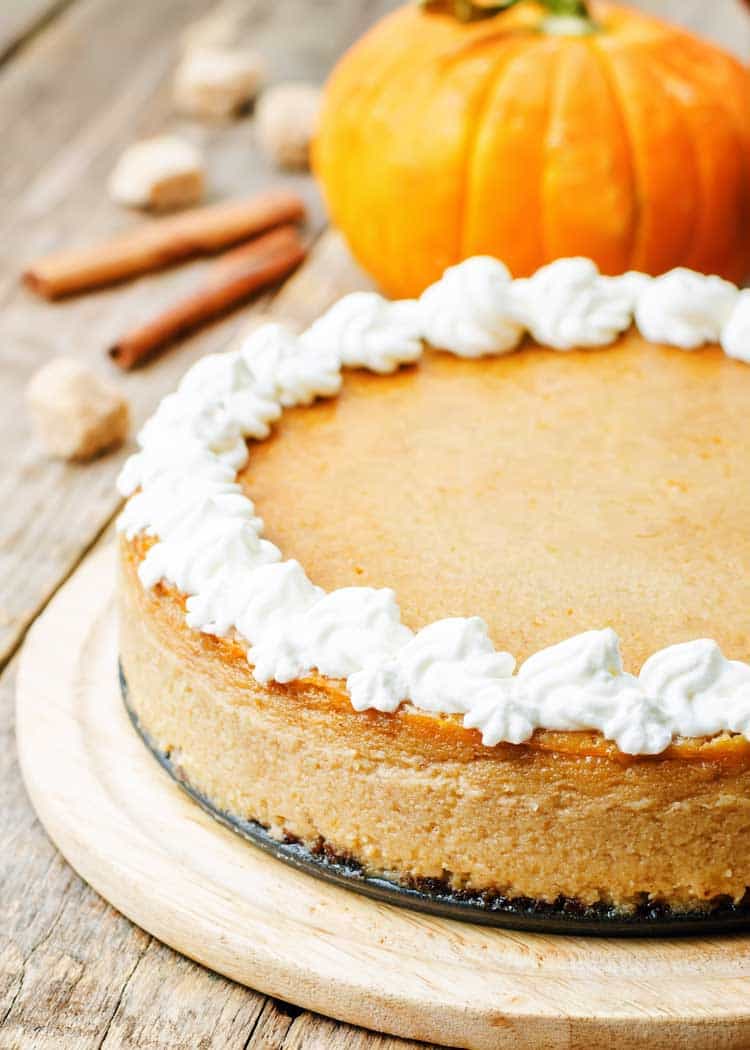 The Cheesecake Factory Pumpkin Cheesecake Recipe
Our Copycat Cheesecake Factory Pumpkin Cheesecake recipe would make a fantastic dessert to serve at your next holiday meal, however–don't limit it to just that.
If you love pumpkin as much as so many of us do, why not enjoy it year round?
Especially when it comes in the form of Pumpkin Cheesecake, right?
In fact, with this cookbook you can find even more favorite restaurant quality recipes from:  the Cheesecake Factory Recipes. It's on my shopping list, that's for sure!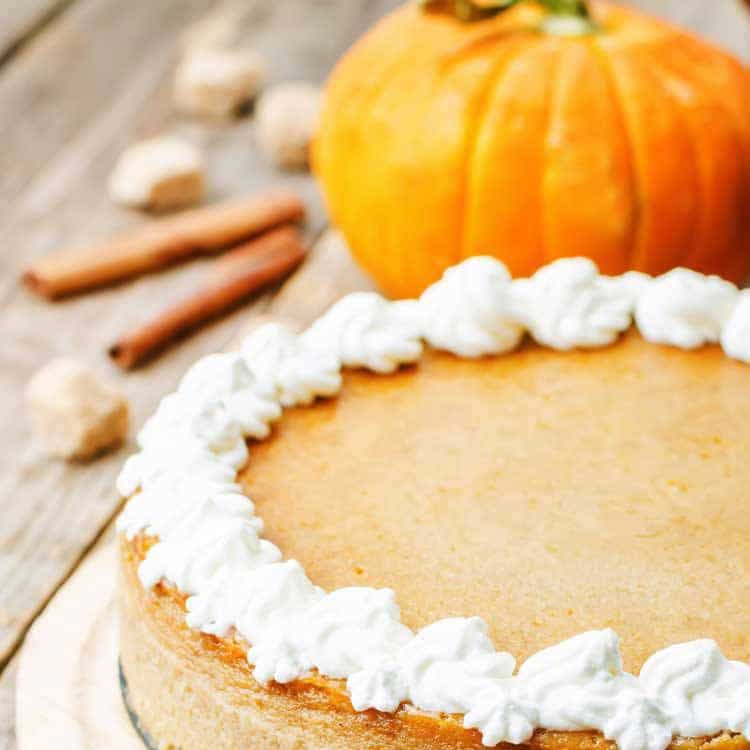 There is something about cheesecake that is comforting.
It's smooth and silky, making it easy to slowly savor each and every sinful bite without feeling the least bit sorry.
Cheesecake has been one of my favorite desserts for as long as I can remember.  My sister in fact always requested cheesecake for her birthday.  Not the typical birthday cake but oh so delicious.
Want more copycat recipes?

Click Here to get more top-rated restaurant copy cat recipes.
Get more amazing copycat recipes here or buy restaurant gift cards online and go out to enjoy your favorite restaurant meals. They also make perfect gift ideas!
Print
Copycat The Cheesecake Factory Pumpkin Cheesecake Recipe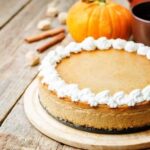 Ingredients
12 tablespoons melted unsalted butter
2 1/2 cups graham cracker crumbs
2 3/4 cups sugar
1 teaspoon salt, plus a pinch
2 pounds room temperature cream cheese
1/4 cup sour cream
1 15-ounce can pure pumpkin
6 large room temperature, lightly beaten eggs
1 tablespoon vanilla extract
2 1/2 teaspoons ground cinnamon
1 teaspoon ginger, ground
1/4 teaspoon cloves, ground
2 cups whipped cream, sweetened
1/3 cup roughly chopped, toasted pecans
Instructions
Preheat oven to 325 degrees Fahrenheit with rack in the center position.
Using some of the butter, coat a 10-inch springform pan.
In a bowl, mix the rest of the butter with the graham cracker crumbs, 1/4 cup of the sugar and a pinch of salt.
Packing it tightly and evenly, press the crumb mixture into the bottom and up the sides of the pan.
Bake for 15 to 20 minutes, until golden brown.
After cooling on a rack, wrap the outside of the springform pan with aluminum foil.
Place the wrapped pan into a roasting pan.
In a medium pot, bring water to a boil.
While waiting for water to boil, using a mixer; beat the cream cheese until smooth.
Add the rest of the sugar and beat until just light. Scrape down bowl sides and beaters as needed.
Whip in the sour cream.
Add the pumpkin, eggs, vanilla, 1 teaspoon salt and the spices.
Whip until just mixed and once done, pour into the cooled crust.
Without pulling the rack out, gently place the roasting pan in the oven.
Pour the boiling water into the roasting pan until it comes about halfway up the side of the spring form pan.
Bake the cake about 1 hour 45 minutes, or until the outside of the cheesecake sets but the center is still loose.
Turning off the oven; open the door briefly to let out some heat.
After leaving the cheesecake in the oven for 1 more hour, carefully remove the springform pan from the roasting pan.
Cool on a rack for at least an hour.
Run a knife around the edges to loosen it somewhat, and then cover pan and place in refrigerator for at least 8 hours or even overnight.
minutes before serving, bring the cheesecake to room temperature.
Unlock and remove the springform ring.
Place a spoonful of the whipped cream on each slice.
Top with a sprinkle of the toasted pecans.
Adapted from this recipe.
Tools to Use for This Recipe
Save
Save
Save
The following two tabs change content below.
Latest posts by Jessica McCoy (see all)