Looking for a low carb slow cooker recipe? This recipe is a stuffed peppers with cauliflower rice recipe with ground beef and Italian sausage. It is seriously SO good!
Ground Beef Stuffed Peppers
Not only does this recipe have ground beef, it's meaty mixture is combined with Italian sausage. Added to that is a great combination of finely chopped vegetables including carrots and cauliflower.
This healthy stuffed peppers recipe includes all kinds of nutrients and excludes all the bad stuff that you don't need to eat.
Crock Pot Stuffed Peppers Recipe
A lot of slow cooker recipes that have ground beef or sausage require you to brown the meat before you add it to the crock pot. This recipe skips that step, which equates to a big time-savings.
For this keto stuffed bell peppers recipe, the only thing that needs to be done to get the recipe ready to cook in the slow cooker is to mix up all of the ingredients except of the bell peppers and chicken broth.
All the meat, chopped veggies and other ingredients are mixed together and then stuffed into the green bell peppers. You could actually use red or yellow peppers too, but we used green bell peppers for this recipe.
And it is delicious!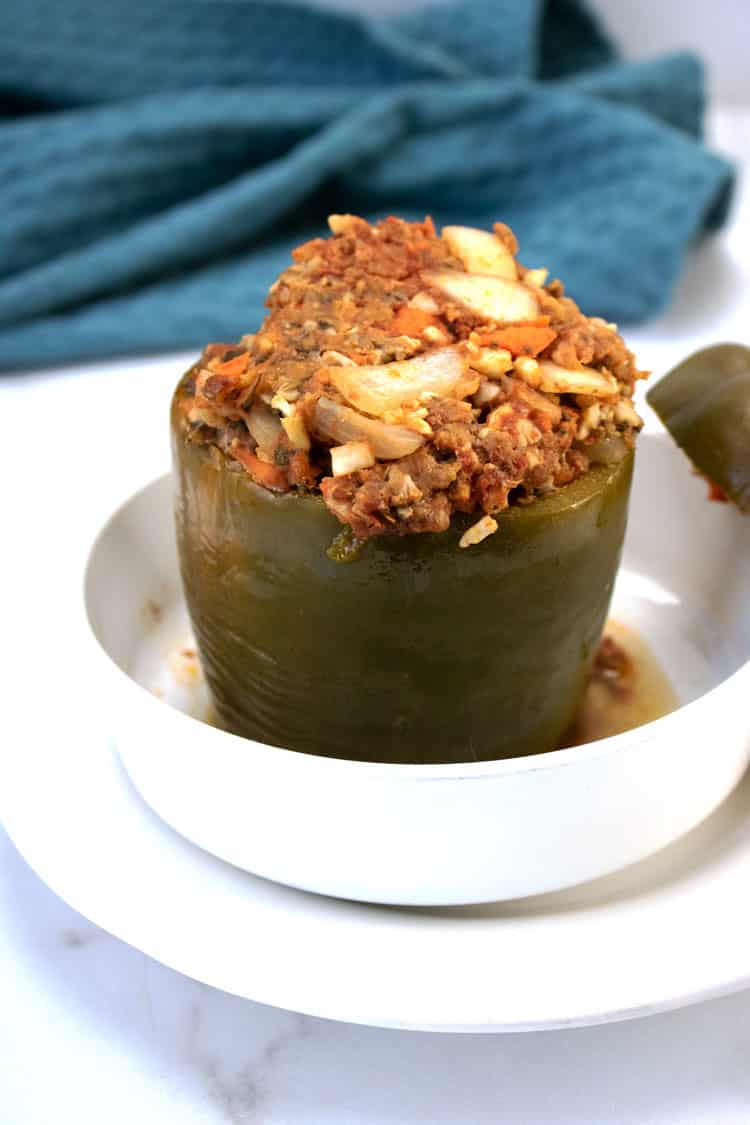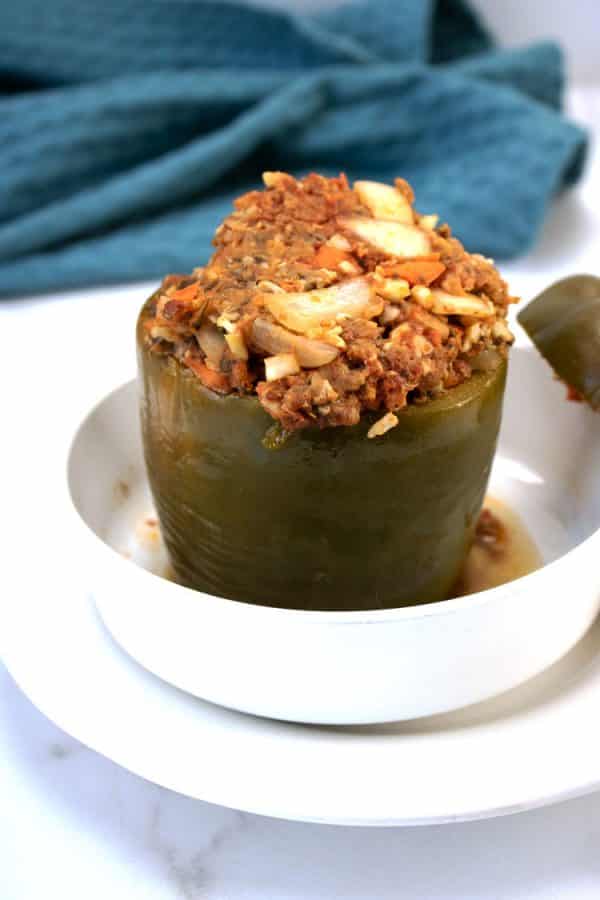 How to Make Stuffed Peppers with Cauliflower Rice
There are so many stuffed peppers recipes available. We have a few of them on All She Cooks you might like.
It is easy to make stuffed peppers with cauliflower rice, and it is such a healthy ingredient. For recipes that call for rice, you can mix in cauliflower rice in its place.
Typically, a combination of ingredients are mixed in a bowl and then stuffed into the peppers.
For this recipe, the meat and rice mixture in stuffed into the peppers and the peppers are added to the slow cooker with chicken broth.
What To Serve With Stuffed Peppers
There are many things you can serve with this recipe. A couple easy ideas that are also low-carb are a salad, a cooked vegetable side, or even zoodles with a sugar free marinara sauce with diced tomatoes. Add some garlic and cook the marinara on low when the peppers are nearly done.
When the peppers are tender, plate them along with your side dish, add some pepper to taste and enjoy a delicious dinner. My family loved this recipe.
Here are Some of Our Best Slow Cooker Recipes
We're doing a 30-Day Slow Cooking Challenge. Here is a list of the recipes we're cooking up. Let me know if you try one of them by leaving a comment on that recipe post and rating the recipe!
There are several types of recipes that we are making during the challenge, from chicken slow cooker recipes, beef recipes, and even vegetarian recipes.
Stuffed Bell Peppers without Rice
Are you on a low carb diet? If so, you'll want to stay away from whole grains, and unfortunately this includes white and brown rice. If you're a rice lover, that might be a painful realization.
But, you can still enjoy stuffed peppers!
To make stuffed peppers without rice, like this recipe, use cauliflower rice instead of whole grain rice. Cauliflower rice can be purchased in the produce section of your grocery store, or you can buy cauliflower and rice it in a food processor.
The idea behind 'ricing' cauliflower is to get it in small pieces so it resembles rice.
Is This a Keto Stuffed Peppers Recipe
Yes, it is. This recipe for low carb stuffed bell peppers is full of protein. It does use tomato paste, but it's sugar free. Whenever a recipe calls for tomato sauce or paste, make sure to check the label on the can to ensure it doesn't have added sugar.
The sausage and beef mixture in this recipe is amazing, and it is great if you're looking for low carb recipes. You could even chop up the bell peppers instead of stuffing them and make it into a casserole.
Slow Cooker Supplies and Resources
One of the best investments for slow cooker cooking is a slow cooker with a locking lid. You can also use a slow cooker liner to make dinnertime clean up easier. There are a variety of sizes available.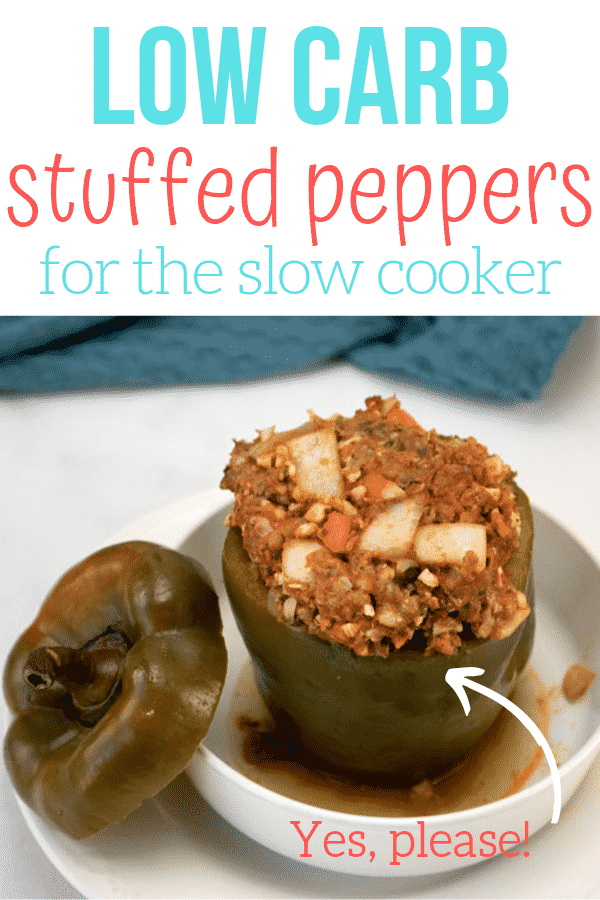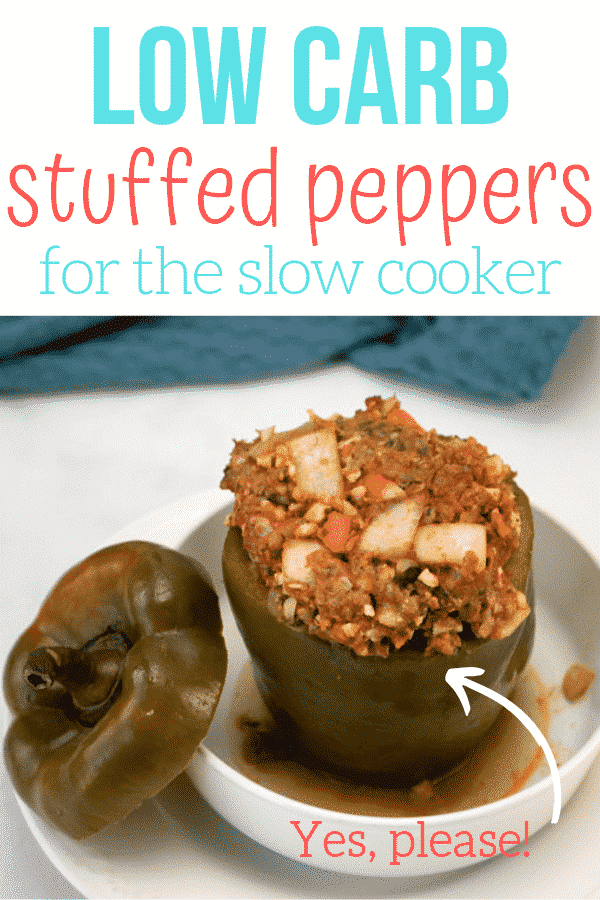 Can You Freeze Stuffed Peppers
Freezing stuffed peppers is a great way to have a ready-made meal for later. Stuffed peppers freeze well.
To freeze peppers for individual meals, simply wrap each pepper in foil and then place them in a freezer safe container.
When you want to reheat a stuffed pepper for dinner, you can place the foil wrapped stuffed pepper on a baking tray in the oven. Or, remove the foil and reheat in the microwave.
Are These Meatloaf Stuffed Peppers
While not technically meatloaf, this recipe is a lot like meatloaf. It is full of ground beef and Italian sausage blended together.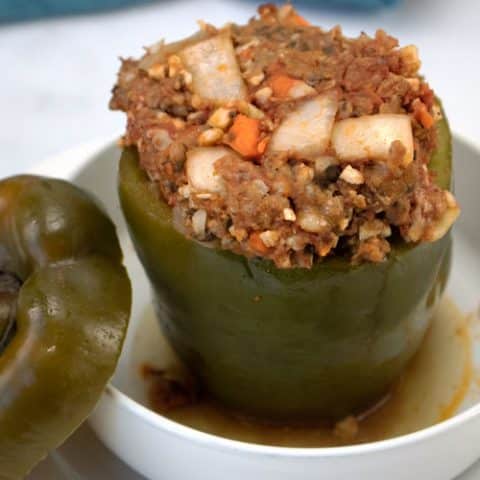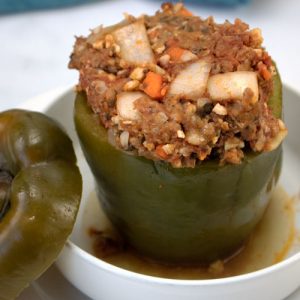 Slow Cooker Low Carb Stuffed Green Peppers
This is an easy stuffed pepper recipe that is low carb and full of protein and flavor.
Ingredients
6

medium size green bell peppers

1

pound

ground beef

1

pound

ground pork

1

medium size onion

diced small

2

garlic cloves

minced

3

cups

finely chopped raw cauliflower

1

cup

finely chopped raw carrot

1

can

6 oz tomato paste

1

tablespoon

dried oregano flakes

1

teaspoon

dried thyme
Salt and pepper

to taste

1

cup

chicken broth
Instructions
Prepare the green bell peppers by cutting the tops off (save the tops) and removing all the seeds and membranes. Set the peppers open side up into the crock pot.

Put the remaining ingredients EXCEPT the chicken broth in a large bowl and mix, breaking up the ground beef and pork and making sure everything is combined well.

Fill the peppers with this mixture, then set the pepper 'tops' back on the peppers. The peppers should be over-flowing with the meat mixture, so the top will just teeter on the top of the mixture, it won't fit down all the way.

Pour the chicken broth into the slow cooker around the peppers.

Set slow cooker to LOW, cover and cook for 7 to 8 hours, until peppers are tender and meat is cooked.
Notes
If using large bell peppers, 4-5 will work.
Use a meat thermometer to check the internal temperature.
Nutrition
Serving:
1
g
Calories:
497
kcal
Carbohydrates:
15
g
Protein:
43
g
Fat:
29
g
Saturated Fat:
11
g
Polyunsaturated Fat:
15
g
Trans Fat:
1
g
Cholesterol:
139
mg
Sodium:
360
mg
Fiber:
4
g
Sugar:
7
g