This is one of the best slow cooker pork chops recipes that I've made. It's also a very easy recipe to make. The first step involves a very quick searing of the pork chops on each side.
After searing the meat, the pork chops are added to the slow cooker. Then you mix a simple sauce in bowl, combine the ingredients and pour over the pork chops.
The pork chops come out fork tender, which is always delicious.
Pork Chops and Peaches in Slow Cooker
Cooking up pork chops with peaches is nothing new. But, it is a nice spin on some other recipes that call for apple pie filling and pork chops or pineapple chunks with pork.
The trick to locking in the flavor of the meat is to sear the chops in a skillet over medium high heat. After that, the sauce mixture (which includes liquid from the canned peaches) is mixed before adding it to the crock pot.
After that, the peaches are laid over the top of the pork chops. Cover and cook and sit back and wait for the slow cooked aroma to fill the house.
Are These Slow Cooker Keto Pork Chops
This recipe CAN be keto, and it is certainly low carb, if make a few adjustments.
The first trick to make sure that this recipe fits into your daily carbohydrate allowance is to make sure to buy tomato sauce with NO sugar added.
Second, substitute the canned peaches for fresh or frozen peaches. Then, add an extra ½ cup water to the sauce to make up for the canned peach liquid the recipe calls for.
Finally, soy sauce can be used (sparingly) in a keto diet, so technically it is okay to use. However, you can use liquid amino instead.
Here are Some of Our Best Slow Cooker Recipes
We're doing a 30-Day Slow Cooking Challenge. Here is a list of the recipes we're cooking up. Let me know if you try one of them by leaving a comment on that recipe post and rating the recipe!
There are several types of recipes that we are making during the challenge, from chicken slow cooker recipes, beef recipes, and even vegetarian recipes.
How Long Do You Cook Center Cut Pork Chops in Slow Cooker
These pork chops cooking time depends on if you use thick or thin cut pork chops. Most pork chops sold in pre-sorted packaging at the grocery store are on the thinner side. This kind of pork chop will be ready in 4-5 hours if cooked on high heat or 6-7 when cooked on low heat.
For thick-cut pork chops, add 1-2 hours to those times. And, as always, use a meat thermometer to check the internal temperature of the meat.
Pork needs to be cooked to an internal temperature of 145 degrees Fahrenheit.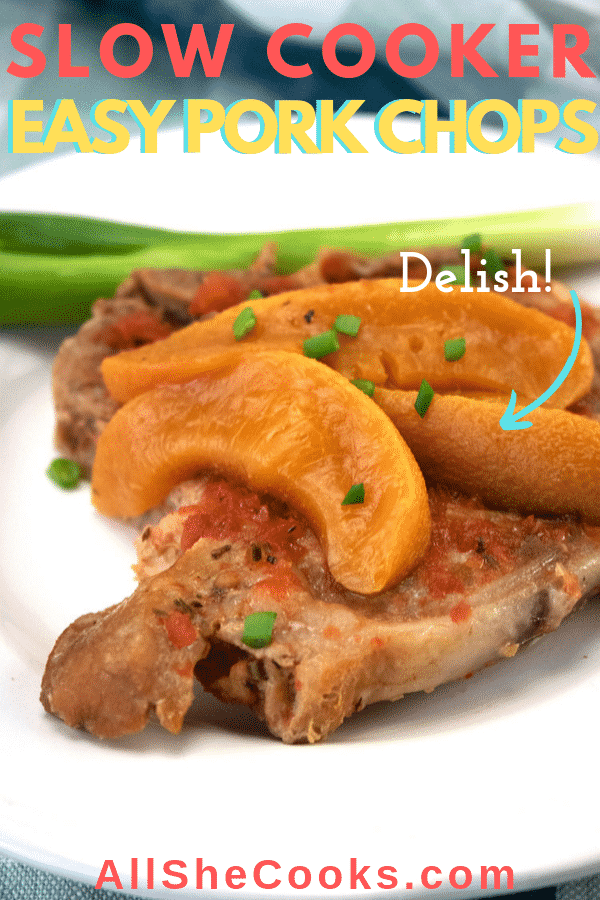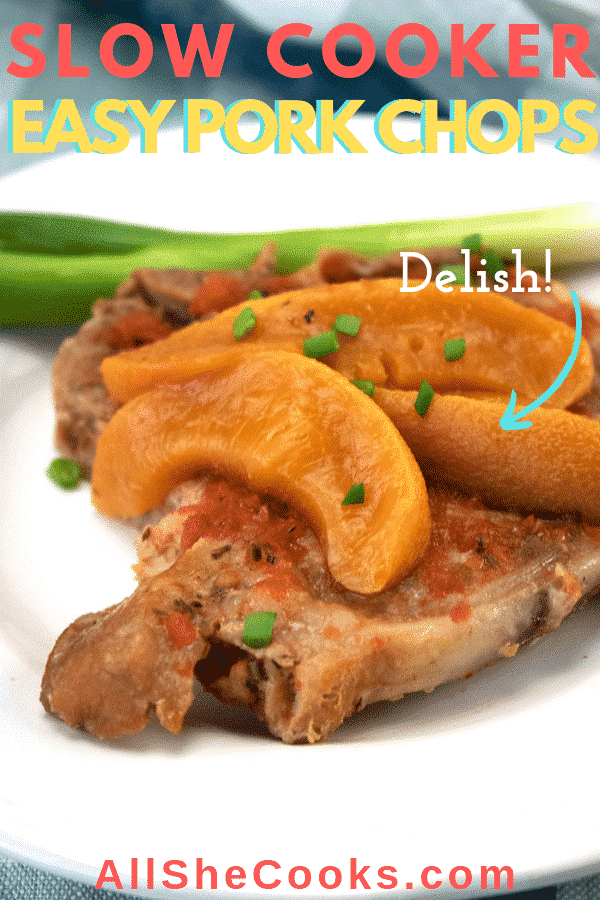 Can I Make This Recipe a Slow Cooker Thin Pork Chops Recipe
Yes. This recipe can be made with either thick cut pork chops or thin cut pork chops. Make sure you adjust the time accordingly.
We serve the thinner pork chops with mashed potatoes and then add in some salt and pepper and garlic powder to the potatoes.
Slow Cooker Supplies and Resources
One of the best investments for slow cooker cooking is a slow cooker with a locking lid. You can also use a slow cooker liner to make dinnertime clean up easier. There are a variety of sizes available.
Other Ways For Cooking Pork Chops in Slow Cooker
There are so many recipes for Slow Cooker Pork Chops. Some of our favorite ways involve fruit. Apple sauce, apple pie filling, stuffed pork chops, pork chops and stuffing, pork chops and scalloped potatoes.
The list is really long of all the varied ways to cook pork chops.
Slow Cooker Bone In Pork Chops or Boneless Pork Chops
Which type of pork chop to use comes down to personal taste. I like to use thicker cut pork chops when they are available. They offer a hearty entree that wont disappoint.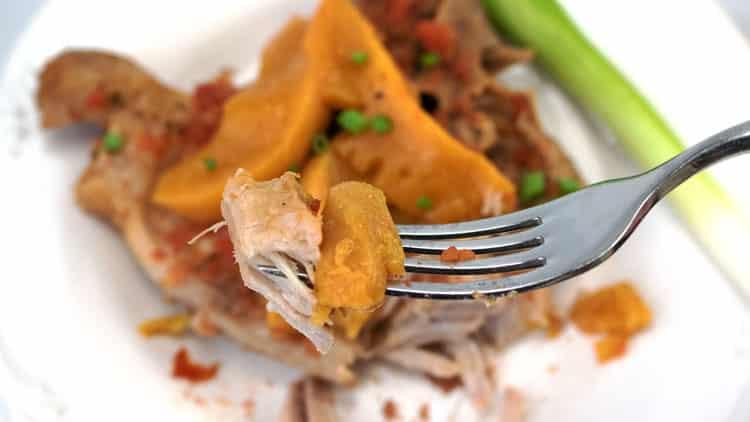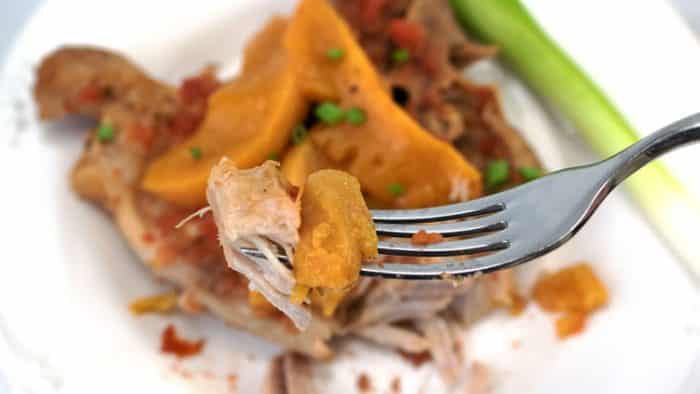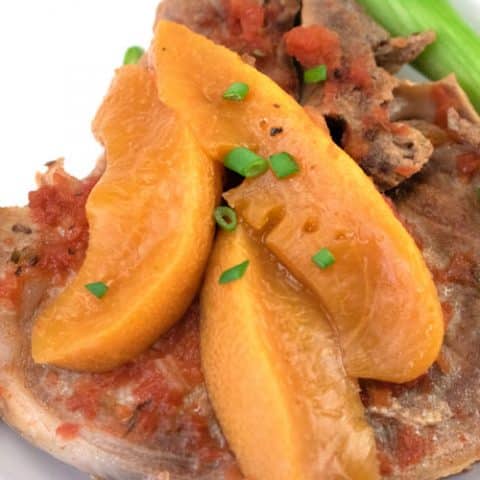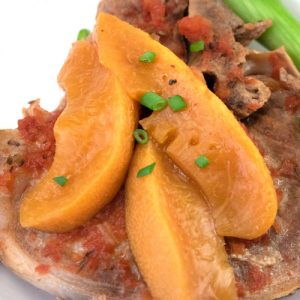 Slow Cooker Pork Chops with Peaches
Easy Slow Cooker Pork Chop recipe is made with spiced peaches that are a perfect match for pork.
Ingredients
1

tablespoon

of canola oil

4

bone in center cut pork chops

1

15 oz. can sliced peaches

1

15 oz. can tomato sauce

1

cup

of water

2

teaspoons

of soy sauce

¼

teaspoon

dried rosemary

¼

teaspoon

dried thyme

¼

teaspoon

dried basil

⅛

teaspoon

cayenne pepper
Instructions
Place the canola oil into a skillet placed over medium high heat. Add the pork chops. Brown the chops, turning once, for 6 minutes. Drain on paper towel then place in the crock pot.

Drain the peaches but reserve the juice. Place the reserved juice into a mixing bowl. Add the tomato sauce, water and soy sauce and stir until blended together. Add the rosemary, thyme, basil and cayenne pepper and stir until blended in. Pour the mixture over the top of the pork chops.


Lay the peaches evenly over the top. Cover the crock pot and cook on low for 7 hours or until the chops are tender and cooked through.

Notes
The warmed peaches make a tasty accompaniment to these pork chops as well as giving the tomato based sauce a kiss of sweet. The cayenne pepper is optional but adds just the right amount of spice to make this dish a mouth watering delight.
Nutrition
Serving:
1
g
Calories:
139
kcal
Carbohydrates:
6
g
Protein:
11
g
Fat:
8
g
Saturated Fat:
2
g
Polyunsaturated Fat:
5
g
Cholesterol:
33
mg
Sodium:
315
mg
Fiber:
1
g
Sugar:
5
g