This slow cooker tamales recipe is easy to make and doesn't require any hands-on time at all. If you like tamales but don't have time to make them from scratch, you might want to take a look at this recipe.
It's a basic recipe using ready-for-you ingredients. Add a couple cans of chili con carne, frozen tamales, crushed up corn chips, onions, and cheese.
See? Super easy.
Delicious Tamales
This recipe is easy to make, which is a game changer when you don't always have a ton of time to make dinner for the family. I'm in the kitchen a lot creating recipes for the blog. Even then, sometimes it becomes a time crunch to get an actual meal on the table.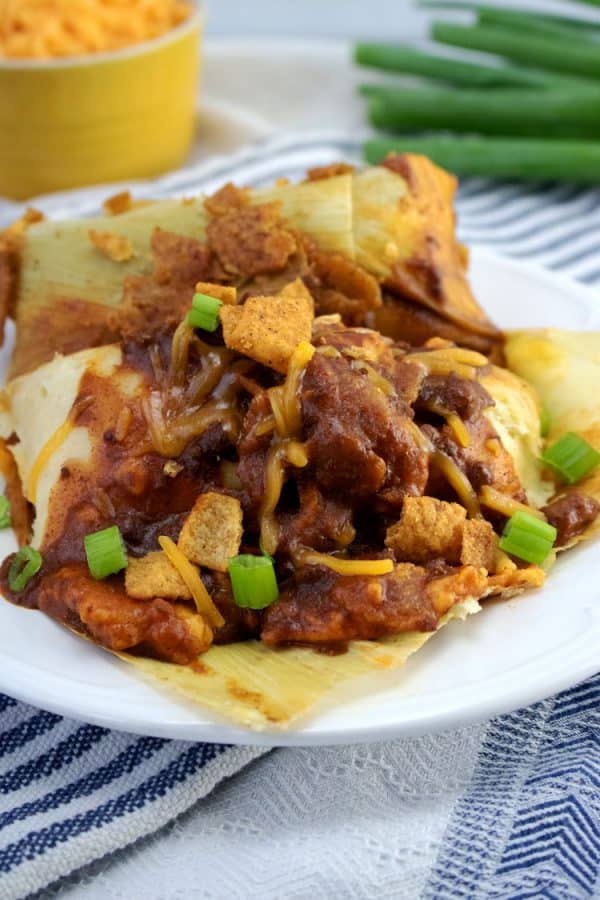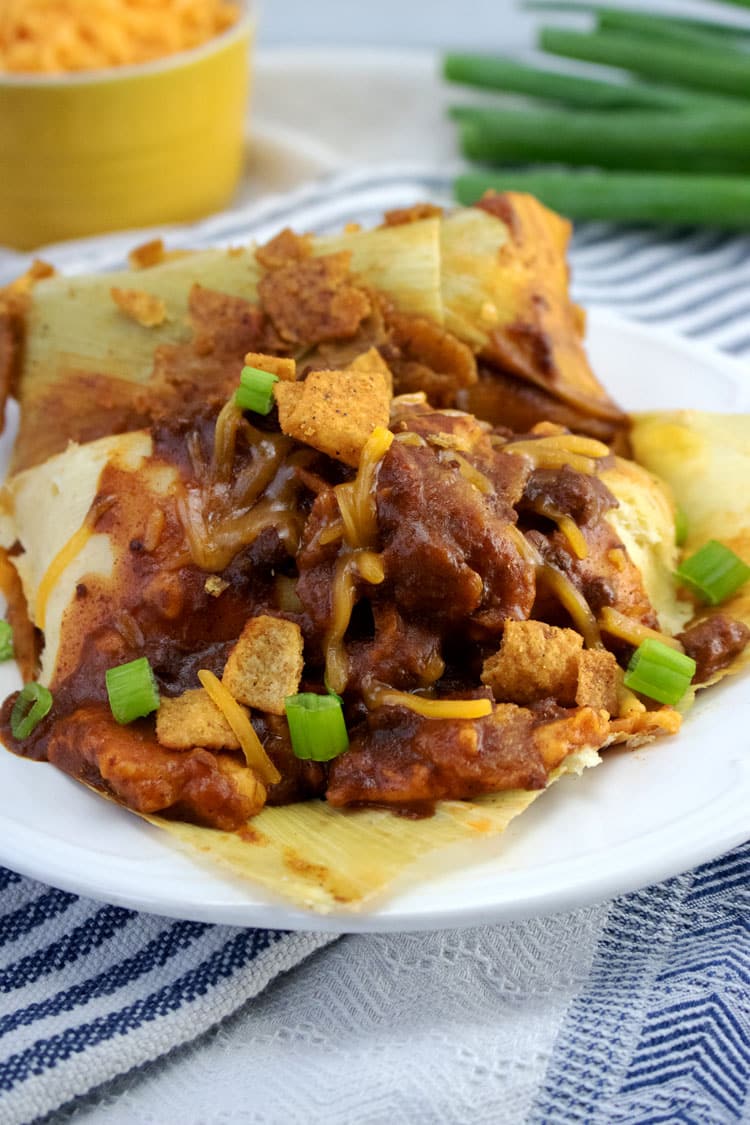 Recipes like this make it feasible to eat dinner at home and skip the takeout, even on busy nights.
How to Cook Tamales
Making tamales from scratch is a time intensive process. It involves making dough, making a filling, and then wrapping the the tamales in corn husks or banana leaves.
Traditionally, tamales are steamed.
In this recipe, we skip the entire process of making tamales. Most grocery stores with a nice selection of Latinx food will have frozen tamales. If you have a Latin American store in your area, that would be the best place to find tamales.
How to Reheat Tamales
Is reheating tamales easy?
This recipe is made in a slow cooker, so it is different than most tamale recipes you'll find.
However, if you have leftovers, you can reheat them easily in the microwave. Wrap the tamales in a damp paper towel and then microwave on high for 15-30 seconds.
Tamale Sauce
Traditional red sauce for tamales is made from scratch with a base of chili peppers. It uses a combination of two or more varieties. New Mexico, Anaheim, Ancho and Pasilia peppers are commonly used.
In addition, garlic, onion and other seasonings are added to make the sauce.
Tamales Variations We Love
There are so many varieties of tamales.
Tamales Colombianos are wrapped in banana leaves and are normally more of a square in shape. The filling is full of chicken, pork, rice, potatoes, peas and seasonings.
Tamales Mexicanos or Mexican Tamales Recipe are wrapped in dried corn husks. The tamale is a dough made with a corn flour (masa harina) that is stuffed with a combination of ingredients. Pork or beef, onion and garlic, tomato puree and a variety of seasoning are used in the these tamales.
Guatemalan Tamales are larger than Mexican Tamales are. They are wrapped in banana leaves. Besides the dough, they normally include pork or chicken and other fillings. Some of these include capers, raisins, olives and bacon.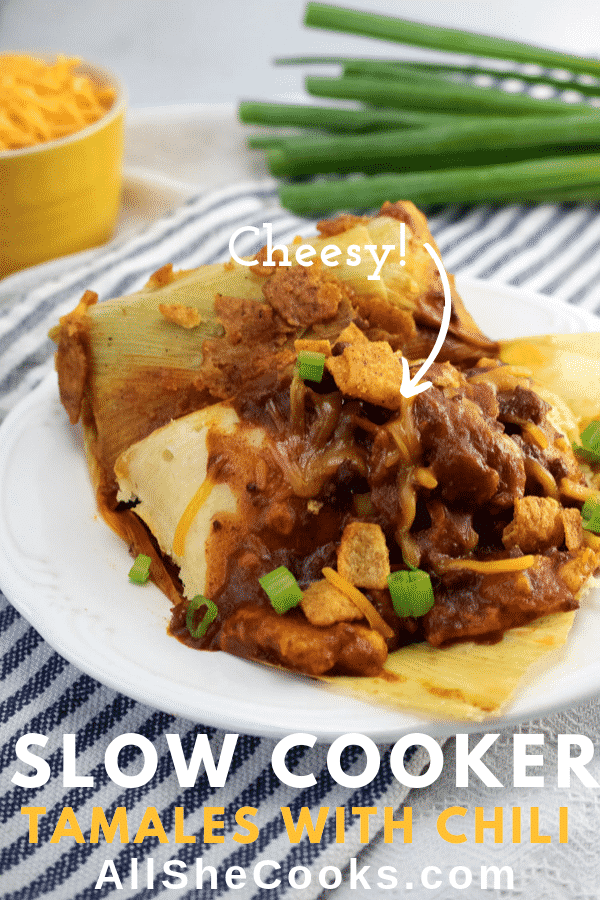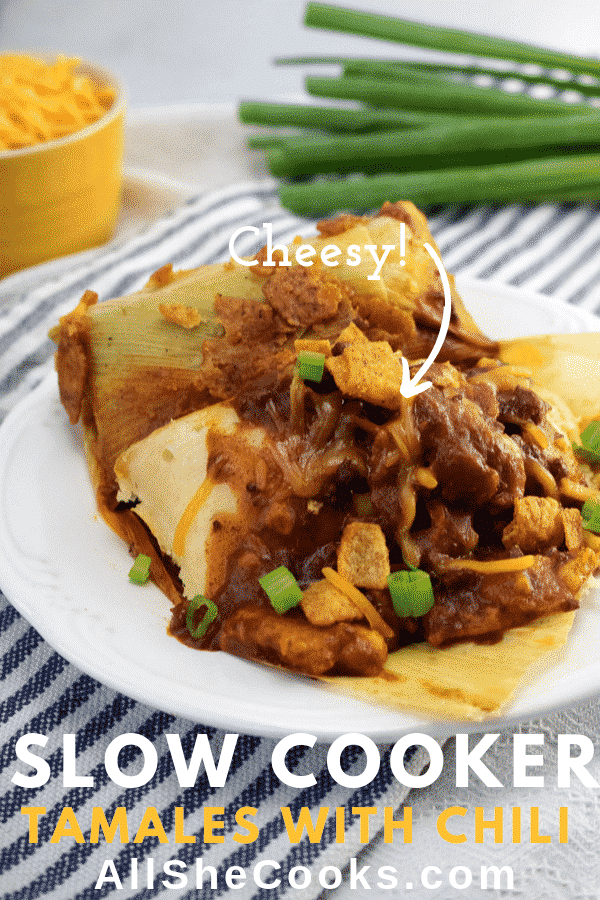 Here are Some of Our Best Slow Cooker Recipes
We're doing a 30-Day Slow Cooking Challenge. Here is a list of the recipes we're cooking up. Let me know if you try one of them by leaving a comment on that recipe post and rating the recipe!
There are several types of recipes that we are making during the challenge, from chicken slow cooker recipes, beef recipes, and even vegetarian recipes.
Are Tamales Healthy
Tamales are full of good nutrients. They are high is fat and sodium, but they are a great source of fiber and vitamins.
Tamale Calories
Our tamales recipe makes 6 servings. Each serving is 431 calories.
Are Tamales Gluten Free
Tamales are naturally gluten free because they use corn flour.
If you are on a strict gluten free diet, you should still be cautious about the brands you buy. Make sure that the product you buy isn't made in a facility that processes gluten.
Slow Cooker Supplies and Resources
One of the best investments for slow cooker cooking is a slow cooker with a locking lid. You can also use a slow cooker liner to make dinnertime clean up easier. There are a variety of sizes available.
Carbs in Tamales
Tamales normally use corn flour. To make low carb or Keto tamales, use almond flour as a replacement for the corn masa harina.
What Are Tamales Made Of
Tamales can be made of a variety of ingredients. Tamales start with a basic corn dough using corn masa and are wrapped in hoja de maíz (corn leaves). The tamale fillings and toppings are varied. Shredded beef, carne de cerdo (pork), bell pepper, and other ingredients are often used.
How Long to Cook Tamales
The time it takes to cook tamales varies greatly depending on if you have made them from scratch, are reheating them, or are cooking frozen tamales.
Traditional tamales from scratch are steamed on high heat for between 4 and 6 hours. But, it all depends on the recipe being used. Some recipes call for cooking the tamales for 90 minutes.
Tamales that are being reheated are steamed for about 18-20 minutes.
How to Cook Frozen Tamales
For this recipe, the frozen tamales are cooked with chili con carne and a few other ingredients. Cook it low and slow for part of the day and that's all there is to it.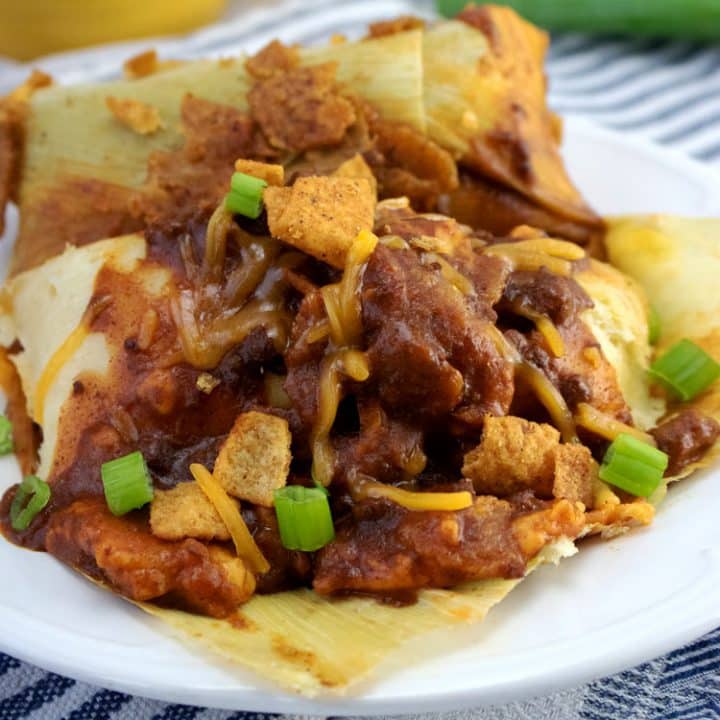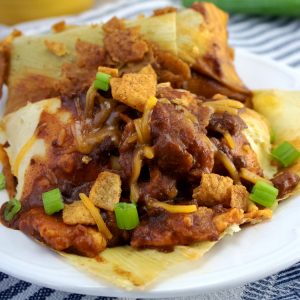 Slow Cooker Hot Tamales
Easy weeknight tamale recipe lets you enjoy the amazing taste of a classic tamale recipe without the lengthy process of cooking tamales from scratch.
Ingredients
2

14 oz. cans chili con carne

6

frozen tamales

½

cup

chopped onion

2

cups

crushed corn chips

1 ½

cups

shredded cheddar cheese
Instructions
Spread the chili con carne over the bottom of the crock pot.

Lay the tamales over the chili.

Sprinkle in the onions.

Scatter the crushed chips over the onions.

Spread the cheese over the top.

Cover and cook on low for 4 hours.
Notes
This dish also tastes great using crushed nacho chips instead of the corn chips. Trying adding a Mexican cheese blend to add a little more spice to this dish.
Nutrition
Serving:
1
g
Calories:
431
kcal
Carbohydrates:
37
g
Protein:
14
g
Fat:
26
g
Saturated Fat:
7
g
Polyunsaturated Fat:
16
g
Cholesterol:
37
mg
Sodium:
716
mg
Fiber:
4
g
Sugar:
2
g