This is the best black eyed peas recipe, slow cooker or otherwise. One of the reasons it's so exceptional is that is isn't like all the other slow cooker black eyed peas recipes out there.
Most recipes for black eyed peas, or beans in general, call for ham or ham hocks to be used for flavoring. This recipe is different because it uses beef instead of pork. If you like black eyed without pork, this is a good recipe for you.
Can Black Eyed Peas Be Cooked in a Slow Cooker
Thankfully, yes. Black eyed peas can be cooked in a slow cooker, and that is one of the easiest ways to cook them. It's easy to toss the rinsed and sorted peas into the slow cooker, add liquid and set it to cook.
It's even better to add in flavorful ingredients to make the peas extra delicious. Beef (like we used for this recipe), pork, onion, garlic, etc., are all ingredients that lend a powerful flavor to peas and beans.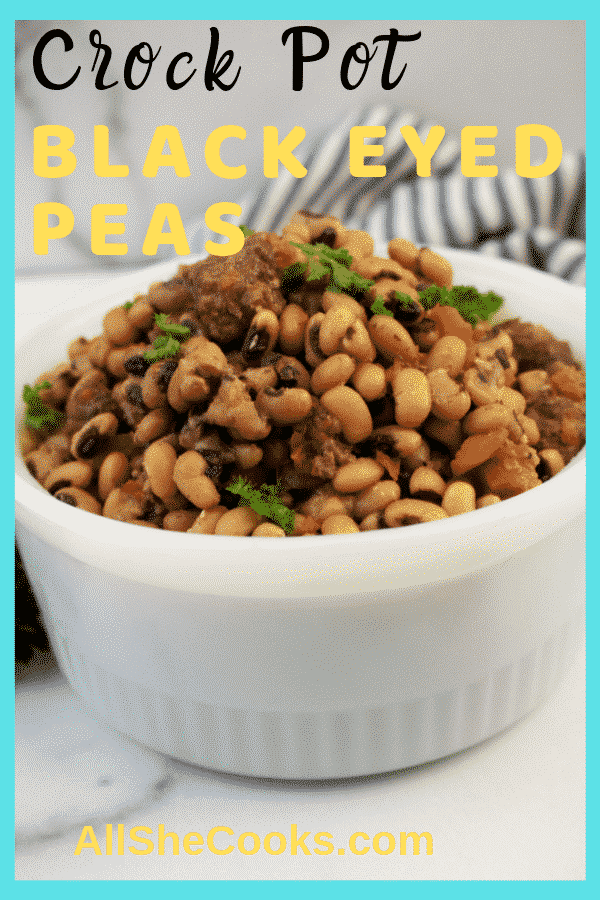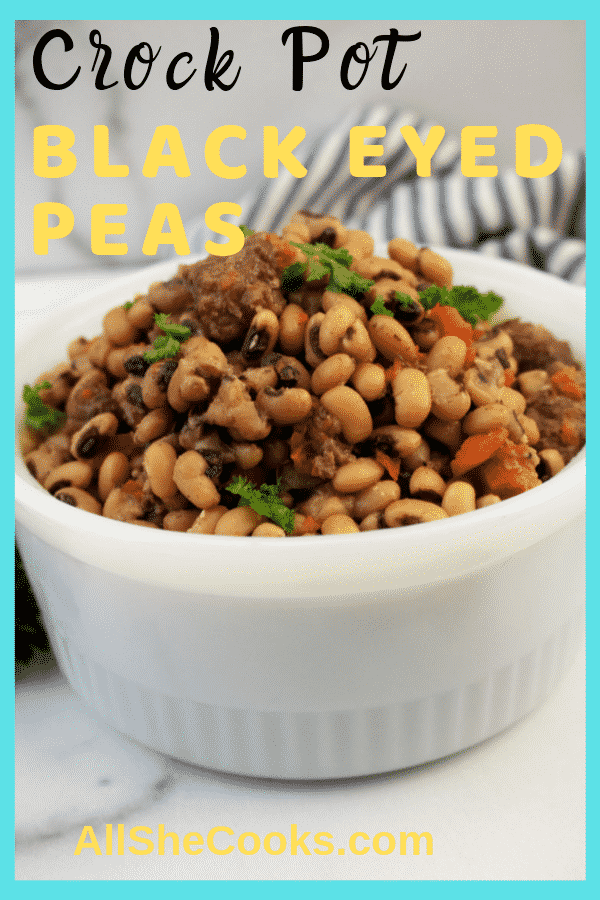 How to Make Black Eyed Peas in Slow Cooker
One of the greatest things about the invention of the slow cooker way back in 1940, is that it allows us to prep a meal in the morning, set a button or two (or turn a knob) and have dinner waiting for us when we get home.
If you've had slow cooker beef before, you know the result will be a tender combination of cooked foods. And the flavor combo of beef and black eyed peas is amazing. Add some salt and pepper and serve up your Slow Cooker Black Eyed Peas.
What Is the Best Slow Cooker
This crock pot slow cooker with a locking lid is so useful. I use it all the time, and especially love that it is programmable. The lid locks down, so it is easy to transport. That is very beneficial if you plan to take it to a potluck. The rectangular shape of the slow cooker is also useful. The crock can be removed and can easily slide onto a refrigerator shelf for storage.
I'm in love with this Crock Pot 6-quart. It comes with a dishwasher safe crock insert, as most slow cookers do. However, this particular slow cooker is bright and fun, and makes a nice addition to any counter top. It also is highly functional, which is a must for a small kitchen appliance.
While not a slow cooker, Instant Pots have become all the rage and do have a slow cooker function. I have two myself (the Instant Pot Duo 6 quart and 8 quart), and use them both frequently.
Why Programmable Slow Cookers Are a Worthwhile Investment
Programmable slow cookers like the programmable Crock-Pot that I have make it easier to cook a recipe for the correct amount of time.
Add ingredients to the pot, set the time, and when the cooking time finishes, it automatically switches over to the warm setting. That means, you keep the food warm without over-cooking it.
Here are Some of Our Best Slow Cooker Recipes
We're doing a 30-Day Slow Cooking Challenge. Here is a list of the recipes we're cooking up. Let me know if you try one of them by leaving a comment on that recipe post and rating the recipe!
There are several types of recipes that we are making during the challenge, from chicken slow cooker recipes, beef recipes, and even vegetarian recipes.
These Healthy Slow Cooker Recipes Are Worth Checking Out
Now, not all the recipes in our Slow Cooking Challenge are made with whole foods, so here are a few slow cooker meals that are healthier and made entirely with no processed food:
Slow Cooker Pinto Beans- I love this recipe for pinto beans. In fact, I've used it to to make burritos with the pulled pork recipe below.
Slow Cooker Pulled Pork- Pulled pork is such a versatile recipe and can be used for sandwiches, street tacos, and more.
How Long to Cook Black Eyed Peas in Slow Cooker
Not only is this Black Eyed Peas recipe slow cooker version easy, it's also ready to eat when you get home from work or school.
This recipe only takes 9-10 hours if cooking on low. You can cut the time down by 2-3 hours if you cook it on high.
This recipe shows how to cook dried black eyed peas in slow cookers, but if you are using canned black eyed peas, the cooking time can be reduced even when cooking on low.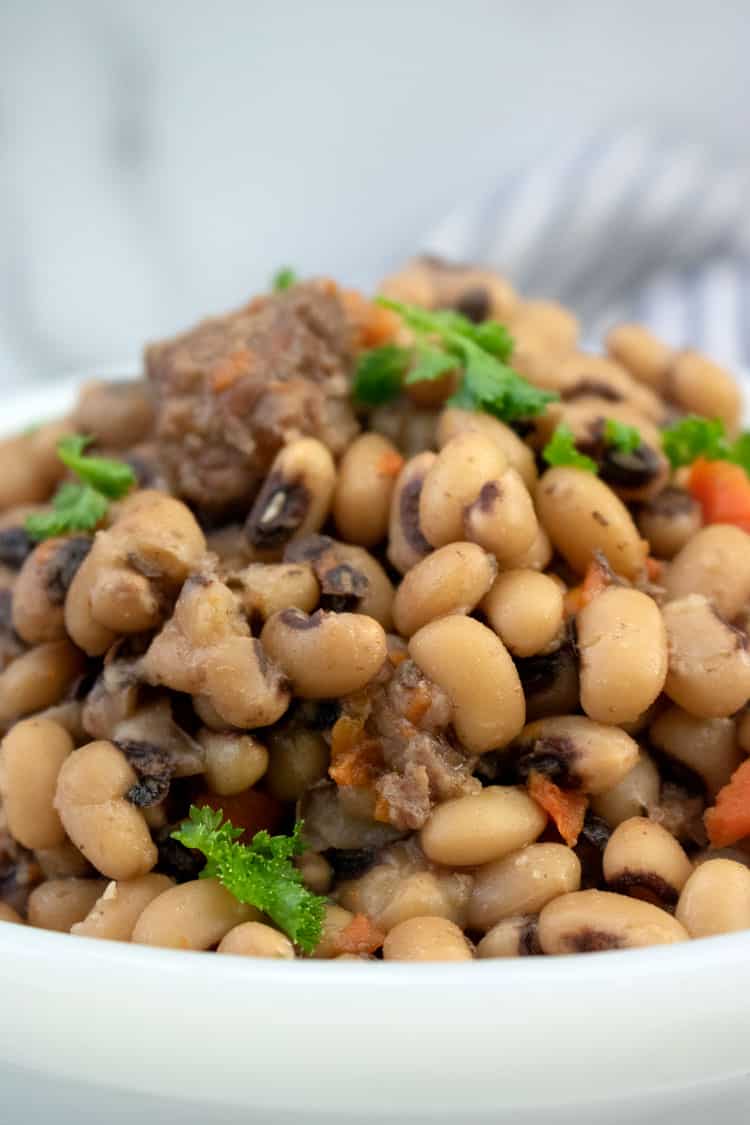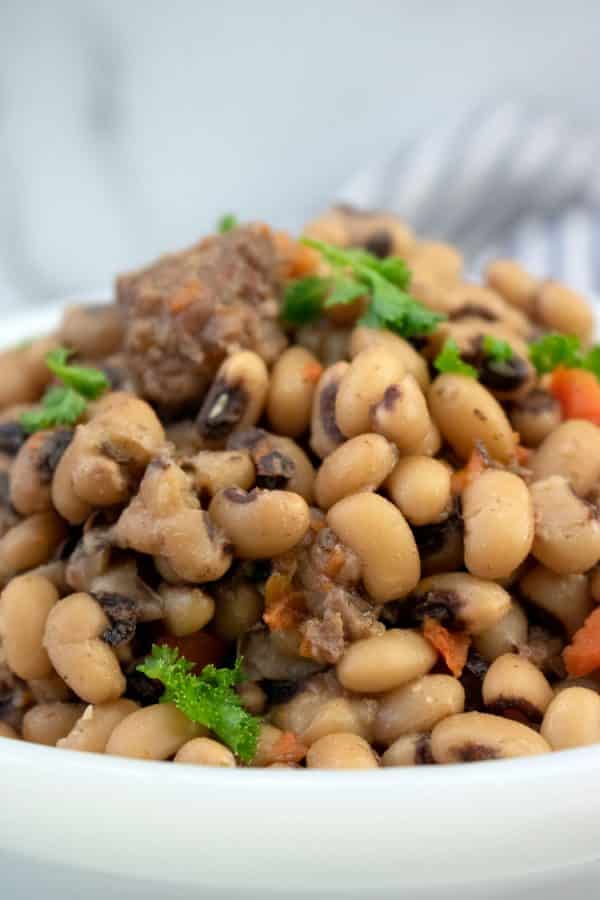 How to Cook Black Eyed Peas in a Slow Cooker
With this recipe, it's really that simple. Since black eyed peas don't have to be soaked overnight, a simple sort and rinse will do.
Then, add in the peas along with the rest of the ingredients for the recipe and you're good to go.
This recipe does call for a quick flouring of the stew meat and browning in a pan on the stove top, but it is a quick step that takes no more than 10 minutes.
Meanwhile, when the beef is in the pan browning, you can be getting the ingredients together to add to the slow cooker.
Pro tip: Use a food processor to save time chopping your carrots. It does a great job and saves time!
Once everything is in the slow cooker, set to the temperature you want to cook it at (low and slow, or cook on high and a little bit faster) and come home one of my favorite healthy slow cooker recipes.
And don't forget to take advantage of the warm settings.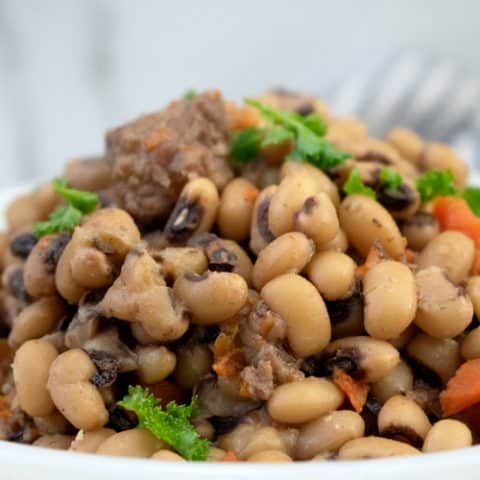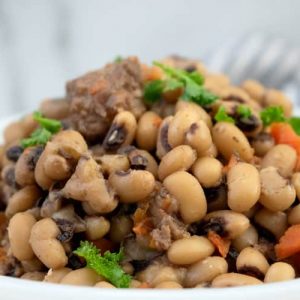 Slow Cooker Black Eyed Peas with Beef
This flavorful black eyed peas recipe is a filling comfort food favorite. Serve with rice and hot sauce for a winning easy weeknight dinner.
Ingredients
2

pounds

beef stew meat

½

cup

all-purpose flour

2

tablespoons

vegetable oil

1

16 oz bag dried black-eyed peas

1

10 oz can beef broth

5

carrots

cleaned and diced

4

cups

water

Salt and pepper to taste
Instructions
Dredge beef stew meat in flour, salt and pepper, then brown in heavy skillet in oil.

Meanwhile, rinse and sort the black eyed peas to remove stones, then drain.

Put the browned beef, peas, broth, carrots, and water in the slow cooker.

Cover slow cooker and cook on LOW for 9 to 10 hours or until black eyes peas and beef are both tender.
Notes
Serve with rice to stretch the meal.
Nutrition
Serving:
1
g
Calories:
477
kcal
Carbohydrates:
28
g
Protein:
57
g
Fat:
15
g
Saturated Fat:
5
g
Polyunsaturated Fat:
10
g
Trans Fat:
1
g
Cholesterol:
150
mg
Sodium:
333
mg
Fiber:
4
g
Sugar:
3
g