Can't seem to get enough of your favorite restaurant meals? Going out to eat is definitely tasty, but it can also get expensive. That's why I've come up with a list of 20 must-try copycat recipes for all of your favorite restaurants! Instead of spending a ton of money, dine in tonight with one of these delicious copycat recipes.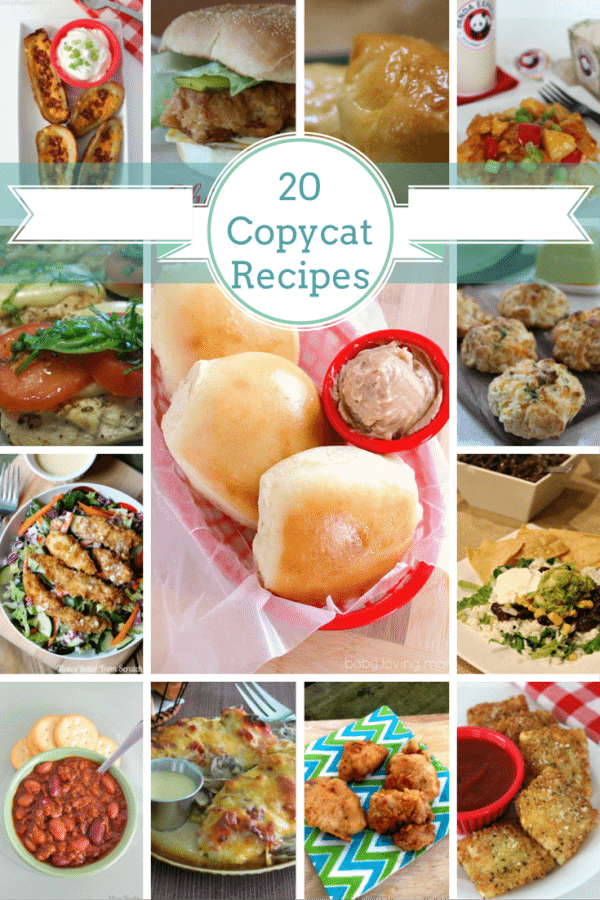 20 Must-Try Copycat Recipes
You'll love these easy copycat recipes!
This amazing Golden Corrral copycat recipe will give you the taste of New Orleans in the comfort of your own home — without the $12 a plate price!
I'm convinced that fried pickles are one of the best appetizers out there, and this copycat from Texas Roadhouse is top-notch! They crisp up perfectly in a deep fryer, or you can use your stovetop if you prefer.
This recipe isn't restaurant-specific, but I don't think you'll mind. These buttermilk biscuits are the quintessential restaurant food and are perfect for breakfast, dinner, or a snack.
Who doesn't love a good club sandwich? You'll love this copycat from Applebee's!
The ingredients for this Panda Express copycat recipe are likely already in your pantry, making this one of those copycat recipes you can make when you need a last-minute dinner.
I agree with the creator of this recipe that the rolls with cinnamon butter are the reason to go to Texas Roadhouse! She does such an amazing job of recreating them in her copycat version.
Yum! This recipe will give you the flavor of IHOP in your own home. Served with bacon slices, this omelette is seriously good food.
A copycat Chick Fil-A sandwich? Yes, please! This one looks amazing.
Who doesn't love the cheddar biscuits at Red Lobster? Skip the expensive meal out and serve these at home instead with this copycat recipe.
This white spinach pizza copycat from CPK (California Pizza Kitchen) is loaded with delicious ingredients.
Restaurants really know how to get those rolls and biscuits just right! Enjoy Logan's Roadhouse's famous rolls at home with this recipe.
Copycat Chipotle recipes? Yep! Learn how to easily recreate those famous Chipotle burrito bowls in the comfort of your own home.
This recipe is a copycat of the Wendy's chili. Why settle for a small bowl when you can make a whole pot?
The nuggets at Chick-Fil-A are crispy and sweet, and this copycat recipe makes recreating them easy.
Copycat PF Chang's Mongolian Beef ~Shore Savings with Patti
This is one of those copycat recipes that saves you a ton of money. Three servings cost less than $10 to make!
Anyone who has tried the potato skins at TGI Friday's knows how (really, really) good they are. You'll love
This is a copycat of Ruby Tuesday's Chicken Fresco without the lemon sauce for those of you who don't love the taste of lemons.
Copycat Cracker Barrel Hashbrown Casserole ~Shore Savings with Patti
Yum! This is a quick and easy copycat recipe that tastes just like what you get at Cracker Barrel!
This is one of those copycat recipes that looks so good, I want to make it right now. I think you'll agree!
This Red Lobster copycat recipe is so much cheaper than the real thing.
The Alice Springs Chicken is a huge menu item at Outback Steakhouse. Why not make it at home for much cheaper?
Do you like copycat recipes?
I'd love to hear about your favorite copycat recipes! What's your go-to copycat recipe?