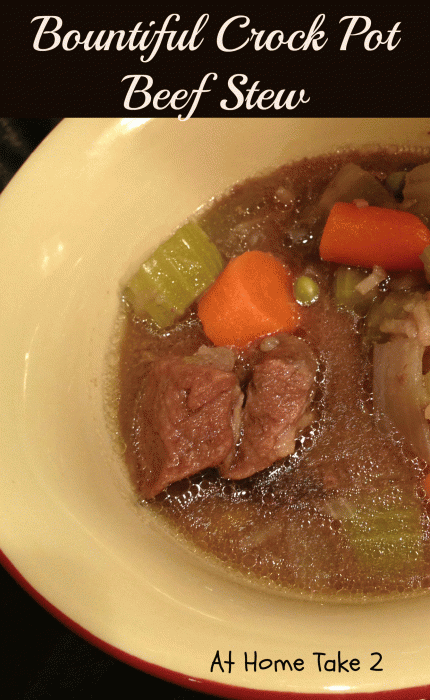 A good crock pot beef stew is one of my favorite dinners to make.  Soups and stews make cold winter days SO much better.  That's why my go to meal at least 2-3 times a week when it gets cold involves ladling up something super soothing.
However, this Bountiful Crock Pot Beef Stew is the best beef stew I've had in a long time, and it was hands down the easiest beef stew to make.
Sometimes it is nice to have a recipe that doesn't involve a lot of chopping and dicing, especially on those mornings when you're simply in a rush to get out the door and throwing everything in a crockpot makes all kinds of sense.
I have those days.  I think we all do.
You know the kind I'm talking about… the days when you know you're going to be running kids around after school to various sporting events and other after school activities.  Or the days when you've got too much on your plate at work to have to worry about dinner when you get home.
Yeah.  I think we all have those.
That's why I have a list of go-to crockpot dinner ideas because I know if I don't have something ready to go, my family will be snacking the minute the minute they hit the door.  Have a family like that?  Make a crockpot meal… it is a life-saver and quite frankly a money saver when you are tempted to hit the drive-through or order pizza instead.
Crockpot Bountiful Beef Stew
Author:
Jessica, AllSheCooks.com
Ingredients
1 lb. beef stew meat
½ can Coca Cola
1 package dry onion soup mix
1 (16 oz) bag frozen stew vegetables
2 stalks celery
1 small onion
4 cups water
Instructions
First, I marinated the beef stew meat in half a can of Coca-Cola for about 2 hours in the refrigerator. The acidity of the Coca-Cola works as a tenderizer.
Drain the liquid from the meat and add the meat to the crock pot. Next, add 1 pkg. dry onion soup mix, frozen stew veggies, celery and onion.
To this, add 4 cups of water and stir. Cook on high for 4 hours or low for 6-8 hours.