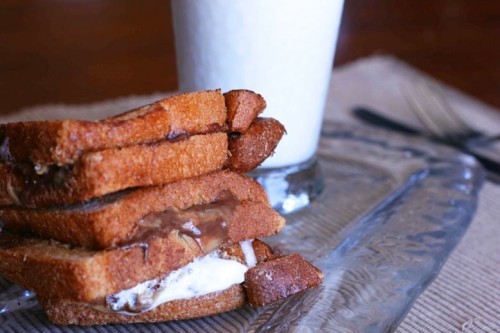 One of my favorite memories of snow days from when I was growing up in the south is coming in from playing outside to a hot lunch of grilled cheese sandwiches and tomato soup.  Now, my kids enjoy a hot toasted sandwich and are always excited to see what gooey concoction I've come up with.
This weekend, the king of all Hot n Gooey sandwiches was born.
Which I'm going to be adding to one of our No Repeat Meal Plans soon, because it's just that good.  If you haven't take a look at our meal plan subscriptions- check them out here. And…just so you know, right now we're giving an into deal where you get One Month Free when you subscribe! And with the subscription, you also get a FREE cookbook download.  Win/win!
But, back to the gooey goodness… 😉
We're calling it the Hot n Gooey Cinnamon Toast Sandwich, but it's got a little extra going on.  The inside is oozing with goodness: peanut butter, homemade peanut butter hot fudge sauce, and mini marshmallows.  The outside: buttered and lightly sprinkled with cinnamon sugar.
Okay, the first thing you need to know is this: this is a messy sandwich.  It's messy to make and messy to eat.  If you don't like messes, this might not be the sandwich for you.  Me… I like a messy sandwich.  I think they are fun and I have to say, so do the kids.
Step 1- Butter one side of each slice of bread (2 slices per sandwich x the number of sandwiches you want).
Step 2- Spread on some peanut butter and chocolate or fudge sauce.
Step 3- Sprinkle on some mini-marshmallows.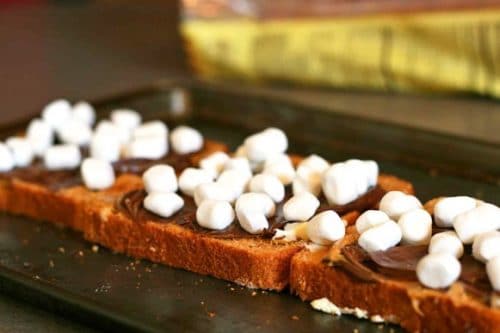 Step 4: Top with the second slice of bread, butter side up.
Step 5: Sprinkle tops with sugar-cinnamon mixture.
Step 6: Put those babies sugar-cinnamon side down in a skillet and sprinkle the top with remaining sugar-cinnamon mixture.  You don't have to use all of it, but make it taste good.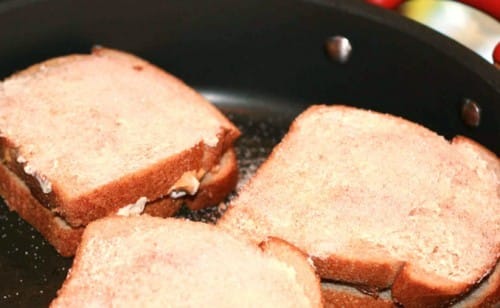 Gorgeous!  Now… the final step is to cook them on medium for a minute or two on each side.  You want them to be lightly browned and ooey gooey inside.  That's the best part.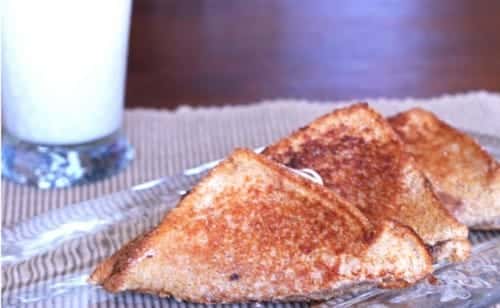 Or maybe the best part is eating it.  You be the judge.  The Hot and Gooey Cinnamon Toast Sandwich is a big hit in my house.  Every time I make them, my kids gobble them up.  I mean, how can you go wrong with a messy, peanut-buttery, chocolatey mixture of goodness stuffed between two pieces of bread?  Yummy.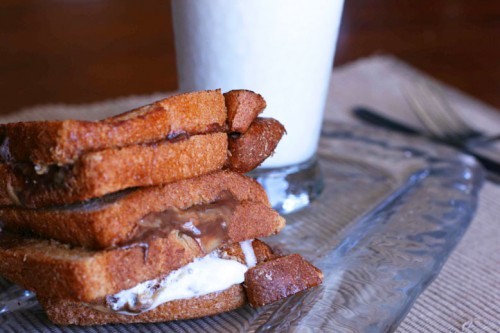 Print
Hot and Gooey Cinnamon Toast Sandwich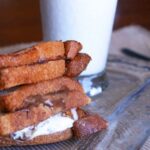 Ingredients
2 slices bread (Cottage is amazing)
Peanut butter
Hot fudge or chocolate syrup
Mini-marshmallows (small handful)
2 teaspoons sugar
1 teaspoon cinnamon
Butter
Instructions
Spread peanut butter, fudge sauce, and add a small handful of mini marshmallow to one piece of bread. Top with second piece of bread.
Mix sugar and cinnamon together on a plate, set aside.
Coat top piece of bread with butter, turn over and place butter side down on cinnamon and sugar mixture.
Butter top of other side of sandwich, flip and coat with cinnamon/sugar mixture.
In a small skillet, lightly toast both sides of the sandwich over medium heat. Cut in half and enjoy the gooey goodness.
Save
The following two tabs change content below.
Latest posts by Jessica McCoy (see all)