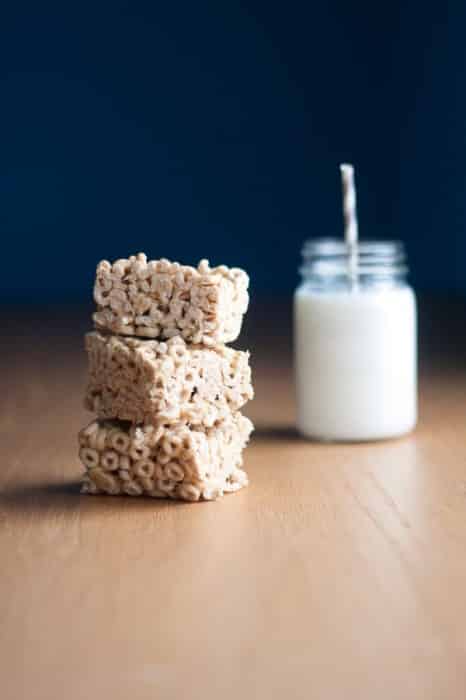 Why is it that something so utterly simple sometimes escapes discovery?  At least by me.  Because I'm sure someone, somewhere has made a divine treat resembling my Peanut Butter Cheerios Bars.  I'm sure someone, somewhere, has made them exactly the same way.
You know why?  Because there are only 3 ingredients.  Yes- I know the whole buzz around the internet lately with 3 ingredient recipes, but this is really true… no mixes here.
Simply creamy peanut butter, marshmallows, and Cheerios.
And you can't help but love simplicity.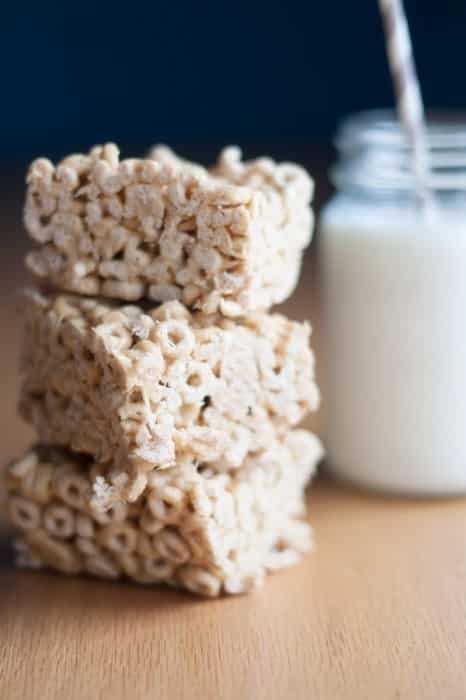 Make this recipe once, and I promise you will love it's simplicity.  Yes, you will.
You'll need a 9×13 pan, parchment paper, and the ingredients listed above.  That's it and you're set to go.
Melt the peanut butter and marshmallows together in the microwave, pour over the Cheerios, and stir it all up.
Tear off a big piece of parchment paper and lay over the 9×13 pan.  Pour the sticky Cheerios mixture onto the parchment paper and using the sides of the parchment paper, press down into the 9×13 pan.  When its read to come out, simply lift the parchment paper out of the pan and onto the counter to cut the bars into 12 equally delicious pieces of goodness.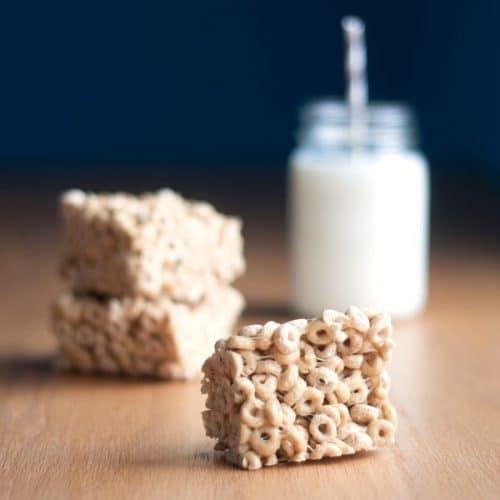 Now, the big challenge… stopping yourself from eating the entire pan of Peanut Butter Cheerios Bars.  Wanna know how I know this?
Well… I seriously considered devouring the whole entire batch of goodies when I made them earlier, but I paced myself because I had to take pictures.  So, I managed to stop myself at just two.  But, did you notice how big these things are?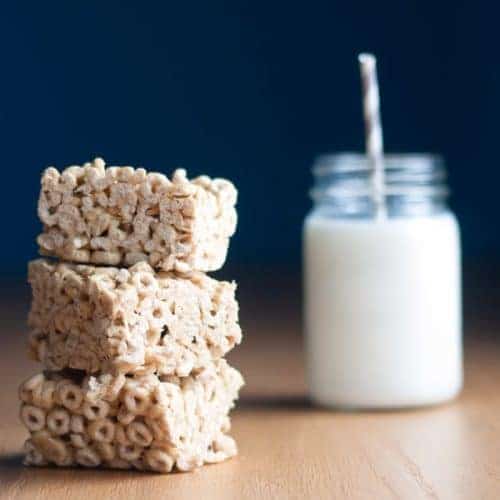 Peanut Butter Cheerios Bars are it!  They really are.  They are a healthy snack alternative.  Cheerios, people!  Cheerios.  That is a healthy cereal.  Not a ton of sugar, because let me tell you, my kids will not eat regular old Cheerios without me adding sugar and bananas too it.  They like Honey Nut, but I'm glad I found a way to jazz up the regular variety because I love to buy cereal on sale like this was.
And we've got creamy peanut butter and marshmallows.  I'm sure some people will say that because it has marshmallows it is not healthy, but in my opinion this has got a good balance.
Print
Peanut Butter Cheerios Bars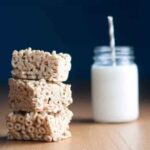 Author:

Jessica, AllSheCooks.com

Category:

Snack
Ingredients
8 cups Cheerios
1 bag mini-marshmallows
1/2 cup creamy peanut butter
Instructions
Melt mini-marshmallows and peanut butter together by microwaving for one minute, stirring and then microwaving for another 30 seconds. Stir mixture together until smooth.
Pour over Cheerios and mix together until it is all sticking together.
Line 9×13 pan with parchment paper, and pour Cheerios mixture over parchment paper, pressing the bars into the pan.
Let sit for 20-30 minutes and then remove parchment paper from pan to counter and cut into 12 equal sized bars.
The following two tabs change content below.
Latest posts by Jessica McCoy (see all)