Weight Watches Recipes Points
Looking for an easy Super Bowl Recipe?  Kids and adults alike love a good pig in a blanket recipe, but most of them are so high in fat and calories because the largest portion is a greasy hot dog or cocktail sausage.
But, using this simple method we have transformed the traditional snack or lunch into a healthier Weight Watchers Pig In A Blanket Recipe that will please the whole family.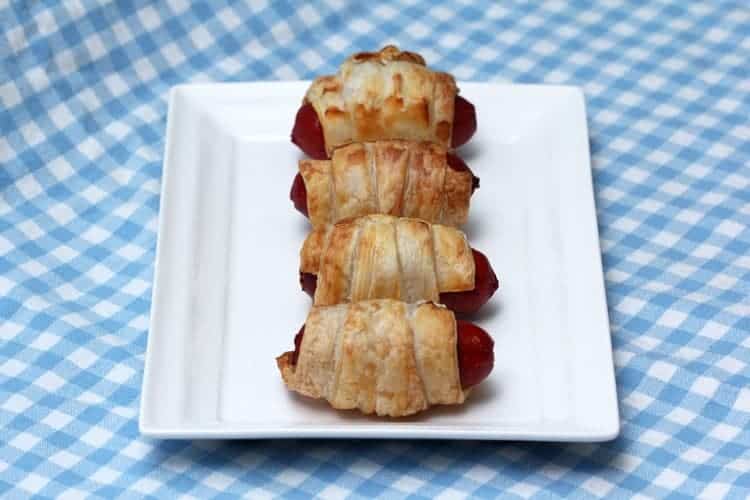 Not only does it only take moments for mom to prepare and uses easy to find items in the grocery store, it has literally half the fat and calories a traditional similar snack has.
Weight Watches Recipes Points
Weighing in at only 4 Weight Watchers Points per Pig In Blanket it is still easy to include in your weekly meal plan or as a special treat alongside fresh fruits and vegetables.
Weight Watchers Pig in a Blanket Recipe
1 8-10 count can Jumbo Buttermilk Biscuits
1 package Turkey Hot Dogs or Turkey Franks
Preheat oven to 350 degrees
Spray baking sheet with nonstick spray
On cutting board or clean surface, cut each biscuit in half and pat out into oval shape.
Place hot dog in center of an oval and wrap sides up and around forming a "blanket"
Bake at 350 degrees for 10-12 minutes or until golden brown and biscuit cooked through.
SPICY HONEY DIP
2 Tablespoons Yellow Mustard
1 Teaspoon Steak Seasoning Blend
1 Teaspoon Raw Honey
In small bowl mix all ingredients together until smooth.
Each of these Low Fat Pigs In Blankets is only 4 Weight Watchers Points.  You can add a half slice of fat free cheese before wrapping the hot dog to create a little extra flavor.  Just make sure to account for the points.  The Spicy Honey Dip has negligible points if used sparingly. 
If you're looking for other Weight Watcher or Super Bowl recipes, check these out:
Weight Watchers Chick Fil A Chicken Nuggets
Weight Watchers Chicken Teriyaki
Weight Watchers Appetizer Recipe: Mozzarella Sticks
The following two tabs change content below.
Latest posts by All She Cooks (see all)