This is absolutely the Best Dark Chocolate Cookie Recipe.
We all have heard about dark chocolate health benefits.  But what about the coconut oil health benefits?  This recipe combines those two healthy baking factors into one sweet recipe that is a perfect addition to your cookie recipe list.
Dark chocolate is one of our favorite ingredients.  In fact, you can find it in many of our sweet treat recipes, like Dark Chocolate Almond Truffles, Peppermint Bark, and Chocolate-Covered Chocolate Chip Cheesecake Bites.  Yes. We're pretty much in love with chocolate around these parts.
And why not?
Why Cook with Coconut Oil
When you can make a chocolate cookie recipe from scratch and include low cal butter substitutes like coconut oil, its so much easier to see how to lose weight with coconut  oil.
Substitute. Where you would use something like butter with a higher calorie concentration–use coconut oil.  Using healthier cooking oil choices makes a big difference with heart health and calorie count.
If you can't find coconut oil in your local store, you can buy coconut oil online.
Print
Best Dark Chocolate Cookie Recipe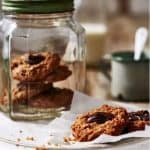 Ingredients
1/4 cup Coco Joy Coconut Oil
2 Eggs, lightly beaten
1 cup Desiccated Coconut Flakes
2 tbsp. Brown Rice Flour
1 1/2 cup Peanut Butter
1 tbsp. Coco Joy Coconut Milk
1/4 tsp. Sea Salt
100g Dark Chocolate, cut into chunks
3/4 cup Sugar
Instructions
Preheat oven to 320 degrees Fahrenheit, and line a baking sheet with baking paper. Combine Coco Joy Coconut Oil and coconut in a small frying pan over medium heat. Cook, stirring often, until coconut is light golden brown. Set aside to cool for at least 10 minutes. In a large bowl, combine peanut butter, white sugar, coconut sugar, eggs, Coco Joy Coconut Milk, brown rice flour, and salt; stir until completely combined. Add coconut mixture, mix well. Drop by tablespoon onto prepared baking sheet. Press a chunk of chocolate onto each cookie. Bake until cookies are golden on the bottom, 10-14 minutes. Let cool on baking sheet for a few minutes before transferring to a rack to cool completely.
The following two tabs change content below.
Latest posts by Jessica McCoy (see all)