Easy Appetizers Parties Made Simple
Easy appetizer ideas aren't difficult to come up with when you take a step back and remember to keep things simple. Forget all the cookbooks you have laying around, forget spending hours on Pinterest and scouring the web for easy recipes that are complicated for a novice to figure out. From our Copycat Chipotle Corn Salsa to Black Bean Salsa, we have recipes and appetizer ideas to save you time in the kitchen.
There are a few things to have on hand for easy homemade appetizers:
appetizer cups- perfect for desserts or mini servings of delicious savory bites
And yes, we do love making some of our favorite fun and fresh appetizers. We can't get enough of our Black Bean Salsa. And have you seen our Mango Salsa? Hello!
When we're talking about throwing together easy appetizer ideas that work even when you have a little bit of time, we always think of food like quesadillas, Grilled 3 Cheese Sandwiches, and stuffed mushrooms. Because even though food can look like you spent a lot of time whipping it up, there are some recipes that are just as good without a ton of time invested in cooking.
And those recipes--well, they are always a win in my book.
Now... take a few of the appetizer ideas we gave you above, and toss in a couple more that take absolutely no prep whatsoever--and you've got yourself a party.
Sometimes, the thing that is called for involves taking a little step back and pulling a box out of the freezer, and that is exactly what we are talking about today.
Recipe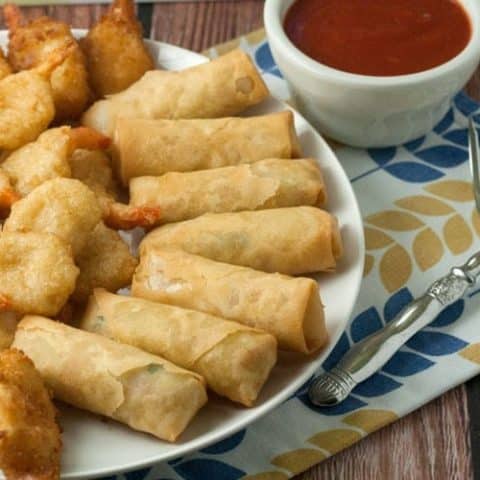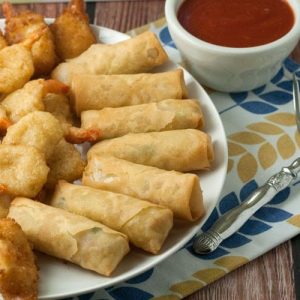 Easy Appetizer Ideas
easy appetizers bring party
Instructions
Mix all ingredients together. Chill and serve.
Nutrition
Calories:
72
kcal
Carbohydrates:
17
g
Protein:
1
g
Fat:
1
g
Saturated Fat:
1
g
Sodium:
583
mg
Potassium:
215
mg
Fiber:
1
g
Sugar:
14
g
Vitamin A:
308
IU
Vitamin C:
5
mg
Calcium:
13
mg
Iron:
1
mg
Top Ten Appetizer Recipes
I won't lie. I LOVE appetizers. And I have bunch of favorite appetizer recipes that I can't get enough of. I like to make them for my fancier festive holiday gatherings. And when I say fancier, I'm talking about festivities that I have planned out--not white linen affairs or anything like that. I like to keep things pretty simple, but sometimes I enjoy pulling out my nice serving dishes and making some fun recipes.
Here are my Top 10 Appetizer Recipes:
Miniature Pizzas with Homemade Pizza Dough
Some Days Call for Calm in the Kitchen
Impromptu gatherings are sometimes even more fun than those that are planned. If you're known for opening up your doors whenever the mood strikes, it's a great idea to have easy finger food in the freezer to avoid both stress and hunger. SeaPak makes this easy with Party Pack items that are available at Walmart.
Toss on a pan, heat these treats up in the oven, and you'll be snacking in no time!
Easy Holiday Entertaining
You can see that there are times to go all out, and times to reel things in a bit. The important thing is to keep things in perspective and know the difference. The beauty that comes from serving easy appetizers in the form of convenience food is in the taste and presentation.
Arranged just right, your guests don't have to know that these tasty treats weren't made from scratch right in your kitchen. Add a little snip of parsley and it could make all the difference.
Low-Key Appetizers are the Best for Impromptu Gatherings
We've had it happen a LOT as our kids get older. All of a sudden a dozen of the kids' teenage friends are coming over to the house. A dozen. Teenagers!
And we all know how teenagers can eat, right? Well, a quick to Walmart and with the grace of the store's affordable prices and great selection, a full cart doesn't break the bank.
Beer Batter Shrimp is Amazing!
Let's face facts. Sometimes busy days can be made a lot simpler when we break down and cook something easy. So, I have to confess--I don't just reserve these Beer Battered Shrimp for when the kids have friends over on the spur of the moment. There are busy days when I've already spent a lot of time in the kitchen during the day...because cooking and taking photographs is, after all, my job.

And its a fun job. But sometimes, there is just not enough time in the day to cook a full meal after I've been working all day. Other times--heck, I want a break just like the rest of you.
That's when quick and easy food comes in quite handy.
Easy Christmas or Thanksgiving Appetizer Recipes
This holiday season--don't stress out. Take it easy and remember the things that are important in your life. Remember family and friends. And, remember that sometimes its more important to devote time to spending that quality time with those who are important to you and less time away on your own in the kitchen.
I love to cook too, so I get it. The food we create is a way to show our families that we love and appreciate them. But, time spent together is equally important. It's a great idea to devote one night a weekend to easy meals--something that won't take a lot of time and will give you more time with your family.
Carry this over to easy Christmas and Thanksgiving appetizer recipes. You don't have to do it all. You don't have to make a holiday dinner AND make appetizers from scratch. Just make a beautiful arrangement of seafood goodies and serve them up with a smile.
Easy Snacks for Kids
Yes--easy snacks for kids are a win in my book. And its no wonder.
Think about all the time we spend over the years making food for our kids. Its a LOT. And I wouldn't change it for the world. But, I have to admit, I'm thrilled that my kids are now old enough to make snacks on their own, and I love how they choose a wide variety of foods to snack on.
Snacks You Can Make Quick
Most of us have been here. We come in the door, from work or from picking up the kids, and the first thing we hear--either from our own stomach or from our kids' screeching--is 'I'm hungry'.
Well, listen--there is always a quick fix. And whether that comes in the form of a banana or something more substantial to tide that appetite over until dinner, an afternoon snack is a pretty standard thing around these parts.
We like to toss a few appetizer size snacks into the oven after school, and we tend to eat dinner a bit later in the evening. That's what works for us.
How do you make quick snacks?